Perception of nurses' Empowerment in healthcare organization settings
Keywords:
Empowerment, nurses' perception, healthcare organizations
Abstract
Introduction: The concept of Empowerment in nursing has been increasingly used and analyzed in academic literature. It is a concept that nurses, leaders and managers of healthcare institutions should be interested in and should greatly explore. The perception that nurses have of Empowerment plays a decisive role in the organizational results, in the increase in professional autonomy, in collective and individual power increment and in patients' healthcare providing. Objectives: To evaluate nurses' perception of Empowerment (Psychological and Structural); to identify the factors that will influence this kind of perception and to reflect on the consequences of that perception.
Methods: Quantitative study, based on a sample composed of 269 nurses, mainly female (76,6%), aged between 21 and 59, with a 40,36 years old average age. 68.8% of the participants have a college degree and are working in a hospital in the Beira Alta region, in Portugal.
Results: In nurses, the perception of Psychological Empowerment is associated with the perception of Structural Empowerment. Older nurses and nurses who have a longer nursing career show higher competence and lower opportunity. Nurses who have spent a longer period of time in their current services show higher competence but less opportunity, information, support and, globally, a lower Structural Empowerment. In this professional category, specialist nurses' opinion about information, resources and informal power is quite different from the one felt by the other nurses.
Conclusion: Nurses show high levels of Psychological Empowerment and low levels of Structural Empowerment.
Downloads
Download data is not yet available.
References
Amendoeira, J. (2004). Enfermagem em Portugal. Contextos, atores e saberes. Enfermagem, 2(35-36), 13-22.
Bartunek, J. M., E Spreitzer, G. M. (2006). The interdisciplinary career of popular construct used in management: Empowerment in the late 20th century. Journal of Management Inquiry, 15(3), 255–273.
Benner, P. (2001). De iniciado a perito: a excelência e poder na prática clínica de enfermagem. Coimbra: Quarteto. ISBN 972-8535-97-X.
Bradbury-Jones, C., Sambrook, S., E Irvine, F. (2008). Power and Empowerment in nursing: A fourth theoretical approach. Journal of Advanced Nursing, 62(2), 258–266
Brown J.C. E Kanter R.M. (1982). Empowerment: key to effective- ness. Hospital Forum, 25, 6–13.
Carvalho, S. R (2004). Os múltiplos sentidos da categoria "Empowerment" no projeto de promoção à saúde. Cadernos de Saúde Pública, Rio de Janeiro, 20(4), 1088-1095.
Chandler, G. E. (1991). Creating an environment to empower nurses. Nursing Management, 22(8), 20–23.
Cianciarullo, T. (2001). Sistema de assistência de enfermagem: evolução e tendências. (1ª ed.) São Paulo: Ícone. ISBN 85-274-0654-3, p. 304.
Decicco, J.; Laschinger, H.; Kerr, M.l. (2006). Perceptions of empowerment and respect: effect on nurses' organizational commitment in nursing homes. Journal of Gerontological Nursing, v. 32, n. 5, p. 49-56.
Filipe, N. (2003). Autonomia da profissão: três décadas de crescimento. Nursing. Lisboa: ISSN 0871-6196. nº183 (Dezembro 2003), p.13-15.
Kanter R.M. (1993). Men and Women of the Corporation (2ª ed.) Basic Books, New York.
Knol, J., e Linge, R. v. (2009). Innovative behaviour: The effect of structural and psychological Empowerment on nurses. Journal of Advanced Nursing, 65(2), 359-370.
Kuokkanen L. e Leino-Kilpi H. (2000). Power and Empowerment in nursing: three theoretical approaches. Journal of Advanced Nursing, 31(1), 235–241.
Laschinger H. (2004) Hospital nurses perceptions of respect and organizational justice. Journal of Nursing Administration 34 (7/8), 354–364.
Laschinger, H., e Finegan, J. (2005). Empowering nurses for work engagement and health in hospital settings. The Journal of Nursing Administration, 35(10), 439-49.
Laschinger, U.K., Almost, J., & Tuer-Hodes, D. (2003). Workplace empowerment and magnet hospital characteristics, Journal of Nursing Administration, 33(7-8), p.410-422.
Laschinger, H., Finegan, J., E Shamian, J. (2001). The impact of workplace Empowerment, organizational trust on staff nurses'work satisfaction and organizational commitment. Health Care Management Review, 26(3), 7-23.
Laschinger, H., Finegan, J., Shamian, J., E Wilk, P. (2001). Impact of structural and psychological Empowerment on job strain in nursing work settings: expanding Kanter's model. The Journal of Nursing Administration, 31(5), 260-72.
Laschinger, H. K. S.; Sabistan, J. e Kutszcher, L. (1997). Empowerment and staff nurse decision involvement in nursing work environments: Testing Kanter's theory of structural power in organizations. Research in Nursing Health, 20, 341–352.
Laschinger, H. S. (1996). A theoretical approach to studying work Empowerment in nursing: A review of studies testing Kanter's theory of structural power in organizations. Nursing Administration Quarterly, 20(2), 25-41.
Manojlovich, M. (2007). Power and Empowerment in nursing: Looking backward to inform the future. Online Journal Issues of Nursing, 12(1). Retrieved from http://www.medscape.com/viewarticle/ 553403.
Manriquez, M. R., Ramírez, M. D., e Guerra, J. F. (2004). El Empowerment como predictor del compromiso organizacional en las Pymes. Contaduría y administración, 103-125.
Matthews, S.; Laschinger, H.; Spence, K.; Johnstone, L. (2006). Staff nurse empowerment in line and staff organizational structures for chief nurse executives. Journal of Nursing Administration, v. 36, n. 11, p. 526-533.
Oakley, P.; Clayton, A. (2003). Monitoramento e avaliação do empoderamento ("Empowerment"). São Paulo: Instituto Polis.
Sarmiento, T., Laschinger, H.K.L. e Iwasiw, C. (2004). Nurse educators' workplace Empowerment, burnout, and job satisfaction: testing Kanter's theory. Journal of Advanced Nursing, 46, 134–143.
Silva, C. E Martínez, M. L. (2004). Empoderamiento: proceso, nivel y contexto. Psykhe, Santiago/Chile, 13(1).
Sommer, M., Nunes, O., Hipólito, J., Brites, R., Pires, M., E Pires, P. (2010). Empowerment e Percurso Académico: Voltar à escola Depois dos 23 Anos. Actas do VII Simpósio Nacional de Investigação em Psicologia. Minho, 1671-1681.
Spreitzer G. (1995). Psychological Empowerment in the work- place: dimensions, measurement and validation. Academy of Management Journal 38(5), 1442–1462.
Teixeira, A. C. (2012). Emponderamento Profissional em Enfermagem: Tradução, adaptação e validação do "Conditions of Work Effectiveness Questionnaire – II" e do "Psychological Empowerment Instrument", Dissertação de Mestrado em Ciências de Enfermagem.
Thomas, K. W. e Velthouse, B. A. (1990). "Cognitive Elements of Empowerment: An "Interpretive" Model of Intrinsic Task Motivation", The Academy of Management Review, 15(4), 666-681.
Vasconcellos, E. M. (2003). O poder que brota da dor e da opressão: Empowerment, sua história, teoria e estratégias. São Paulo: Paulus.
Wagner, J. I., Cummings, G., Smith, D. L., Olson, J., Anderson, L., E Warren, S. (2010). The relationship between structural Empowerment and psychological Empowerment for nurses: A systematic review. Journal of Nursing Management, 18(4), 448-462).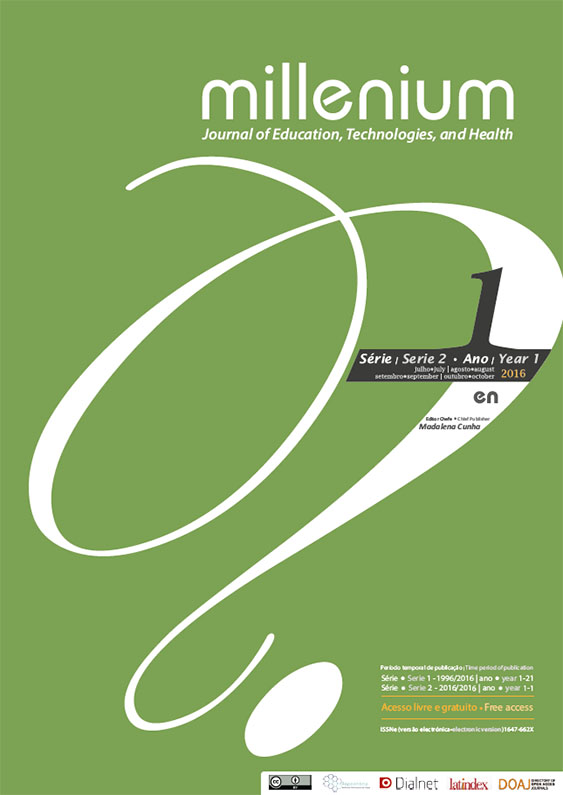 Downloads
How to Cite
Neves, N., & Ribeiro, O. (2016). Perception of nurses' Empowerment in healthcare organization settings. Millenium - Journal of Education, Technologies, and Health, (1), 179–190. https://doi.org/10.29352/mill0201.14.00093
Section
Engineering, Technology, Management and Tourism
License
Authors who submit proposals for this journal agree to the following terms:
a) Articles are published under the License Creative Commons, in full open-access, without any cost or fees of any kind to the author or the reader;

b) The authors retain copyright and grant the journal right of first publication, allowing the free sharing of work, provided it is correctly attributed the authorship and initial publication in this journal;

c) The authors are permitted to take on additional contracts separately for non-exclusive distribution of the version of the work published in this journal (eg, post it to an institutional repository or as a book), with an acknowledgment of its initial publication in this journal;
d) Authors are permitted and encouraged to publish and distribute their work online (eg, in institutional repositories or on their website) as it can lead to productive exchanges, as well as increase the impact and citation of published work
Documents required for submission
Article template (Editable format)