Support and training of family caregivers: nursing intervention program
Ricardo Manuel Costa Melo

ESSUA - Escola Superior de Enfermagem da Universidade de Aveiro CHVNGaia/Espinho

http://orcid.org/0000-0003-4870-2047

Marília Santos Rua

Escola Superior de Saúde da Universidade de Aveiro

Célia Samarina Vilaça de Brito Santos
Keywords:
Family Caregivers, Intervention Programme, Transition, Needs, Dependency
Abstract
Introduction: With an aging population and improvements in health care, there is an increase in the number of dependents who require more support to meet their needs. Family caregivers (FC) are essential to guarantee continuity of care, even though it is an exhausting process with consequences for their health. A properly structured nursing intervention program (NIP) is shown to be important in this context.

Objective: To develop and implement a NIP to support and train the FC of dependent people.

Methods: An integrative literature review (ILR) was conducted to identify the main caregiver needs. Afterwards, a NIP was structured in the areas of emotional and instrumental support. It was then validated by experts in the field using the Delphi technique. This was implemented and evaluated, using a quasi-experimental study, with a pre and post intervention evaluation.

Results: From the ILR, 21 articles were stood out for highlighting the main needs manifested by FC. Through the Delphi technique an NIP was obtained with 93 nursing interventions. Its implementation led to a general improvement in the FC's state of health, a reduction of the overload manifested and a greater use of coping strategies.

Conclusion: Structured and contextualized nursing interventions, directed to supporting and empowering FC, facilitate the transition to this role with an impact on their health and the care provided.
References
André, S., Cunha, M. & Rodrigues, V. (2010). Família enquanto entidade cuidadora… Millenium, 39: 131‐134.
Cardoso, M. J. S. P. O. (2011). Promover o Bem-Estar do Familiar Cuidador: Programa de Intervenção Estruturado. (Doutoramento), Universidade Católica Portuguesa, Porto.
Collière, M.-F. (2003). Cuidar...A primeira arte da vida (2ª Edição ed.). Loures: Lusociência.
Cruz, D. C. M., Loureiro, H. A. M., Silva, M. A. N. C. G. M. M., & Fernandes, M. M. (2010). As vivências do cuidador informal do idoso dependente. Revista de Enfermagem Referência, III Série(2), 127-136.
Cunha, L. M. A. (2007). Modelos Rasch e Escalas de Likert e Thurstone na medição de atitudes. (Mestrado em Probabilidades e Estatística), Universidade de Lisboa, Lisboa.
Dalkey, N. C. (1969). The delphi Method: An Experimental Study of Group Opinion. Santa Monica: United States Air Force Project Rand.
Figueiredo, D. (2007). Cuidados Familiares ao Idoso Dependente (Vol. 4). Lisboa: Climepsi Editores.
Fortin, M.-F. (2006). Fundamentos e etapas do processo de investigação (N. Salgueiro, Trans.): Lusodidacta.
Justo, C. (2005). A Técnica Delphi de Formação de Consensos, 10. Disponível em: www.observaport.org
ICN. (2011). CIPE Versão 2 - Classificação Internacional para Prática de Enfermagem (Transcrição da Ordem dos Enfermeiros). Lisboa: International Council of Nurses.
Imaginário, C. (2008). O Idoso Dependente em Contexto Familiar: Uma Análise da Visão da Família e do Cuidador Principal (2ª ed.). Coimbra: Formasau.
INE. (2012). Censos 2011 Resultados Definitivos - Portugal. (978-989-25-0181-9). Lisboa: Instituto Nacional de Estatística, I.P.
Lewin, R., Singleton, J., & Jacobs, S. (2008). Developing and evaluating clinical practice guidelines: a systematic approach. Evidence-based geriatric nursing protocols for best practice, 1-8.
Machado, P. A. P. (2013). Papel do Prestador de Cuidados - Contributo para promover competências na assistência do cliente idoso com compromisso do Autocuidado. (Doutoramento), Universidade Católica, Porto.
Marques, S. C. L. (2007). Os Cuidadores Indormais de Doentes com AVC. Coimbra: Formasau - Formação e Saúde, Lda.
Martins, T. (2006). Acidente Vascular Cerebral: Qualidade de Vida e bem-estar dos doentes e familiares cuidadores. Coimbra: Formasau – Formação e Saúde Lda.
Meleis, A. I. (2010). Transitions Theory - Middle-Range and Situation-Specific Theories in Nursing Research and Practice. New York: Springer Publishing Company.
Nogueira, J. M. (2009). A dependência. Ministério da Educação (Ed.) O apoio informal, a rede de serviços e equipamentos e os cuidados continuados integrados.
Orem, D. E. (2001). Nursing Concepts of Practice (6ª Edition ed.). St. Louis: Mosby.
Pereira, H. R. (2013). Subitamente Cuidadores Informais! Dando voz(es) às experiências vividas. Loures: Lusociência.
Petronilho, F. A. S. (2007). Preparação do Regresso a Casa (1ª ed.). Coimbra: Formasau, Formação e Saúde, Lda.
Petronilho, F. A. S. (2012). Autocuidado: Conceito Central da Enfermagem (1ª Edição ed.). Coimbra: Formasau - Formação e Saúde Lda.
Polit, D. F., Beck, C. T., & Hungler, B. P. (2004). Fundamentos de pesquisa em enfermagem: métodos, avaliação e utilização (5ª Edição). Artmed.
Sarmento, E., Pinto, P., & Monteiro, S. (2010). Cuidar do Idoso - dificuldades dos familiares (1ª ed.). Coimbra: Formasau - Formação e Saúde, Lda.
Sequeira, C. (2010). Cuidar de Idosos com Dependência Física e Mental. Lisboa: Lidel.
Sequeira, C. (2013). Difficulties, coping strategies, satisfaction and burden in informal Portuguese caregivers. Journal of Clinical Nursing, 22, 491-500.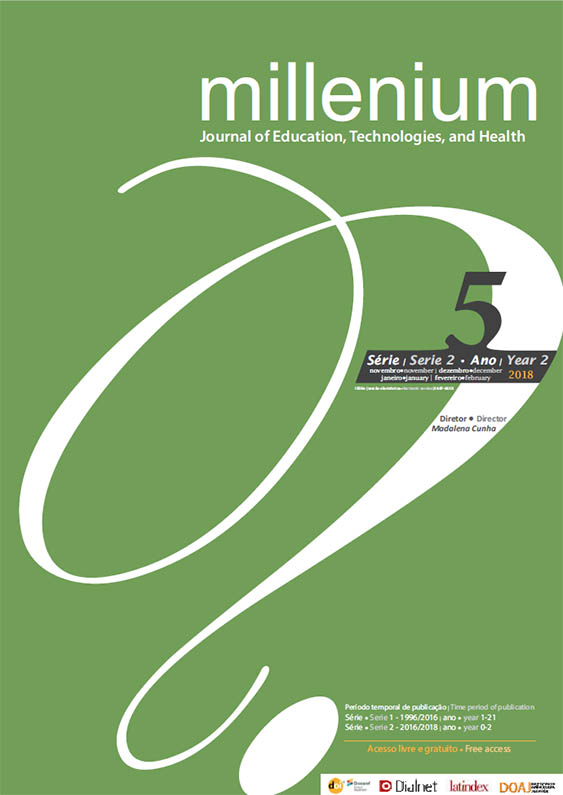 Section
Life and Healthcare Sciences
Copyright (c) 2018 Millenium - Journal of Education, Technologies, and Health
This work is licensed under a Creative Commons Attribution 4.0 International License.
Authors who submit proposals for this journal agree to the following terms:
a) Articles are published under the License Creative Commons, in full open-access, without any cost or fees of any kind to the author or the reader;

b) The authors retain copyright and grant the journal right of first publication, allowing the free sharing of work, provided it is correctly attributed the authorship and initial publication in this journal;

c) The authors are permitted to take on additional contracts separately for non-exclusive distribution of the version of the work published in this journal (eg, post it to an institutional repository or as a book), with an acknowledgment of its initial publication in this journal;
d) Authors are permitted and encouraged to publish and distribute their work online (eg, in institutional repositories or on their website) as it can lead to productive exchanges, as well as increase the impact and citation of published work
Documents required for submission
Article template (Editable format)