Assessing the failure in transfer of passive immunity in beef calves: two case reports
Carolina Balao Silva

Polytechnic Institute of Portalegre. VALORIZA – Research Centre for Endogenous Resources Valorization, Portalegre, Portugal

Lina Costa

Polytechnic Institute of Portalegre. VALORIZA – Research Centre for Endogenous Resources Valorization, Portalegre, Portugal

Rute Santos

Polytechnic Institute of Portalegre. VALORIZA – Research Centre for Endogenous Resources Valorization, Portalegre, Portugal

Luisa Pereira

Polytechnic Institute of Portalegre, Portalegre, Portugal.

Henrique Pinto

University of Évora, Évora, Portugal

Helga Waap

National Institute for Agrarian and Veterinarian Research, Oeiras, Portugal
Keywords:
failure in transfer of passive immunity, bovine, immunoglobulin G, ELISA
Abstract
Introduction: Failure in Transfer of Passive Immunity (FTPI) is a condition that occurs frequently in the bovine species when inadequate ingestion or absorption of enough good-quality colostrum takes place. In bovine kept in extensive conditions, FTPI diagnosis is usually made by complete physical examination, with not enough time for laboratory analysis, and treatment is based on the administration of colostrum replacement products or transfusion.
Objectives: To evaluate the transfer of passive immunity in meat calves kept in extensive conditions.
Methods: We hereby describe two case reports of calves presenting clinical signs compatible with FTPI and their biochemical analysis, including IgG determination by an ELISA test.
Results: The results indicated that both calves presented a very low serum IgG concentration (calf 1: 0.7mg/ml and calf 2: 1mg/ml), confirming FTPI. The animals were treated with a plasma transfusion from a crossbreed cow. At 24 hours after the plasma transfusion, serum IgG concentration raised slightly on both animals, but after 48 hours serum IgG reduced to a concentration similar to the pre-transfusion values.
Conclusions: We conclude that plasma transfusion can be an effective treatment for FTPI in clinical cases in extensive conditions but it has to be monitored assuring that serum IgG concentration reaches normal values. Immunological status of donors should be assessed before plasma collection and transfer.
References
Atkinson, D. E., Boyd, R. H., Sibley, C. P., & Neill, J. D. (2006). Placental Transfer. In J.D. Neill (ed.), Knobil and Neill's Physiology of Reproduction (pp. 2787-2846). Amsterdam: Elsevier.
Balcomb, C., & Foster, D. (2014). Update on the use of blood and blood products in ruminants. Veterinary Clinics of North America Food Animal Practice, 30(2), 455-474. doi: https://doi.org/10.1016/j.cvfa.2014.04.001
Chigerwe, M., & Barrington, G. M. (2015). Ruminant immunodeficiency diseases. In B. P. Smith (ed.), Large Animal Internal Medicine (pp. 1572-1575), 5th ed. St Louis, MO: Elsevier.
Chigerwe, M., & Tyler, J. W. (2010). Serum IgG Concentrations after Intravenous Serum Transfusion in a Randomized Clinical Trial in Dairy Calves with Inadequate Transfer of Colostral Immunoglobulins. Journal of Veterinary Internal Medicine, 24(1), 231-234. doi: 10.1111/j.1939-1676.2009.0442.x
Drikik, M., Windeyer, C., Olsen, S., Fu, Y., Doepel, L., & De Buck, J. (2018). Determining the IgG concentrations in bovine colostrum and calf sera with a novel enzymatic assay. Journal of Animal Science and Biotechnology, 9:69, 2-9. doi: 10.1186/s40104-018-0287-4
Furman-Fratczak, K., Rzasa, A., & Stefaniak, T. (2011). The influence of colostral Ig concentration in heifer calves serum on their health and growth. Journal of Dairy Science, 94, 5536-5543. doi: 10.3168/jds.2010-3253
Gelsinger, S. L., Smith, A. M., Jones, C. M., & Heinrichs, A. J. (2015). Technical note: Comparison of radial immunodiffusion and ELISA for quantification of bovine immunoglobulin G in colostrum and plasma. Journal of Dairy Science, 98(6), 4084-4089. doi: 10.3168/jds.2014-8491
Hogan, I., Doherty, M., Fagan, J., Kennedy, E., Conneely, M., Brady, P., & Lorenz, I. (2015). Comparison of rapid laboratory tests for failure of passive transfer in the bovine. Irish Veterinary Journal, 68 (1), 1-10. doi: 10.1186/s13620-015-0047-0
Johnson, K. F., Chancellor, N., Burn, C. C., & Wathes, D. C. (2017). Prospective cohort study to assess rates of contagious disease in pre-weaned UK dairy heifers: management practices, passive transfer of immunity and associated calf health. Veterinary Record Open, 4(1):e000226. doi: 10.1136/vetreco-2017-000226
Lackshaw, W. K. (1987). Veterinary developmental anatomy : a clinically oriented approach. Toronto: B.C. Decker.
McGee, M., & Earley, B. (2019). Review: passive immunity in beef-suckler calves. Animal, 13(4), 810-825. doi: 10.1017/S1751731118003026
Mishra, C., Mishra, S., Jyotiranjan, T., Behera, K., & Sethy, K. (2017). Genomic insight into the passive transfer of immunity. The Pharma Innovation Journal 6(9), 362-367.
Murphy, J. M., Hagey, J. V., & Chigerwe, M. (2014). Comparison of serum immunoglobulin G half-life in dairy calves fed colostrum, colostrum replacer or administered with intravenous bovine plasma. Veterinary Immunology and Immunopathology, 158(3-4), 233-237. doi: 10.1016/j.vetimm.2014.01.008
Parish, S. M., Tyler, J. W., Besser, T. E., Gay, C. C., & Krytenberg, D. (1997). Prediction of serum IgG1 concentration in Holstein calves using serum gamma glutamyltransferase activity. Journal of Veterinary Internal Medicine, 11(6), 344-347. doi: 10.1111/j.1939-1676.1997.tb00478.x
Pekcan, M., Fidanci, U. R., Yuceer, B., & Ozbeyaz, C. (2013). Estimation of passive immunity in newborn calves with routine clinical chemistry measurements. Ankara Üniversitesi Veteriner Fakültesi Dergisi, 60, 85-88.
Perino, L. J., Sutherland, R. L., & Woollen, N. E. (1993). Serum gamma-glutamyltransferase activity and protein concentration at birth and after suckling in calves with adequate and inadequate passive transfer of immunoglobulin G. American Journal of Veterinary Research, 54(1), 56-59.
Renaud, D., Duffield, T., LeBlanc, S., & Kelton, D. (2018). Validation of methods for practically evaluating failed passive transfer of immunity in calves arriving at a veal facility. Journal of Dairy Science, 101(10), 9516-9520. doi: https://doi.org/10.3168/jds.2018-14723
Stott, G. H., Marx, D. B., Menefee, B. E., & Nigjhtengale, G. T. (1979). Colostral immunoglobulin transfer in calves 1. Period of absorption. Journal of Dairy Science, 62, 1632-1638. doi: 10.3168/jds.S0022-0302(79)83472-4
Topal, O., Batmaz, H., Mecitoglu, Z., & Uzabaci, E. (2018). Comparison of IgG and semiquantitative tests for evaluation of passive transfer immunity in calves. Turkish Journal of Veterinary and Animal Science, 42, 302-309. doi:10.3906/vet-1712-43
Tyler, J. W., Parish, S. M., Besser, T. E., Van Metre, D. C., Barrington, G. M., & Middleton, J. R. (1999). Detection of Low Serum Immunoglobulin Concentrations in Clinically Ill Calves. Journal of Veterinary Internal Medicine, 13, 40-43.
Van Hese, I., Goossens, K., Vandaele, L., & Opsomer, G. (Jan de 2020). Invited review: MicroRNAs in bovine colostrum-Focus on their origin and potential health benefits for the calf. Journal of Dairy Science, 103(1), 1-15. doi: 10.3168/jds.2019-16959
Weaver, D. M., Tyler, J. W., VanMetre, D. C., Hostetler, D. E., & Barrington, G. M. (2000). Passive transfer of colostral immunoglobulins in calves. Journal of Internal Veterinary Medicine, 14(6), 569-577. doi: 10.1111/j.1939-1676.2000.tb02278.x
Zakian, A., Nouri, M., Rasooli, A., Ghorbanpour, M., Constable, P. D., & Mohammad-Sadegh, M. (2018). Evaluation of 5 methods for diagnosing failure of passive transfer in 160 Holstein calves. Veterinary Clinical Pathology, 47(2), 275-283. doi: 10.1111/vcp.12603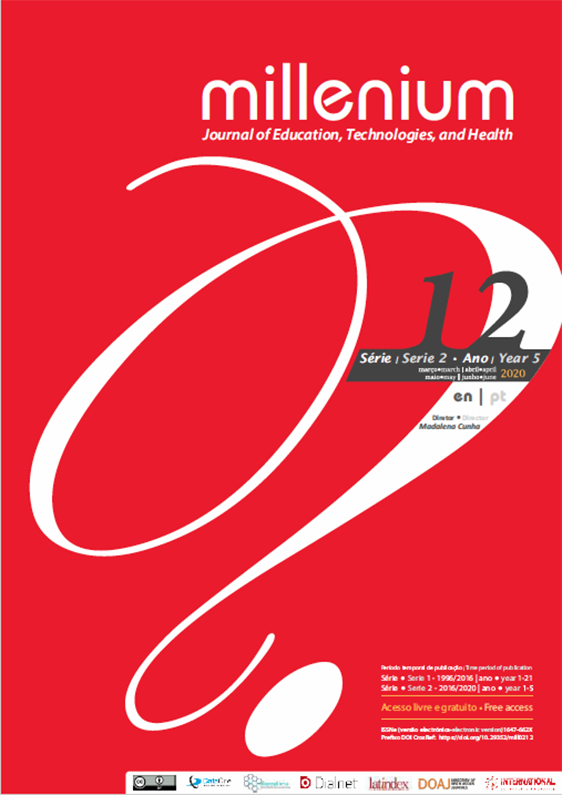 Section
Agriculture, Food and Veterinary Sciences
Copyright (c) 2020 Millenium - Journal of Education, Technologies, and Health
This work is licensed under a Creative Commons Attribution 4.0 International License.
Authors who submit proposals for this journal agree to the following terms:
a) Articles are published under the License Creative Commons, in full open-access, without any cost or fees of any kind to the author or the reader;

b) The authors retain copyright and grant the journal right of first publication, allowing the free sharing of work, provided it is correctly attributed the authorship and initial publication in this journal;

c) The authors are permitted to take on additional contracts separately for non-exclusive distribution of the version of the work published in this journal (eg, post it to an institutional repository or as a book), with an acknowledgment of its initial publication in this journal;
d) Authors are permitted and encouraged to publish and distribute their work online (eg, in institutional repositories or on their website) as it can lead to productive exchanges, as well as increase the impact and citation of published work
Documents required for submission
Article template (Editable format)