From social media to engagement
the case of three alcoholic drink brands
Keywords:
engagement, facebook, instagram, social media, marketing
Abstract
Introduction: Over the last few years, the importance of social networks in brand communication has turned marketing around completely. Companies have realized that their consumers are online and, consequently, that their presence all over social networks is mandatory. However, the dynamics that characterize digital environment require a constant adaptation and improvement of the communication strategies used in social networks and that depend largely on the feedback they get from their target audience. Engagement is one of the most important metrics for managing social networks and little is known about the factors that may influence engagement in alcoholic drink brands. 
Objectives: It's important to determine the best ways to use social networks to increase public and potential customers' engagement and to understand the differences between different social networks. The objective was to observe the communication of three alcoholic drink brands that are particularly active on Facebook and Instagram in Portugal. 
Methods: A case study was developed and a mixed methodology (qualitative and quantitative methods were used) was chosen in order to observe the communication activities of three alcoholic brands (Licor Beirão, Super Bock and Sagres) in social media. 
Results: Based on the results obtained, it was possible to determine which factors influence engagement. Some factors such as the level of vividness and the type of content seemed to have distinct influence on Facebook and Instagram. Other variables such as the frequency of publications, level of interactivity, positive comments and response to fans had similar results in the level of engagement generated on both platforms. 
Conclusions: The study shows how these brands' Instagram and Facebook pages can be used in different ways to enhance engagement with their target audience and it was possible to identify some clues that will help create more effective communication strategies directed to these two social networks. 
Downloads
Download data is not yet available.
References
Aggarwal, C. (2011). An Introduction to Social Network Data Analytics. Social Network Data Analytics, pp. 1-15. Acedido em http://charuaggarwal.net/socialintro.pdf
Almeida, D. (2016). O álcool está a mexer com a publicidade? Marketeer. Acedido em http://marketeer.pt/2016/04/29/o-alcool-esta-a-mexer-com-a-publicidade/
Brodie, R., Hollebeek, L., & Conduit, J. (2016). Customer Engagement: Contemporary Issues and Challenges. Routledge.
Brodie, R., Ilic, A., Juric, B., & Hollebeek, L. (2013). Consumer engagement in a virtual brand community: An exploratory analysis. Journal of Business Research, 66(1), pp. 105–114. doi: 10.1016/j.jbusres.2011.07.029
Brown, T. (2018, Fevereiro 16). How to use CTA'S on Social Media. Acedido em http://blog.viraltag.com/2018/02/16/how-to-use-ctas-on-socialmedia/
Chua, A., & Banerjee, S. (2015). Marketing via Social Networking Sites: A Study. Proceedings of the International MultiConference of Engineers and Computer Scientists. Hong Kong: IMECS 2015. Acedido em http://www.iaeng.org/publication/IMECS2015/IMECS2015_pp363-368.pdf
Coelho, R., Oliveira, D., & Almeida, M. (2016). Does social media matter for post typology? Impact of post content on Facebook and Instagram metrics. Online Information Review, 40(4), pp. 458-471. doi:https://doi.org/10.1108/OIR-06-2015-0176
Evans, D. (2010). Social Media Marketing: The Next Generation of Business Engagement. John Wiley & Sons.
Felix, R., Rauschnabe, P., & Hinsch, C. (2016). Elements of strategic social media marketing: A holistic framework. Journal of Business Research. Acedido em https://www.academia.edu/25214595/Elements_of_strategic_social_media_marketing_A_holistic_framework?auto=download
Hanna, R., Rohm, A., & Crittenden, V. (2011). We're all connected: The power of the social media ecosystem. Business horizons, 54, pp. 265-273. Acedido em https://wolfman.one/wpcontent/uploads/2013/05/BH_HannaRohmCrittenden2011.pdf
Kotler, P., Kartajaya, H., & Setiawan, I. (2016). Marketing 4.0: Moving from Traditional to Digital. John Wiley & Sons.
Lobstein, T., Thornton, N., Jernigan, D., & Landon, J. (2017). The commercial use of digital media to market alcohol products: a narrative review. Addiction, 112(S1), pp. 21-27. doi:10.1111/add.13493
Marktest Consulting. (2016). Os Portugueses e as Redes Sociais. Acedido em http://www.marktest.com/wap/private/images/Logos/Folheto_Portugueses_Redes_Sociais_2016.pdf
Marktest Consulting. (2017). Os Portugueses e as Redes Sociais. Acedido em http://www.marktest.com/wap/private/images/Logos/Folheto_Portugueses_Redes_Sociais_2017.pdf
O'Reilly, T. (2005). Web 2.0: Compact Definition? Acedido em http://radar.oreilly.com/2005/10/web-20-compact-definition.html
Phuaa, J., Jin, S., & Kim, J. (2017). Gratifications of using Facebook, Twitter, Instagram, or Snapchat to follow brands: The moderating effect of social comparison, trust, tie strength, and network homophily on brand identification, brand engagement, brand commitment, and membership intentio. Telematics and Informatics, 34, pp. 412-424. doi:http://daneshyari.com/article/preview/466936.pdf
Schivinski, B., Christodoulides, G., & Dabrowski, D. (2016). Measuring Consumers' Engagement With Brand-Related Social-Media Content -. "Journal of Advertising Research", 56(1), pp. 1-18. doi:http://dx.doi.org/10.2501/JAR-2016-000
Sfetcu, N. (2017). Web 2.0 / Social Media / Social Networks. Nicolae Sfetcu.
Simões, D., & Dias, C. (2017). Seguidores de marcas no Facebook: Perceções e comportamentos. 12th Iberian Conference on Information Systems and Technologies, CISTI (pp. 2283-2288). IEEE. doi:https://doi.org/10.23919/CISTI.2017.7975700
Social Bakers. (2012, Março 19). Social Bakers. Acedido em https://www.socialbakers.com/blog/467-formulas-revealed-the-facebook-andtwitter-engagement-rate
Statista. (2017, Setembro). Statista. Acedido em https://www.statista.com/statistics/272014/global-social-networks-ranked-bynumber-of-users
Tafesse, W. (2014). Content strategies and audience response on Facebook brand pages. Marketing Intelligence & Planning, 33(6), pp. 927-943. doi:https://doi.org/10.1108/MIP-07-2014-0135
Thomas, B. (2017, Março 2). The Ultimate Guide to Instagram Analytics. Acedido em https://later.com/blog/instagram-analytics/
Tuten, T., & Solomon, M. (2017). Social Media Marketing (3 ed.). United Kingdom: SAGE.
Verhoef, P., Kooge, E., & Walk, N. (2016). Creating Value with Big Data Analytics: Making Smarter Marketing Decisions. Routledge.
Vignisdóttir, A. (2017). Customer engagement on instagram brand pages in the make-up industry. Islândia: Háskólinn í Reykjavík, Reykjavik University. Acedido em https://skemman.is/bitstream/1946/26717/1/MAR0117_Thesis_Annika_Vignisdottir_Customer%20Engagement%20on%20Instagram%20Brand%20Pages%20In%20the%20Make-up%20Cosmetics%20Industry.pdf
Vinerean, S., Cetina, I., Dumitrescu, L., & Tichindelean, M. (2013). The Effects of Social Media Marketing on Online Consumer Behavior. International Journal of Business and Management, 8(14). Acedido em http://www.ccsenet.org/journal/index.php/ijbm/article/view/25378
Vries, L., Genslera, S., & Leeflangab, P. (2012). Popularity of Brand Posts on Brand Fan Pages: An Investigation of the Effects of Social Media Marketing. Journal of Interactive Marketing, 26(2), pp. 83-91. doi:https://doi.org/10.1016/j.intmar.2012.01.003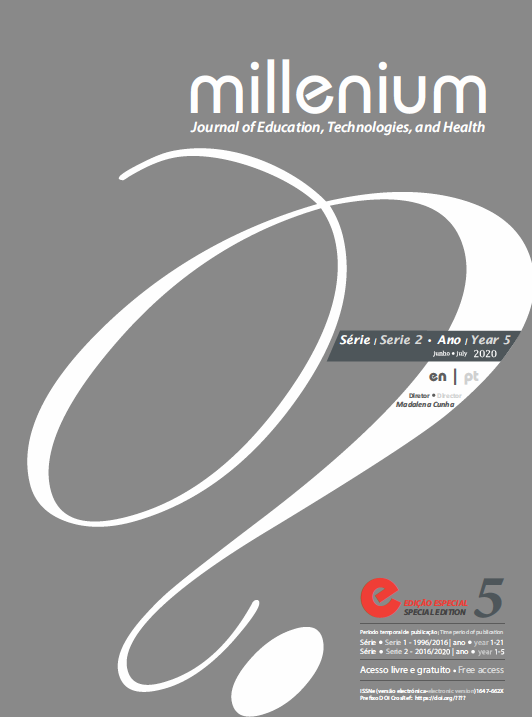 Downloads
How to Cite
Morais, N. S., & Figueiredo, S. (2020). From social media to engagement: the case of three alcoholic drink brands. Millenium - Journal of Education, Technologies, and Health, 2(5e), 389–398. https://doi.org/10.29352/mill0205e.39.00272
Section
Engineering, Technology, Management and Tourism
License
Authors who submit proposals for this journal agree to the following terms:
a) Articles are published under the Licença Creative Commons (CC BY 4.0), in full open-access, without any cost or fees of any kind to the author or the reader;
b) The authors retain copyright and grant the journal right of first publication, allowing the free sharing of work, provided it is correctly attributed the authorship and initial publication in this journal;

c) The authors are permitted to take on additional contracts separately for non-exclusive distribution of the version of the work published in this journal (eg, post it to an institutional repository or as a book), with an acknowledgment of its initial publication in this journal;
d) Authors are permitted and encouraged to publish and distribute their work online (eg, in institutional repositories or on their website) as it can lead to productive exchanges, as well as increase the impact and citation of published work
Documents required for submission
Article template (Editable format)