Development and stability of an anti-aging gel with hydroalcoholic extract from Salvia SP
Yonah Favero

Institute Polytechnic of Bragança, School of Agriculture, Bragança, Portugal. Federal University of Goiás, Department of Chemistry, Goiás, Brazil

Laryssa Thaylle Santos da Silva

State University of Feira de Santana, Department of Pharmacy - Feira de Santana, Brazil

Daiana Santos de Almeida

Federal Institute of Rio de Janeiro, Department of Chemistry - Rio de Janeiro, Brazil

Olivia Pereira

Institute Polytechnic of Bragança, School of Agriculture, Bragança, Portugal. Institute Polytechnic of Bragança, Mountain Research Center, Bragança, Portugal

Maria João Sousa

Institute Polytechnic of Bragança, School of Agriculture, Bragança, Portugal. Institute Polytechnic of Bragança, Mountain Research Center, Bragança, Portugal
Keywords:
Salvia officinalis, Salvia elegans, gel, hydroalcoholic extract, essential oil
Abstract
Introduction: The incessant search for products from nature to apply in the search for treatment, cure or even the well-being associated with the aesthetics itself, has strongly collaborated to deepen the area of study and knowledge, so as to meet the demands of the world population.
Objectives: This work aimed at the development and evaluation of the stability of two gels formulations (carbopol and methylcellulose) from the incorporation of the essential oils of the species S. officinalis and S. elegans and their hydroalcoholic extract.
Methods: Physicochemical stability, organoleptic gel tests, eye irritability test (HET-CAM test) and Clevenger hydrodistillation were performed to determine the oil yield and to use them as a natural preservative in the gels.
Results: As significant results we have: In light cycle tests there was only a color change after 15 days. In freeze / thaw tests there was a change in carbopol gel for S. officinalis in appearance and for S. elegans in pH and appearance, whereas in methylcellulose gel in S. elegans there was only change in pH. The accelerated stability test showed alteration for both gels, in the samples containing carbopol gel there was color change and evaporation of part of the gel, while in methylcellulose the complete dehydration.
Conclusions: The samples of the gels with hydroalcoholic extract of S. elegans and S. officinalis in concentrations of 5%, 2.5% and 1.25% obtained good stability according to the tests to which they were submit.
References
Afonso, A.F.; Pereira, O.R.; Neto, R.T.; Silva, A.M.S.; Cardoso, S.M. (2017). Health-promoting effects of Thymus herba barona, Thymus pseudolanuginosus, and Thymus caespititius decoctions. Int. J. Mol. Sci.. 18, 1879-1892.
Ali, A., Tabanca, N., Demirci, B., Blythe, EK., Ali, Z. Baser, KH., Khan, IA. (2015). Composição química e atividade biológica de quatro óleos essenciais da sálvia e compostos individuais contra duas espécies de mosquitos. Agric Food Chem. 3(2), 447-456.
Agência Nacional de Vigilância Sanitária [ANVISA]. (2004). Guia de Estabilidade de Produtos Cosméticos. Brasília: Agência Nacional de Vigilância Sanitária.
Bouranen, A. (2017). Determination of the stability of cosmetic formulations with incorporation of natural products. Dissertação de mestrado, Instituto Politécnico de Bragança, Bragança, Portugal.
Brandão, H. N., David, J. P., Couto, R. D., & Nascimento, J. A. (2010). Química e Farmacologia de Quimioterápicos Antineoplásicos derivados de plantas. Química Nova, 33(6),1359-1369.
Chorilli, M., Scarpa, M. V., Leonardi, G. R., & Franco, Y. O. (2007). Toxicologia dos Cosméticos. Latin American Journal of Pharmacy, 26(1), 144-154.
Directiva 76/768/EEC. (27 de julho de 1976). European Comission.
Draelos, Z. D., & Thaman, L. A. (2006). Cosmetic formulation of skin care products. p. 346.United States American: Taylor & Francis Group.
Gil, A. C. (2002). Como elaborar projetos de pesquisa ( 4a ed.). São Paulo: Atlas.
Gonçalves, G. M., Brianezi, G., & Miot, H. A. (2017). O pH dos principais hidratantes e sabonetes líquidos comerciais brasileiros: considerações sobre o reparo da barreira cutânea. Anais Brasileiros de Dermatologia,92(5), 738-740.
González- Cartazar, M., Maldonado, A. AM., Jimenez, F.E, Marquina, S., Ventura, Z.E., Zamilpa, U., Tortoriello, J., & Herrera, R.M.( 2013). Isosakuranetin-5-O-rutinoside: uma nova flavanona com atividade antidepressiva isolada de Salvia elegans Vahl. Molecules, 18(11), 13260-13270.
Gostin, I. (2008). Effects of different plant hormones on Salvia officinalis cultivated in vitro. International Journal of Botany, 4 (4): 430-436.
Interagency Coordinating Committee on Advancing Alternatives the Validation of Alternative Methods. (2010). Recommended Test Method Protocol: Hen's Egg Test – Chorioallantoic Membrane (HET-CAM) Test Method. NIH Publication No. 10-7553, National Toxicology Program.
Mariotti, D., & Frasson, A. P. Z. (2011). Avaliação da estabilidade e atividade antioxidante de formulações cosméticas contendo extrato etanólico dos frutos de Fragaria vesca L. (morango). Infarma, 23(3), 37-43.
Marx, S. (2004). Guidelines on Stability Testing of Cosmetic Products. The European Cosmetic Toiletry And Perfumery Asociation Colipa.
Melo, C. A., Domingues, R. J., & Lima, A. B. (2018). Elaboração de géis e estabilidade de medicamentos. Belém: Editora da Universidade do Estado do Pará.
MIŠIĆ, D.; GRUBIŠIĆ, D.; KONJEVIĆ, R.(2006). Micropropagation of Salvia brachyodon through nodal explants. BIOLOGIA PLANTARUM 50 (3), 473-476.
Moraes, L. A. S. (2009). Influência dos fatores abióticos na composição química dos óleos essenciais. Horticultura Brasileira, 27(2), S4050- S4063.
Oriqui, L.R., Mori, M., & Wongtschowski, P. (2013). Guia para a determinação da estabilidade de produtos químicos. Química Nova,36, 340-347.
Pereira, O. R., Catarino, M. D., Afonso, A. F., Silva, A. M., & Cardoso, S. M. (2018). Decocções de Salvia elegans, Salvia greggii e Salvia officinalis: atividades antioxidantes e inibição de enzimas metabólicas de carboidratos e lipídios. Molecules, 23(12), 3169-3185.
Pinto, J. E., Arello, E. F., Pinto, C. A., & Barbosa, M. H. (1996). Resposta à regeneração e crescimento de brotos in vitro de Kielmeyera coriacea quando influenciado por diferentes concentrações dos sais e de sacarose. Ciência Rural, 26(1), 57-61.
Pistelli, L.; Noccioli, C,; D'Angiolillo, F.; Pistelli, L. (2013). Composition of volatile in micropropagated and field grown aromatic plants from Tuscany Islands. Acta Biochim Pol. 2013;60(1), 43-50.
Povh, J. A., & Ono, E. O. (2008). Crescimento de plantas de Salvia officinalis sob ação de reguladores de crescimento vegetal. Ciência Rural, 38(8), 2186-2190.
Silva, L.C., Carvalhedo, L. F., Vieira, J. P. C., Silva, L. A. C., Monteiro, O. S., & Carmo, L. H. A. (2015). Delineamento de formulações cosméticas com óleo essencial de Lippia gracilis Schum (Alecrim-de-Tabuleiro) de origem amazônica. Revista Ciências Farmacêuticas Básica e Aplicada,36 (2),319-326.
Sousa, C. M. M., Silva, H. R., Vieira Jr, G. M., Ayres, M. C. C., Costa, C. L. S., Araújo, D. S., Cavalcante, L. C. D., Barros, E. D. S., Araújo, P. B. M., Brandão, M. S., Chaves, M. H. (2007). Fenóis totais e atividade antioxidante de cinco plantas medicinais. Química Nova, 30(2), 351-355.
Viecelli, C. A., & Cruz-Silva, C. T. A. (2009). Efeito da variação sazonal no potencial alelopático de Sálvia. Semina: Ciências Agrárias, 30(1), 39-46.
Viegas Jr, C., Bolzani, V. d., & Barreiro, E. J. (2006). Os Produtos Naturais e a Química Medicinal Moderna. Química Nova, 29(2).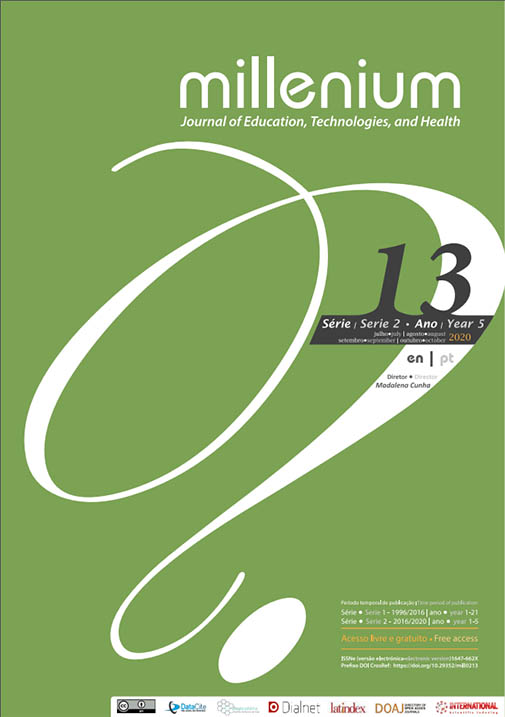 Section
Agriculture, Food and Veterinary Sciences
Copyright (c) 2020 Millenium - Journal of Education, Technologies, and Health
This work is licensed under a Creative Commons Attribution 4.0 International License.
Authors who submit proposals for this journal agree to the following terms:
a) Articles are published under the License Creative Commons, in full open-access, without any cost or fees of any kind to the author or the reader;

b) The authors retain copyright and grant the journal right of first publication, allowing the free sharing of work, provided it is correctly attributed the authorship and initial publication in this journal;

c) The authors are permitted to take on additional contracts separately for non-exclusive distribution of the version of the work published in this journal (eg, post it to an institutional repository or as a book), with an acknowledgment of its initial publication in this journal;
d) Authors are permitted and encouraged to publish and distribute their work online (eg, in institutional repositories or on their website) as it can lead to productive exchanges, as well as increase the impact and citation of published work
Documents required for submission
Article template (Editable format)