Fixed-time artificial insemination in extensive cattle
Sandra Dias

Polytechnic Institute of Castelo Branco, School of Agriculture, Castelo Branco, Portugal. University of Beira Interior, CICS-UBI- Health Sciences Research Centre, Covilhã, Portugal

https://orcid.org/0000-0003-0123-8400

Joaquim Carvalho

Polytechnic Institute of Castelo Branco, School of Agriculture, Castelo Branco, Portugal

João Várzea Rodrigues

Polytechnic Institute of Castelo Branco, School of Agriculture, Castelo Branco, Portugal

Manuel Vicente Martins

Polytechnic Institute of Castelo Branco, School of Agriculture, Castelo Branco, Portugal. Polytechnic Institute of Castelo Branco, QRural - Quality of Life Research Unit in the Rural World, Castelo Branco, Portugal
Keywords:
cattle, fixed-time artificial insemination, extensive production systems, gestation rate
Abstract
Introduction: Fixed-time artificial insemination (TAI) is a useful tool in explorations to improve productivity, if ovulation synchronization requirements are met, related to the physical status of females and their reproductive apparatus. The protocol used allows greater success in cases of anestro, inducing cyclicity in cows or non-cyclic heifers, allowing AI at a predetermined time, dispensing with heat detection, in meat cattle in extensive system.
Objetives: Improve reproductive performance in beef cattle. Artificial insemination (AI) is an important reproductive technique for the genetic improvement of production animals, as well as a strategy for synchronizing the time of childbirth in a region with periods of food shortage, in quantity and quality.
Methods: Exploratory study with quantitative approach. The work carried out between March 2018 and April 2019 where 220 AI were carried out in 8 staff from the Centro and Alentejo region of different genetic bases, diagnosed with pregnancy at 40 days.
Results: The gestation rate (%G) for the two years was 55.5% in 2018 (n=178) was 52.8% and 66.7% (n=42) in 2019.
Conclusions: The results obtained allow predicting 55% of TG, however an assessment of risk factors involved (climate, feeding, body condition, management) may contribute to an improvement in results.
References
Baruselli, P. (2007). Reprodução de Bovinos. Em "Compêndio de Reprodução Animal." Intervet
Baruselli, P. S., Ferreira, R. M., Sá Filho, M. F. and. Bó, G. A. (2018). Review: Using artificial insemination v. natural service inbeef herds Animal (2018), 12:S1, pp s45–s52. doi:10.1017/S175173111800054X
Bó, G. A. e Baruselli, P. S. (2014). Synchronization of ovulation and fixed-time artificial insemination in beef cattle. Animal (2014), 8:s1, pp 144–150. doi:10.1017/S1751731114000822
Brash, L. D. (1994). Advanced breeding techniques for wool sheep improvement. Wool Technology and Sheep Breeding, 42.
Diskin, M. G., Kenny, D. A. (2014). Optimising reproductive performance of beef cows and replacement heifers. Animal, 8 Suppl 1:27-39. doi: 10.1017/S175173111400086X
Lopes da Costa, L. (2008). Controlo da reprodução em efectivos bovinos de produção de carne. Revista Portuguesa de Buiatria, 12 (13), 5–14.
Moraes, C. N., Maia, L., Landim-Alavarenga, F. C., Oba, E. (2014). Considerações a respeito do pós-parto em bovinos. Veterinária e Zootecnia, 21(1), 53-63.
Raimundo, I. (2014). O efeito de alguns factores na eficiência da inseminação em tempo fixo em bovinos de carne. Tese de Mestrado Integrado em Medicina Veterinária. Pp106. Faculdade de Medicina Veterinária, Universidade de Lisboa. Lisboa.
Romão, R. e Bettencourt, E. (2009). Maneio reprodutivo em explorações de bovinos de carne: possibilidades técnicas. In Primeiras jornadas do Hospital Veterinário Muralha de Évora (pp. 1 – 3). Évora, Portugal: Hospital veterinário muralha de Évora.
Short, R. E., Bellows, R. A., Staigmiller, R. B., Berardinelli, J. G. & Custer, E. E. (1990). Physiological mechanisms controlling anestrus and infertility in postpartum beef cattle. Journal of Animal Science, 68, Pp. 799-816. doi.org/10.2527/1990.683799x
Silva, A. L. M. (2011). Optimização do maneio reprodutivo de uma exploração de bovinos em regime extensivo. Dissertação de Mestrado. Faculdade de Medicina Veterinária, Universidade Lusófina de Humanidades e Tecnologias, Lisboa, Portugal.
Vaz Portugal, A. (1990). A produção pecuária Nacional. Veterinária Técnica, 1(1), 14–17.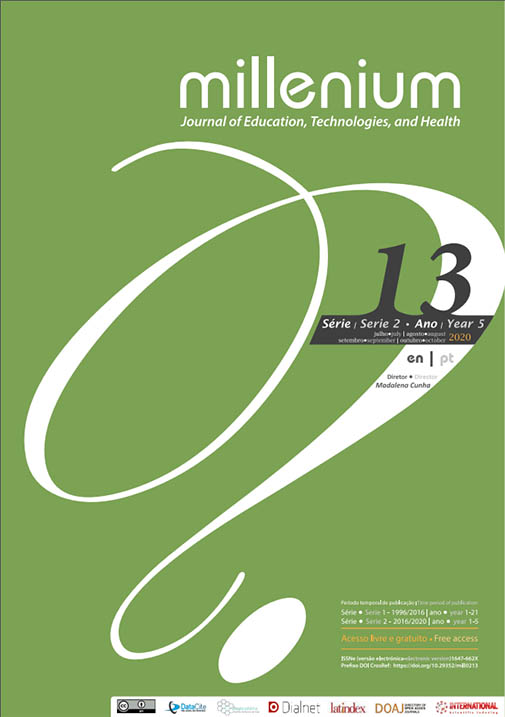 Section
Agriculture, Food and Veterinary Sciences
Copyright (c) 2020 Millenium - Journal of Education, Technologies, and Health
This work is licensed under a Creative Commons Attribution 4.0 International License.
Authors who submit proposals for this journal agree to the following terms:
a) Articles are published under the License Creative Commons, in full open-access, without any cost or fees of any kind to the author or the reader;

b) The authors retain copyright and grant the journal right of first publication, allowing the free sharing of work, provided it is correctly attributed the authorship and initial publication in this journal;

c) The authors are permitted to take on additional contracts separately for non-exclusive distribution of the version of the work published in this journal (eg, post it to an institutional repository or as a book), with an acknowledgment of its initial publication in this journal;
d) Authors are permitted and encouraged to publish and distribute their work online (eg, in institutional repositories or on their website) as it can lead to productive exchanges, as well as increase the impact and citation of published work
Documents required for submission
Article template (Editable format)