Freshness index determination in Sardina pilchardus
Keywords:
texture, TVB-N, refraction index, nutritional value
Abstract
Introduction: Sardine (Sardinha pilchardus) is pelagic specie, from Clupeidae family, being one of the most abundant fishes all over the world. The term "quality" in fish refers to the index of freshness evaluation in accordance to the Regulation (EC) No. 2406/96 of November 26th, namely the esthetical appearance, freshness and degree of deterioration that the fish had suffered.
Objective: To evaluate the freshness index, hygienic quality and bromatological composition of sardines in different commercial shops in Beja, Alentejo.
Methods: Four different lots of Sardinha pilchardus were evaluated from the four commercial shops (20 sardines/lots), and classification was made of the category of each of the lots was carried out by the Reg. (EC) No. 2406/96 tables. Physical-chemical analysis was made: determination of Total Volatile Basic Nitrogen (TVB-N), refractive index of vitreous humor (RI), pH, colour, texture, bromatological analysis, and microbiological analysis.
Results: TVB-N values for the different samples was lower than 14 mg/100g, as mentioned in Reg. (EC) No 1022/2008 it should be lower than 20 to 30mg/100g, and therefore the 4 samples respected that criteria. Microbiological analysis showed that the samples were within the acceptable values. The sardines presented average nutritional values of 161 Kcal/100g, which are lower than reference values from INSA (2007) nutritional table, eventually due to the low fat content by this time of the year (Spring).
Conclusion: The sardines showed freshness categories of Extra and A, and hence emphasized a satisfactory state for consumption. The most expounding analyzes for the determination of freshness were the TVB-N, the instrumental texture and the Refraction Index.
References
Ababouch, L.H.; Souibri,L.; Rhaliby,K.; Ouahdi, O.; Battal, M. and Busta, F.F., (1996). Quality changes in sardines (Sardina pilchardus) stored in ice and at ambient temperature. Food Microbiology, 13: 123–132.
Chiba, A.; Hamaguchi, M.; Kosaka, M.; Tokuno, T.; Asai, T.; Chichibu.S., (1991). Quality evaluation offish meat by phosphorus-nuclear magnetic resonance. J. FoodSci. 56, 660-664.
FAO (1998). "El Pescado Fresco: Su Calidad y Cambios de su Calidad". FAO DOCUMENTO TÉCNICO DE PESCA 348. Editado por H.H. Huss, Laboratorio Tecnológico Ministério de Pesca Dinamarca, 1998. Disponible en: http://www.fao.org/docrep/V7180S/v7180s00.html
Farber, L., (1965). Fish as food. New York: Academic, Borgstrom, G. v.4, p.66-69.
Ferro Palma, S. (2006). Tese de doutoramento, para obtenção do grau de Doutor, subordinada ao tema "Estudio de la Influencia del Sistema de Elaboracion en la Calidad del Lomo Curado Alentejano". Universidade da Extremadura, Fac. de Veterinária, Junho.
I.N.S.A. (2007) Tabela da Composição de Alimentos; Centro de Segurança Alimentar e Nutrição, Instituto Nacional de Saúde Doutor Ricardo Jorge; (ISBN 978-972-8643-19-5)
Norma Portuguesa NP 2032, (1979). Determinação da cinza total. Processo de referência ISO R 936. 2p.
Norma Portuguesa NP 2282, (1984). Determinação da humidade. Processo de referência ISO 442 (1973). 4p.
Norma Portuguesa 1974, (1986). Pescado. Determinação do teor da matéria gorda total. Processo de referência ISO 143 (1973).
Norma Portuguesa NP 1612, (1979). Determinação do teor de azoto total. Método de referência ISO 937:78.
Norma Portuguesa NP 1983, (1988). Pescado. Sardinha. Classificação por tamanhos.
Norma Portuguesa NP 2029, (1983). Alimentos para animais. Determinação do teor de celulose bruta.
Norma Portuguesa NP 2930, (1988). Determinação do teor de Azoto Básico Volátil Total (ABVT). Método de Conway. Instituto Português da Qualidade, 5p.
Norma Portuguesa NP 3441, (1990). Carnes, derivados e produtos cárneos. Determinação do pH. Processo de referencia ISO 2917 (1974). 6p.
Oehlenschläger J.; Sörensen, N.K. (1997) Criteria of fish freshness and quality aspects. Nantes, 1997.p.30-35.
Real Decreto 1521, (1984). Ministerio de Sanidad y Consumo. Boletin Oficial del Estado. 1991. Gobierno de España.
Reglamento (CE) nº 1022, (2008). Valores límites de nitrógeno básico volátil total (NBVT) para determinadas categorías de productos pesqueros y los métodos de análisis que deben utilizarse. Diario Oficial de las Comunidades Europeas, N.º L 097 de 29.04.95.:84-87
Regulamento (CE) nº 2406, (1996). Relativo à fixação de normas comuns de comercialização para certos produtos da pesca Parlamento Europeu e Conselho da União Europeia.
Soares, V.F.M.; Vale, S.R.; Junqueira, R.G. e Glória, M.B.A., (1998). Teores de Histamina e Qualidade Físico-Química e Sensorial de Filé de Peixe Congelado. Ciênc.Tecnol. Aliment., vol. 18 n. 4: 462-470.
Suárez-Mahecha, H. ; Beirão, L.H.; Francisco, A. ; Nakaghi L.S.O.; Pardo-Carrasco S.C. (2007), Efeito do resfriamento sobre a textura post-mortem da carne do peixe matrinxã Brycon cephalus; Arq. Bras. Med. Vet. Zootec., v.59, n.4, p.1067-1073.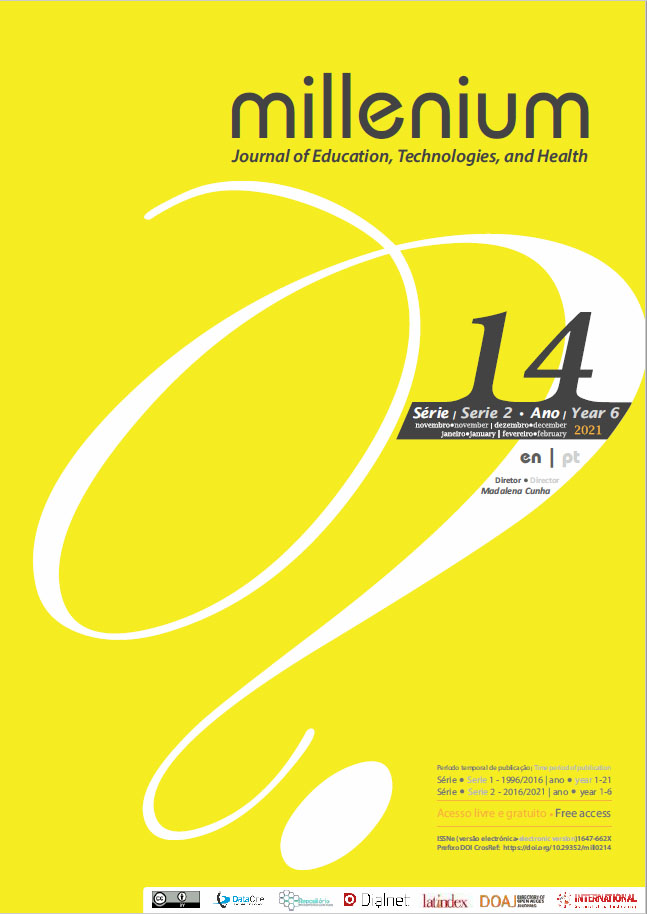 Downloads
Section
Agriculture, Food and Veterinary Sciences
License
Copyright (c) 2020 Millenium - Journal of Education, Technologies, and Health
This work is licensed under a Creative Commons Attribution 4.0 International License.
Authors who submit proposals for this journal agree to the following terms:
a) Articles are published under the License Creative Commons, in full open-access, without any cost or fees of any kind to the author or the reader;

b) The authors retain copyright and grant the journal right of first publication, allowing the free sharing of work, provided it is correctly attributed the authorship and initial publication in this journal;

c) The authors are permitted to take on additional contracts separately for non-exclusive distribution of the version of the work published in this journal (eg, post it to an institutional repository or as a book), with an acknowledgment of its initial publication in this journal;
d) Authors are permitted and encouraged to publish and distribute their work online (eg, in institutional repositories or on their website) as it can lead to productive exchanges, as well as increase the impact and citation of published work
Documents required for submission
Article template (Editable format)