Citizenship and gender equality in children and adolescents
the perspective of education stakeholders
Keywords:
community participation, child, adolescent, genre
Abstract
Introduction: The right to education for children / adolescents in relation to their preparation for the performance of citizenship is one of the objectives of inclusive education, which should promote respect for the dignity of children / adolescents, supporting them equally, regardless of their genre. 
Objectives: To evaluate the knowledge of educational agents about citizenship and gender equality in children and adolescents. 
Methods: A quantitative, descriptive, cross-sectional study was carried out in a non-probabilistic convenience sample, comprising 136 participants, teachers (62.5%), nurses (32.4%) and police (5.1%), and a mean age of 48.34 years (± 7.49 years), being mostly female (70.6%). The "ad hoc" questionnaire Citizenship and Gender Equality in Children and Adolescents (CIG-CA)" of Cunha (2017) was used, consisting of 2 scales, one referring to education and inclusive language and another to knowledge about citizenship and equality taking into account two factors: household chores and childcare 
Results: The highest percentages were found to correspond to participants who reported having knowledge about citizenship and gender equality in terms of inclusive language (Human Being 89.7% vs. Professor 75.0%). Overall, there is a prevalence of good knowledge (40.4%), followed by moderate knowledge about citizenship and gender equality. 
Conclusions: The results made it possible to recognize a focus of interest for the intervention of nursing within the MaiSaúdeMental project, and for the definition of strategies for the promotion of citizenship of children / adolescents in the school and community context, mobilizing the resources of educational agents for a more inclusive effective. 
Downloads
Download data is not yet available.
References
Albernaz, L.S.F., & Longhi, M. (2009). Para compreender gênero: uma ponte para reflexões igualitárias entre homens e mulheres. In Scott P. Lewis L. Quadros MT. Gênero, diversidade e desigualdades na educação: interpretações e reflexões para a formação docente. Recife: Publicações Especiais do Programa de Pós Graduação em Antropologia – FAGES. Universidade Federal de Pernambuco.
Barreto, A., Carrara, S, & Dacach, S. (2013). Gênero e diversidade na escola: trajetórias e repercussões de uma política pública inovadora. Rio de Janeiro: Cepesc.
Bucchianeri, M.M., Eisenberg, M.E., & Neumark-Sztainer, D. (2013). Weightism, racism, classism, and sexism: Shared forms of harassment in adolescents. Journal of Adolescent Health, 53, 47–53. https://doi.org/10.1016/j.jadohealth.2013.01.006
França, F.F., & Calsa, G.C. (2009). Reflexões e reconstruções sobre o conceito de gênero: um trabalho de intervenção com docentes. Seminário de Pesquisa do PPE realizado nos dias 08 e 09 de junho de 2009 na Universidade Estadual de Maringá. Acedido em http://www.ppe.uem.br/publicacoes/seminario_ppe_2009_2010/pdf/2009 /20.pdf
Freitas, N.F. (2011). Educação inclusiva e cidadania: aproximações e contradições. Revista Eletrônica de Educação. São Carlos, SP: UFSCar. 5 (1), 40-56. Acedido em http://www.reveduc.ufscar.br/index.php/reveduc/article/view/156
Freitas, A.C., & Araújo, A.F. (2016). Cidadania e inclusão: desafios para a formação docente. Extensio: R. Eletr. de Extensão, 13 (24), 128-137. Florianópolis. ISSN 1807-0221
Inter-Agency Working Group on Children's Participation (2018). Children as active citizens commitments and obligations for children's civil rights and civic engagement in east asia and the pacific a policy and programme guide. Inter-Agency Working Group on Children's Participation (IAWGCP). ISBN: 978-974-685-090-2. Acedido em https://www.unicef.org/eapro/Children_as_Active_Citizens_A4_book.pdf
Leaper, C., & Brown, C.S. (2018). Sexism in Childhood and Adolescence: Recent Trends and Advances in Research. (10): 10-15. Acedido em https://onlinelibrary.wiley.com/doi/full/10.1111/cdep.12247
Nunes, E.M. (2015). Gênero e Diversidade na Escola: limites e possibilidades na formação de professores/as. (Dissertação de Mestrado). Pontifícia Universidade Católica de Goiás. Acedido em http://tede2.pucgoias.edu.br:8080/bitstream/tede/1884/1/Ednalva%20Macedo%20Nunes.pdf
Vieira, C., Nogueira, C., & Tavares, T.C. (2009). Género e Cidadania. Guia de educação, género e cidadania. Acedido em https://www.cig.gov.pt/wp-content/uploads/2014/01/pre_cap1_1.pdf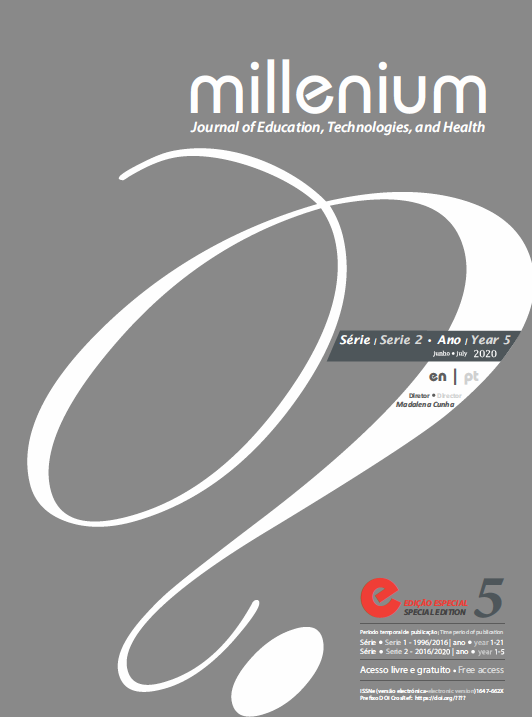 Downloads
How to Cite
Dias, A. M., Cunha, M., Oliveira, A., Reis, C., Oliveira, I., Maltez, L., Fernandes, L., Nogueira, M., & Osório, S. (2020). Citizenship and gender equality in children and adolescents: the perspective of education stakeholders. Millenium - Journal of Education, Technologies, and Health, 2(5e), 119–126. https://doi.org/10.29352/mill0205e.11.00341
Section
Education and Social Development Sciences
License
Authors who submit proposals for this journal agree to the following terms:
a) Articles are published under the Licença Creative Commons (CC BY 4.0), in full open-access, without any cost or fees of any kind to the author or the reader;
b) The authors retain copyright and grant the journal right of first publication, allowing the free sharing of work, provided it is correctly attributed the authorship and initial publication in this journal;

c) The authors are permitted to take on additional contracts separately for non-exclusive distribution of the version of the work published in this journal (eg, post it to an institutional repository or as a book), with an acknowledgment of its initial publication in this journal;
d) Authors are permitted and encouraged to publish and distribute their work online (eg, in institutional repositories or on their website) as it can lead to productive exchanges, as well as increase the impact and citation of published work
Documents required for submission
Article template (Editable format)