Racial and ethnic disparities in the treatment of depression
a scoping review
Keywords:
depression, ethnicity and health, race factors
Abstract
Introduction: It is now recognized that ethnic and racial minorities have less access to mental health in general and to the treatment of depression in particular. Where access exists, they receive a lower quality service.
Objective: To map and synthesise the existence of racial and ethnic inequality in the treatment of depression.
Methods: A scoping review has been performed using the method proposed by Joanna Briggs Institute. The selection of studies, extraction and synthesis of data were carried out by two independent reviewers.
Results: Five studies have been included in the study corpus that reveal unequivocal racial and ethnic inequalities in the treatment of depression. These inequalities lead to underdiagnosis and a lack of adequate treatment for non-caucasian patients, manifested by a lower probability of pharmacological prescription of antidepressants and counselling.
Conclusion: Race and ethnic inequalities in the treatment of depression are found to have a direct impact on underdiagnosis and lack of adequate treatment.
Downloads
Download data is not yet available.
References
Almeida, S. (2019). Racismo Estrutural. Brasil: Pólen Livros
APA. (2013). Diagnostic and statistical manual of mental disorders (5th ed.). VA, United States: American Psychiatric Association Publishing.
Bailey, R. K., Mokonogho, J., & Kumar, A. (2019). Racial and ethnic differences in depression: current perspectives. Neuropsychiatric disease and treatment, 15, 603-609. doi:10.2147/NDT.S128584
Gameiro, S., Carona, C., Pereira, M., Canavarro, M. C., Simões, M., Rijo, D., . . . Serra, A. V. (2008). Sintomatologia depressiva e qualidade de vida na população geral. Psicologia, Saúde & Doenças, 9, 103-112.
Hankerson, S. H., Suite, D., & Bailey, R. K. (2015). Treatment disparities among African American men with depression: implications for clinical practice. Journal of health care for the poor and underserved, 26(1), 21-34. doi:10.1353/hpu.2015.0012
Kim, M. (2014). Racial/Ethnic disparities in depression and its theoretical perspectives. Psychiatr Q, 85(1), 1-8. doi:10.1007/s11126-013-9265-3
Lagomasino, I. T., Stockdale, S. E., & Miranda, J. (2011). Racial-ethnic composition of provider practices and disparities in treatment of depression and anxiety, 2003-2007. Psychiatric services (Washington, D.C.), 62(9), 1019-1025. doi:10.1176/appi.ps.62.9.1019
McGregor, B., Li, C., Baltrus, P., Douglas, M., Hopkins, J., Wrenn, G., . . . Gaglioti, A. (2020). Racial and Ethnic Disparities in Treatment and Treatment Type for Depression in a National Sample of Medicaid Recipients. Psychiatric Services, 71(7), 663-669. doi:10.1176/appi.ps.201900407
MIND. (2013). Mental health crisis care: Commissioning excellence for black and minority ethnic groups. Retrieved from https://www.mind.org.uk/media-a/4371/bme-commissioning-excellence-briefing.pdf
Office of the Surgeon General, U. S., Center for Mental Health Services, U. S., & National Institute of Mental Health, U. S. (2001). Mental Health: Culture, Race, and Ethnicity: A Supplement to Mental Health: A Report of the Surgeon General. Rockville (MD): Substance Abuse and Mental Health Services Administration. Retrieved from https://www.ncbi.nlm.nih.gov/books/NBK44243/
Peters, M. D., Godfrey, C. M., Khalil, H., McInerney, P., Parker, D., & Soares, C. B. (2015). Guidance for conducting systematic scoping reviews. Int J Evid Based Healthc, 13(3), 141-146. doi:10.1097/xeb.0000000000000050
Shao, Z., Richie, W. D., & Bailey, R. K. (2016). Racial and Ethnic Disparity in Major Depressive Disorder. J Racial Ethn Health Disparities, 3(4), 692-705. doi:10.1007/s40615-015-0188-6
Tricco, A. C., Lillie, E., Zarin, W., O'Brien, K. K., Colquhoun, H., Levac, D., . . . Straus, S. E. (2018). PRISMA Extension for Scoping Reviews (PRISMA-ScR): Checklist and Explanation. Ann Intern Med, 169(7), 467-473. doi:10.7326/m18-0850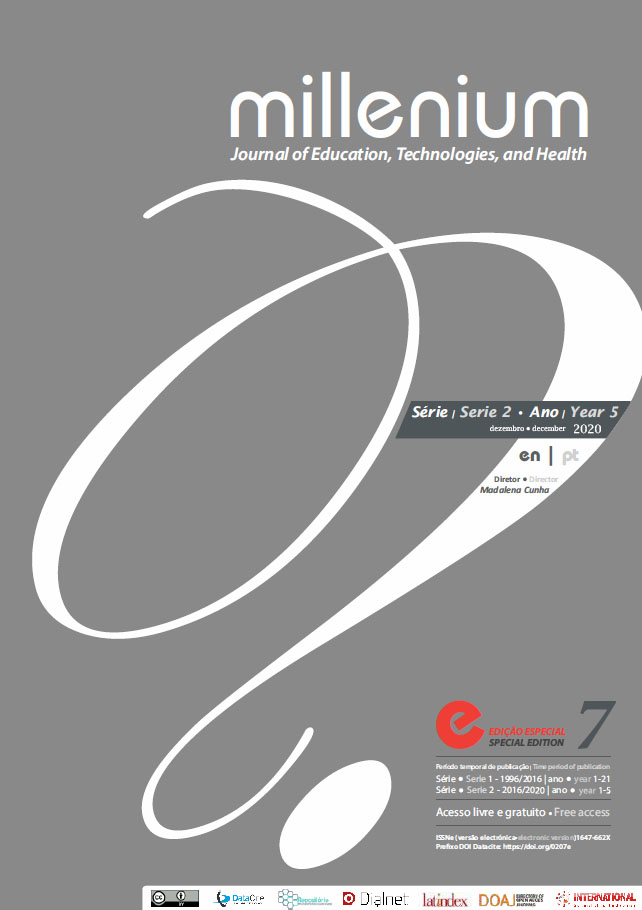 Downloads
How to Cite
Nolasco, I., Cunha, M., & Santos, E. (2020). Racial and ethnic disparities in the treatment of depression: a scoping review . Millenium - Journal of Education, Technologies, and Health, 2(7e), 109–115. https://doi.org/10.29352/mill0207e.12.00362
Section
Engineering, Technology, Management and Tourism
License
Authors who submit proposals for this journal agree to the following terms:
a) Articles are published under the License Creative Commons, in full open-access, without any cost or fees of any kind to the author or the reader;
b) The authors retain copyright and grant the journal right of first publication, allowing the free sharing of work, provided it is correctly attributed the authorship and initial publication in this journal;

c) The authors are permitted to take on additional contracts separately for non-exclusive distribution of the version of the work published in this journal (eg, post it to an institutional repository or as a book), with an acknowledgment of its initial publication in this journal;
d) Authors are permitted and encouraged to publish and distribute their work online (eg, in institutional repositories or on their website) as it can lead to productive exchanges, as well as increase the impact and citation of published work
Documents required for submission
Article template (Editable format)