Quality of life and self-perception of health related to oral health
the particular case of institutionalized elderly
Keywords:
oral health, quality of life, old person, long-stay institution for the elderly, community health nursing
Abstract
Introduction: The World Health Organization (WHO) includes oral health (OH) in the global concept of health and considers it essential for the quality of life (QoL). Assessing the quality of life related to oral health (QofLROH) contributes to the effective measurement of needs.
Objectives: To characterize the sociodemographic, clinical and behavioral variables of the sample. Analyze the relationship between these and the QofLROH.
Methods: Quantitative, cross-sectional and correlational study. Structured interviews were conducted based on a sociodemographic questionnaire built for the purpose and in the translated and adapted version for the Portuguese population of the Oral Health Impact Profile (OHIP-14-PT) to 151 elderly people from 9 Residential  Structures for the Elderly (RSfE).
Results: Predominance of the female gender and widowers. The average age is 84.4 ± 6.4 years. Almost all respondents have a pathological history and take medication. Most of them have natural teeth (65.6%), but 31.8% of them never brush their teeth and mouth. The average OHIP-14-PT score is 18.22. The most scored items were the feeling of discomfort in the act of eating and the need to interrupt meals. There are statistically significant differences between the total OHIP-14-PT score and the literacy of respondents.
Conclusion: The sample self-reported a moderate level of QofLROH. Edentulism and the absence of use of dental prosthesis predict worse QofLROH. There is a great difficulty in the elderly's access to oral health care.
References
Afonso, A. (2014). Qualidade de Vida Relacionada com a Saúde Oral: Adaptação linguística e cultural do OHIP-14. Porto: Universidade Fernando Pessoa, Faculdade de Ciências Humanas e Sociais. Tese de mestrado.
Beldiman, M., Tartaciuc, M., bosânceanu, D., Macovei, G., Lucian, L. & Mârtu (2017). Quality of Life and Psychological and Social Aspects for Elderly Patients - The Oral Health Impact Profile Questionnaire. Romanian Journal of Oral Rehabilitation, 9 (1), pp. 39-46.
Cardoso, R. (2014). Necessidade de Execução de Tratamentos de saúde Oral em Idosos Institucionalizados. (Dissertação de Mestrado apresentada à Universidade Católica Portuguesa).
Castrejon-Perez, R. C., Borges-Yanez, S. A., Irigoyen-Camacho, M. E., & Cruz-Hervert, P. (2017). Negative impact of oral healyh conditions on oral health quality of life of community dwellin elders in Mexico city, a population based study. Geriatrics Gerontology Int, 17, pp. 744-752.
Cornejo, M., Perez, G., Lima, K. C., Casals-Peidro, E., & Borrell, C. (2013). Oral Health-Related Quality of Life in institutionalized elderly in Barcelona. Med Oral Patol Oral Cir Bucal, 18 (2), pp. e285-e292.
Cunha, M., Santos, E., Venâncio, V. Almeida, V., Martins, P. & Santos, R. (2014). Intervenção dos enfermeiros na promoção da saúde oral em idosos. Revisão sistemática da literatura. Millenium, 46, pp. 167-178.
Dallasta, T. C., Medina, V. B., & Dallepiane, L. B. (2019). Quality of life related to oral health among elderly of a socialization group. O Mundo sa Saúde, pp. 418-437.
DGS - Divisão de Doenças Genéticas, Crónicas e Geriátricas. (2006). Programa Nacional para a Saúde de Pessoas Idosas. Lisboa: DGS.
DGS. (2017). Estratégia Nacional para o Envelhecimento Ativo e Saudável 2017-2025. Proposta do Grupo de Trabalho Interminesterial (Despacho nº 12427/2016). Lisboa.
FDI. (2015). El Desafío de las Enfermedades Bucodentales - una llamada a la acción global. Atlas de la Salud Bucodental. Genebra: Myriad Editions.
Gabinete de Estratégia e Planeamento - Ministério do Trabalho, Solidariedade e Segurança Social. (2019). Carta Social 2018. Obtido em 6 de setembro de 2019, de <http://www.cartasocial.pt/resultados_pesquisageral.php?filtrar=hidden&cod_distrito=04&cod_concelho=02&cod_fre guesia=0&cod_area=21&cod_valencia=2107&nome=&localpostal>
Gomes, M. J., Teixeira, M. C., & Paçô, M. T. (2015). Preditores Clínicos da Qualidade de Vida Relacionada com a Saúde Oral em Idosos Diabéticos. Revista de Enfermagem referência, Série IV, Nº 7, pp. 81-89.
Jerez-Roig, J., Souza, D., Andrade, F., Filho, B., Medeiros, R., Oliveira, N., Neto, S. & Lima, K. (2016). Autoperceção da saúde em idosos institucionalizados. 21 (11), pp. 3367-3375.
Mata, C., Allen, P. F., McKenna, G. J., Hayes, M., & Kashan, A. (2019). The relationship between oral-health-related quality of life and general health in an elderly population: A cross-sectional study. Gerodontology, 36, pp. 71-77.
OMD. (2019). Barómetro da Saúde Oral. 5ª Edição.
Penetro, F. (2017). As representações sociais sobre o processo de envelhecimento de idosos beneficiários do Serviço de Apoio Domiciliário e de idosos residentes em Estrutura Residencial.
Rekhi, A., Marya, C., oberoi, S., Nagpal, R., Dhingra, C. & Kataria, S. (2016). Periodontal status and oral health-related quality of life in elderly residents of aged care homes in Delhi. Geriatrics Gerontology International, 16, pp. 474-480.
Rodrigues, G. (2015). Adaptação para a população portuguesa de instrumentos de avaliação do impacto da saúde oral na qualidade de vida.
Román, A., Toffoleto, M. C., Sepulveda, J. C., Salfate, S. V., & Grandon, K. L. (2017). Factores Associados al Bienestar Subjetivo en los Adultos Mayores. Texto Contexto Enfermagem, 26 (2), pp. 1-10.
Slade, G. (1997). Derivation and validationof a short-form oral health impact profile. Community Dentistry Oral Epidemiology, 25, pp. 284-290.
Umniyati, H., Surachmin, A., & Ambarsati, G. (2018). The relationship between anterior thoot loss and quality of life among elderly in Posbindu, bojongnangka, Kelapa Dua Sub-District, Tangerang, Jacarta-Indonesia. Bali Medical Journal, 7 (3), pp. 626-630.
Watt, R. G., Heilmann, A., Listl, S., & Peres, M. A. (2016). London Charter on Oral Health Inequalities. Journal of Dental Research, 95 (3), pp. 245-247.
WHO. (1999). Men Ageing And Health - Achieving health across life span. WHO.
WHO. (15 de março de 2015). Tokyo Declaration on Dental Care and Oral Health for Healthy Longevity . Obtido em 15 de outubro de 2019, de <https://www.who.int/oral_health/tokyodeclaration_final.pdf>
WHO. (2017). Global strategy and action plan on ageing and health . Genebra: World Health Organization.
WHO. (2019). Oral Health - Important target groups. Obtido em setembro de 21 de 2019, de <https://www.who.int/oral_health/action/groups/en/index1.html>
Zanesco, C., Bordin, D., Santos, C. B., Muller, E. V., & Fadel, C. B. (2018). Fatores que determinam a perceção negativa da saúde de idosos brasileiros. Revista Brasileira Geriatria e Gerontologia, 21 (3), pp. 293-303.
Zucoloto, M. L., Maroco, J., & Campos, J. A. (2016). Impact of oral health on health-related quality of life: a cross-sectional study. BMC Oral Health, 16 (55), pp. 1-6.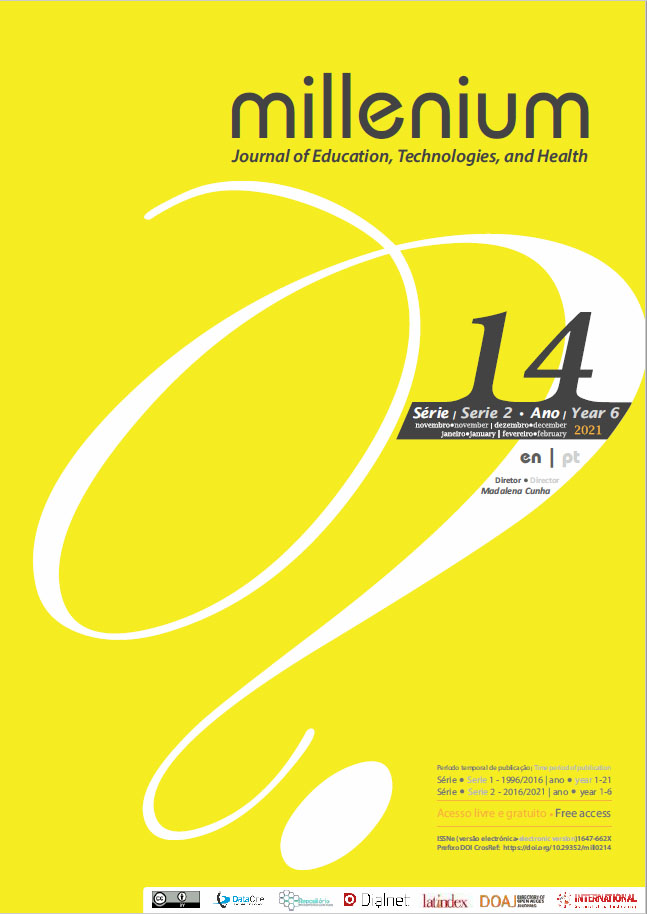 Section
Life and Healthcare Sciences
License
Copyright (c) 2020 Millenium - Journal of Education, Technologies, and Health
This work is licensed under a Creative Commons Attribution 4.0 International License.
Authors who submit proposals for this journal agree to the following terms:
a) Articles are published under the License Creative Commons, in full open-access, without any cost or fees of any kind to the author or the reader;

b) The authors retain copyright and grant the journal right of first publication, allowing the free sharing of work, provided it is correctly attributed the authorship and initial publication in this journal;

c) The authors are permitted to take on additional contracts separately for non-exclusive distribution of the version of the work published in this journal (eg, post it to an institutional repository or as a book), with an acknowledgment of its initial publication in this journal;
d) Authors are permitted and encouraged to publish and distribute their work online (eg, in institutional repositories or on their website) as it can lead to productive exchanges, as well as increase the impact and citation of published work
Documents required for submission
Article template (Editable format)