The chestnut moth, cydis splendana (hübner) (lepidoptera: torticidae) in Portugal
Abstract
Introduction: The chestnut tree has enormous economic, social, cultural and environmental benefits in the Trás-os-Montes region of Portugal, as well as contributing to its characteristic landscape. The chestnut moth, Cydia splendana (Hübner), is considered a serious crop pest, affecting the quality and quantity of the chestnut fruit.
Objectives: The principal objective of the study was to ascertain more about the biology of the chestnut moth and its economic impact.
Methods: In 2018 and 2019, in six chestnut orchards in the Trás-os-Montes region, located in the districts of Bragança (Samil, Espinhosela and Parâmio), Macedo de Cavaleiros (Amendoeira), Vinhais (Espinhoso) and Valpaços (Sobrado), each under different climatic conditions, the pest was monitored at different stages of development (immature and adult states) and the damage caused was estimated. Adults were monitored using delta traps, with sexual pheromones (three per crop), 50 m apart; immature states were monitored sampling 200 leaves and chestnut husks/fruits for each location).  In the laboratory, the number of eggs and larvae was recorded. The intensity of attack was assessed by dissecting 1800 fruits collected during the harvest.
Results: Chestnut moth was recorded between mid-August and early October 2018, with the peak of flights taking place in late August in most of the orchards. In 2019 the flight period was shorter, ending in late September, with a peak flight period in the second week of September. In 2018 the first eggs were observed in mid-August and the first larvae in the last week of August. In 2019 the eggs started about a week later. The intensity of attack of the fruits ranged between 10.0% in the Sobrado orchard to 23.3% in Espinhoso.
Conclusion: The insect's biology seems to be slightly influenced by local climatic conditions. The catch levels were higher in Macedo de Cavaleiros (Amendoeira), located at an altitude of 766 m, in an orchard with vegetation which is periodically removed. The damage caused by C. splendana was greater in orchards in close proximity to abandoned chestnut orchards and/or scrub containing wild chestnut trees, as in the case of Espinhoso with 23.3%, and Samil with 16.0%, of trees attacked.
References
Aguin-Pombo, D., Angeli, G., Aguiar, A. M. F., & Lopes, D. H. (2018). Critério para a Gestão Sustentada do Bichado-da-Castanha. In: D. Aguin Pombo & A. M. Franquinho Aguiar, A cultura do castanheiro na Madeira: Manual prático (pp. 86-112). Funchal: Universidade da Madeira. Retrieved from http://hdl.handle.net/10400.13/2320
Avtzis, D.N., Perlerou, C. & Diamandis, S. (2013). Geographic distribution of chestnut feeding insects in Greece. Journal of Pest Science, 86, 185–191. DOI: https://doi.org/10.1007/s10340-012-0451-0
Beccaro, G., Alma, A., Bounous, G., & Gomes-Laranjo, J. (2019). The Chestnut Handbook, Crop and Florest Management. 1st Ed. Boca Raton, Philadelphia: CRC Press.
Bento, A., Cabanas, J.E., Rodrigues, M.A., & Pereira, J.A. (2005). Avaliação dos estragos provocados por pragas da castanha em Trás-os-Montes. IV Congresso Nacional de Entomologia Aplicada, X Jornadas Científicas de la Sociedad Española de
Entomología Aplicada, I Jornadas Portuguesas de Entomologia Aplicada, Octubre 17-21, 2005. Bragança, Portugal: Instituto Politécnico de Bragança, Escola Superior Agrária.
Bento, A., Pereira, S., & Pereira, J.A. (2007). Pragas associadas à castanha em Trás-os-Montes. In: II Congresso Ibérico do Castanheiro (pp. 254-258), Vila Real: Universidade de Trás-os-Montes e Alto Douro. Retrieved from https://www.researchgate.net/publication/277236457.
Bento, A., Pereira, S., & Pereira, J. A. (2009). Biology and losses of the chestnut moth, Laspeyresia (= Cydia) splendana (Hübner), in northeast of Portugal. In Abstracts Castanea 2009, 1st European Congress on Chestnut (p. 207). Cuneo: Italy. Retrieved from https://bibliotecadigital.ipb.pt/handle/10198/4855.
Conedera, M., Jermini, M., Sassella, A., & Sieber, N. (2004). Récolte, traitement et conservation des châtaignes. Notice pour le praticien, 38. Birmensdorf: Institut Fédéral de Recherches WSL. Retrieved from https://www.wsl.ch/de/publikationen/recolte-traitement-et-conservation-des-chataignes.html.
Conedera, M., Thinner, W., Krebs, P., Rigo, D. & Caudullo, G. (2016). Castanea sativa in Europe: distribution, habitat, usage and threats. In J. San-Miguel-Ayanz, D. de Rigo, G. Caudullo, T. Houston Durrant & A. Mauri (Eds.), European Atlas of Forest Tree Species (pp. 78–79). Luxemburg: Publications Office of the European Union. Retrieved from https://w3id.org/mtv/FISE-Comm/v01/e0125e0
Cuestas, M. I., Martin, M. A., Aldebis, H. K., Mena, J. D., Martin, L. M., & Vargas-Osuna, E. (2019). Differential response among chestnut traditional varieties to the attack of Cydia splendana. Entomologia. Experimentalis et Applicata, 168, 259–265. https://doi.org/10.1111/eea.12888
Debouzie, D., Heizmann, A., Desouhant, E. & Menu, F. (1996) Interference at several temporal and spatial scales between two chestnut insects. Oecologia, 108, 151–158. Retrieved from https://www.jstor.org/stable/4221398.
Donis-González, I. R. (2008). Management of microbial decay of fresh and peeled chestnuts in Michigan (Master Thesis, Michigan State University). Retrieved from https://doi.org/10.25335/M52805593.
Droga, R.M.C. (2011, novembro). Luta biológica contra o bichado da castanha nos Soutos da Lapa. In I Simpósio Nacional do Castanheiro "Espécie a defender". Trancoso: Sociedade de Ciências Agrárias de Portugal.
Ebone, A., Terzuolo, P.G., Boni, I., Brenta, P., Palenzona, M., & Ferrara, A. M. (2020). Castagneti da Frutto in Piemonte: gestione e recupero ('Le guide selvicoltura'). Piemonte, Italy: Centro Regionale di Castanicoltura, Regione Piemonte - settore foreste. Retrieved from https://iris.unito.it/retrieve/handle/2318/1754922/657541/guida_castagno_2107_bq-1.pdf.
Food and Agriculture Organization of the United Nations (2019). FAOSTAT statistical database. Rome, Italy: FAO. Retrieved December 06, 2019 from http://www.fao.org/faostat/en/#data/QC.
Henriques, C. A. S. (2015). Contributo para o estudo da produtividade do castanheiro "Martaínha" em Penela da Beira: DOP "Soutos da Lapa" (Master Thesis, Instituto Politécnico de Castelo Branco, Escola Superior Agraria). Retrieved from https://repositorio.ipcb.pt/handle/10400.11/2906.
Henriques, J. L. G. (2003). Incidência do bichado (Cydia penkleriana) nas variedades de castanheiro, instaladas na Colónia Agrícola Martin Rei. Fundão: Ministério da Agricultura, do Desenvolvimento Rural e das Pescas. Direção Regional de Agricultura da Beira Interior.
INE (2019). Portal do Instituto Nacional de Estatística. Retrieved [December 06, 2019] from https://www.ine.pt
Jósvai, J.K., Voigt, E., & Tóth, M. (2016) A pear ester-based female-targeted synthetic lure for the chestnut tortrix, Cydia splendana. Entomologia Experimentalis et Applicata, 159, 370–374. DOI: https://doi.org/10.1111/eea.12440.
Karagoz, M., Gulcu, B., Hazir, S., & Kaya, H. K. (2009). Laboratory evaluation of Turkish entomopathogenic nematodes for suppression of the chestnut pests, Curculio elephas (Coleoptera: Curculionidae) and Cydia splendana (Lepidoptera: Tortricidae). Biocontrol Science and Technology, 19(7), 755-768. DOI: 10.1080/09583150903100831
Lopes, D. H., Macedo, N., Figueiredo, A., Martins, J. T., Pimentel, R., Ventura, L. B., & Pombo, D. A. (2008). The Interfruta Project and its Contribution to the Knowledge of Chestnut Moth (Cydia splendana Hubner) (Lepidoptera: Tortricidae) Dispersal and Infestation on Terceira Island, Azores. Acta Horticulturae, 784, 187-192. DOI: 10.17660/ActaHortic.2008.784.29
Moscetti, R., Monarca, D., Cecchini, M., Haff, R. P., Contini, M., & Massantini, R., (2014). Detection of Mold-Damaged Chestnuts by Near-Infrared Spectroscopy. Postharvest Biology and Technology, 93, 83–90. https://doi.org/10.1016/j.postharvbio.2014.02.009.
Navarro, M. I. C. (2019). Diversidad genética y resistencia del castaño a factores bióticos y abióticos (PhD thesis). Córdoba: Universidad de Córdoba, UCO.Press. Retrieved from https://helvia.uco.es/xmlui/handle/10396/18717.
Ruocco, M., Lanzuise, S., Lombardi, N., Varlese, R., Aliberti, A., Carpenito, … Lorito, M. (2016). New tools to improve the shelf life of chestnut fruit during storage. Acta Horticulture, 1144, 309-315. DOI: 10.17660/ActaHortic.2016.1144.46.
Soares, M. F. M. (2008). Contribuição para o desenvolvimento de um programa de proteção contra o bichado-da-castanha, Cydia splendana HÜBNER (Master thesis). Universidade de Trás-os-Montes e Alto Douro, Vila Real.
Speranza, S. (1999). Chestnut pests in central Italy. Acta horticulturae, 494, 417-424. DOI: 10.17660/ActaHortic.1999.494.62.
Vásquez, L. (2011). Cambio climático, incidencia de plagas y prácticas agroecológicas resilientes. In D. Vargas Ríos & F. Funes-Monzote (Eds.), Innovación agroecológica, adaptación y mitigación del cambio climático (pp. 75-101). Mayabeque: Instituto Nacional de Ciencias Agrícolas (INCA).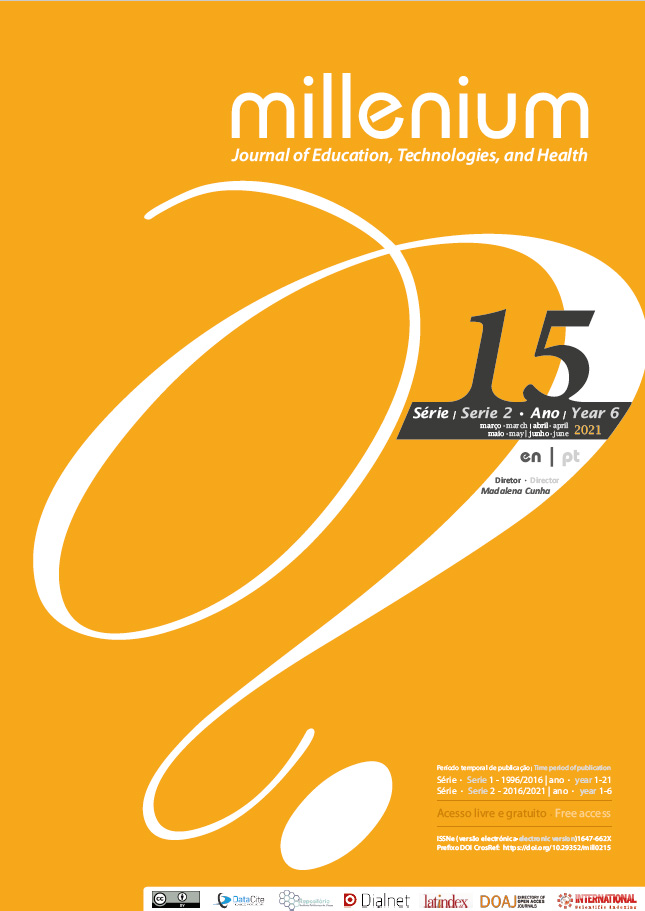 Downloads
Section
Agriculture, Food and Veterinary Sciences
License
This work is licensed under a Creative Commons Attribution 4.0 International License.
Authors who submit proposals for this journal agree to the following terms:
a) Articles are published under the License Creative Commons, in full open-access, without any cost or fees of any kind to the author or the reader;

b) The authors retain copyright and grant the journal right of first publication, allowing the free sharing of work, provided it is correctly attributed the authorship and initial publication in this journal;

c) The authors are permitted to take on additional contracts separately for non-exclusive distribution of the version of the work published in this journal (eg, post it to an institutional repository or as a book), with an acknowledgment of its initial publication in this journal;
d) Authors are permitted and encouraged to publish and distribute their work online (eg, in institutional repositories or on their website) as it can lead to productive exchanges, as well as increase the impact and citation of published work
Documents required for submission
Article template (Editable format)