Perspective of specialist nurses on atraumatic care in paediatrics
Keywords:
atraumatic care, pediatric nursing, nursing care, pediatric nurses
Abstract
Introduction: Hospitalization consists of a health-disease transition which enhances negative effects on child and family, such as changes in family dynamics, setbacks in development, anxiety and fear. The provision of atraumatic care should be a basic premise in Pediatrics to minimize these effects.
Objective: Identifying the knowledge of Specialist Nurses about atraumatic care in pediatric hospital context; identifying interventions and strategies promoting atraumatic care implemented by Specialist Nurses; identifying the obstacles to the implementation of atraumatic care in practice mentioned by Specialist Nurses.
Method: Descriptive, exploratory study of qualitative nature, using focus group, with a convenience sample of eight Specialist Nurses in Child and Pediatric Health, and analyzing the data according to Bardin method.
Results: From the analysis of data related to the four pre-established dimensions for the study, 12 categories emerged.
Conclusion: Specialist Nurses recognize the importance of atraumatic care in Pediatrics, implementing them intrinsically in practice. The main obstacles to its implementation are the lack of time and resources. They recognize the need for the management of human and material resources, the importance of professional qualification in this subject, and the need to create protocoled interventions related to atraumatic care, in order to promote the humanization of care.
References
Barroso, M. C. da C. S. (2016). O uso do brinquedo terapêutico pelos acadêmicos de enfermagem no cuidado à criança hospitalizada. [Monografia, Escola de Enfermagem Aurora de Afonso Costa].
Çalişir, H., & Karataş, P. (2019). The Atraumatic Care Approach in Pediatric Nursing: Non-Pharmacological Applications in Reducing Pain, Stress, and Anxiety. Koç Üniversitesi Hemşirelikte Eğitim Ve Araştirma Dergisi, 16(3), 234-245. http://dx.doi.org/10.5222/HEAD.2019.234
Costa, D. T. L., Veríssimo, M. de L. Ó R., Toriyama, A. T. M., & Sigaud, C. H. de S. (2016). O brincar na assistência de enfermagem à criança - revisão integrativa. Revista da Sociedade Brasileira de Enfermeiros Pediatras, 16(1), 36-43. http://dx.doi.org/10.31508/1676-3793201600005
Ellis, J. A., Sharp, D., Newbook, K., & Cohen, J. (2004). Selling Comfort: A Survey of Interventions for Needle Procedures in a Pediatric Hospital. Pain Management Nursing, 5(4), 144-152. http://dx.doi.org/10.1016/j.pmn.2004.09.002
Freitas, B. H. B. M. de, & Voltani, S. dos S. A. A. (2016). Brinquedo terapêutico em serviço de urgência e emergência pediátrica: revisão integrativa de literatura. Cogitare Enfermagem, 21(1), 01-08. http://dx.doi.org/10.5380/ce.v21i4.40728
Hockenberry, M. J. & Wilson, D. (2014). Wong - Enfermagem da criança e do adolescente (9ºed). Lusociência.
Huff, L., Hamlin, A., Wolski, D., McClure, T., & Eliades, A. B. (2009). Atraumatic care: EMLA cream and application of heat to facilitate peripheral venous cannulation in children. Issues in Comprehensive Pediatric Nursing, 32, 65-76. http://dx.doi.org/10.1080/01460860902737418
Leite, T. M. C., Vergílio, M. S. T. G., & Silva, E. M. (2016). Processo de trabalho do enfermeiro pediatra: uma realidade a ser transformada. Rev. Rene, 18(1), 26-64. http://dx.doi.org/10.15253/2175-6783.2017000100005
Marques, E. P., Garcia, T. M. B., Anders, J. C., Luz, J. H. da, Rocha, P. K., & Souza, S. de (2016). Lúdico no cuidado à criança e ao adolescente com câncer: perspectivas da equipe de enfermagem. Escola Anna Nery, 20(3). http://dx.doi.org/10.5935/1414-8145.20160073
Mediani, H. S., Hendrawati, S., & Shidqi, N. (2019). The Knowledge and Attitude of Nurses in the Implementation of Atraumatic Care in Hospitalized Children in Indonesia. Journal of Nursing and Health Science, 8(1), 51-56. http://dx.doi.org/10.9790/1959-0801075156
Meleis, A. I., Sawyer, L. M., Im, E. O., Messiais, D. K. H., & Schumacher, K. (2000). Experiencing transitions: an emerging middle-range theory. Advances in nursing science, 23(1), 12-28. http://dx.doi.org/10.1097/00012272-200009000-00006
Ordem dos Enfermeiros (2013). Guia Orientador de Boa Prática – Estratégias não farmacológicas no controlo da dor na criança. Cadernos OE, Série 1, Número 6.
Orientação nº 022/2012 da Direção-Geral da Saúde (2012). Retrieved from: https://www.dgs.pt/directrizes-da-dgs/orientacoes-e-circulares-informativas/orientacao-n-0222012-de-18122012-png.aspx
Pereira, C. R., Lima, K. G. de J., Rodrigues, M. T. M., Durães, P. J. A., Neves, S. de J. O., Viana, T. M., Prado, P. F., & Souza, A. A. M. de (2018). A humanização da assistência de enfermagem à criança hospitalizada: uma revisão integrativa. Revista Intercâmbio, 19, 70-85. Retrieved from: http://www.intercambio.unimontes.br/index.php/intercambio/article/view/224/222
Perry, S., Hockenberry, J., Lowdermilk, D., Wilson, D., Keenan-Lindsay, L., & Sams, C. (2017). Maternal Child Nursing Care in Canada. 2nd ed. Elsevier.
Regulamento nº 422/2018 da Ordem dos Enfermeiros (2018). Diário da República: II série, nº133. Retrieved from: https://www.ordemenfermeiros.pt/media/8733/infantil.pdf
Urquiza, M. de A., & Marques, D. B. (2016). Análise de conteúdo em termos de Bardin aplicada à comunicação corporativa sob o signo de uma abordagem teórico-empírica. Entretextos, Londrina, 16(1), 115-144. http://dx.doi.org/10.5433/1519-5392.2016v16n1p115
Yin, T., Yang, L., Lee, T., Li, C., Hua, Y., & Liaw, J. (2015). Development of atraumatic heel-stick procedures by combined treatment with non-nutritive sucking, oral sucrose, and facilitated tucking: A randomised, controlled trial. International Journal of Nursing Studies, 52, 1288-1299. http://dx.doi.org/10.1016/j.ijnurstu.2015.04.012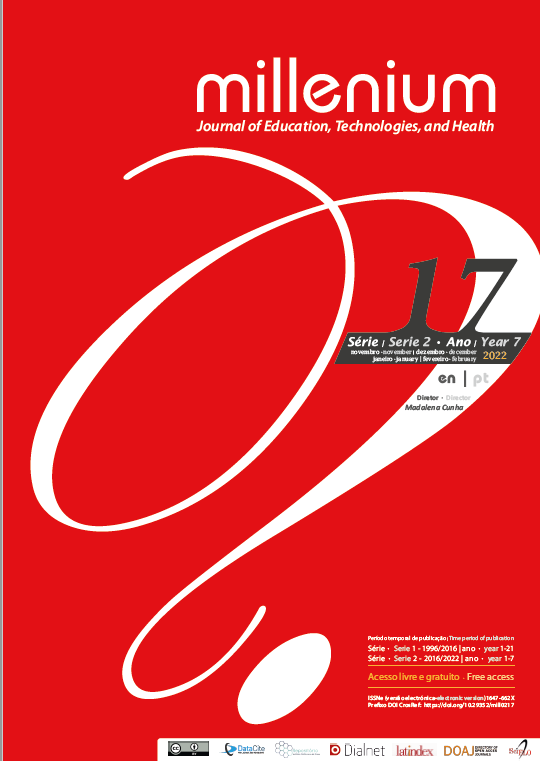 Downloads
Section
Life and Healthcare Sciences
License
This work is licensed under a Creative Commons Attribution 4.0 International License.
Authors who submit proposals for this journal agree to the following terms:
a) Articles are published under the License Creative Commons, in full open-access, without any cost or fees of any kind to the author or the reader;

b) The authors retain copyright and grant the journal right of first publication, allowing the free sharing of work, provided it is correctly attributed the authorship and initial publication in this journal;

c) The authors are permitted to take on additional contracts separately for non-exclusive distribution of the version of the work published in this journal (eg, post it to an institutional repository or as a book), with an acknowledgment of its initial publication in this journal;
d) Authors are permitted and encouraged to publish and distribute their work online (eg, in institutional repositories or on their website) as it can lead to productive exchanges, as well as increase the impact and citation of published work
Documents required for submission
Article template (Editable format)