Satisfaction with life perceived by the elderly
Keywords:
aged, personal satisfaction, active life expectancy, institutionalization
Abstract
Introduction: Successful aging has been shown to be strongly associated with life satisfaction perceived by the elderly.
Objective: To identify levels of satisfaction with life in the elderly (institutionalized and domiciled) and to analyze factors associated with this satisfaction.
Methods: Quantitative, descriptive and correlational study. It involved a non-probabilistic convenience sample, consisting of 126 elderly people (65 residents at home and 61 institutionalized). A questionnaire was used that included: sociodemographic and contextual data, the Family Attachment scales and the Satisfaction with Life scale.
Results: The sample was mostly female, with an average age of 75.29 years, with a marital status of widowhood and with low educational qualifications. They were mostly retired and had limited economic resources. Life satisfaction was high for 41.6%, low for 32.0% and moderate for 26.4%. The most satisfied elderly with life live in their own home, resorted to religious practices, practiced regular physical activity and perceived functional families. On the other hand, gender, age, marital status, education, economic status and the amount of the pension were independent of that satisfaction.
Conclusion: This study reinforces the assumption that life satisfaction in most elderly people ranges from moderate to high and is correlated with some psychosocial variables. Thus, it is imperative that Nurses develop therapeutic and educational intervention programs aimed at promoting life satisfaction for the Elderly.
References
Andrade, A., Vieira, D., Oliveira, P., Albuquerque, C., & Martins, R. (2019). Subjective happiness and dependence In the elderly. In Z. Bekirogullari, M. Y. Minas, R. X. Thambusamy, & C. Albuquerque (Eds.), Health and Health Psychology - icH&Hpsy 2018, vol 48. European Proceedings of Social and Behavioural Sciences (pp. 244-250). Future Academy. https://doi.org/10.15405/epsbs.2018.11.26
Batista, S., & Martins, R. (2020). Factores asociados al sufrimiento en la enfermedad crónica en pacientes hospitalizados en Portugal, Enfermería Clínica, doi: 10.1016/j.enfcli.2020.12.043
Fermento, C., Martins, R., Campos, S. (2019). Investimento Pessoal e Independência Funcional: Estudo dos níveis e dos determinantes num grupo de Idosos. Revista Servir 60, (1-2,) 75-84. Acedido em https://www.aceps.pt/images/Revista_SERVIR_final_24.12.pdf
Figueiredo, A.,Martins, R., Andrade, A., Albuquerque, C., & Martins, C. (2018). Investment in personal life in institutionalized elderly. Revista de Investigação & Inovação em Saúde, 1(1), 7-15. doi: 10.37914/riis.v1i1.24
Fonseca, A. M. (2021). Ageing in place: Envelhecimento em casa e na comunidade: Modelos e estratégias centradas na autonomia, participação social e promoção do bem-estar das pessoas idosas. Fundação Calouste Gulbenkian, Faculdade de Educação e Psicologia da Universidade Católica Portuguesa. Acedido em https://gulbenkian.pt/publication/ageing-in-place-estudo/
Martins, R., Henriques, T., & Carvalho, N. (2018). Impacto do internamento na rede nacional de cuidados continuados integrados na melhoria dos níveis da capacidade funcional dos utentes. Gestão e Desenvolvimento, (26), 177-191. doi:10.7559/gestaoedesenvolvimento.2018.661
Instituto Nacional de Estatística (2021). Censos 2021: Resultados preliminares da população residente em Portugal. Lisboa: INE. Acedido em https://portal-rpe01.ine.pt/xportal/xmain?xpgid=ine_main&xpid=INE
Joia, L. C., Ruiz, T., & Donalisio, M. R. (2017). Condições associadas ao grau de satisfação com a vida entre a população de idosos. Revista de Saúde Pública, 41,131-138. doi: 10.1590/S0034-89102007000100018
Martins, R., Santos, P., & Andrade, A. (2015). Satisfação com a Vida em Idosos: prevalência e determinantes. Gestão e Desenvolvimento, 23, 107-123. doi: 10.7559/gestaoedesenvolvimento.2015.274
Oliveira, D. V., Souza, J. F. Q., Granja, C. T. L., Antunes, M. D., & Nascimento Júnior, J. R. A., (2020). Satisfação com a vida e atitudes em relação à velhice de idosos frequentadores de centros de convivência em função do nível de atividade física. Revista Psicologia e Saúde, 12(1), 49-60. doi: 10.20435/pssa.v12i1.759
Organização Mundial da Saúde (2015). Relatório mundial de envelhecimento e saúde. Genebra: OMS. Acedido em https://apps.who.int/iris/bitstream/handle/10665/186468/WHO_FWC_ALC_15.01_por.pdf?sequence=6
Robins, L. M., Hill, K. D., Finch, C. F., Clemson, L., & Haines, T. (2018). The association between physical activity and social isolation in community-dwelling older adults. Aging & mental health, 22(2),175-182. doi:10.1080/13607863.2016.1242116
Seçkin, G., Hughes, S., Yeatts, D. & Degreve, T. (2019). Digital pathways to positive health perceptions: does age moderate the relationship between medical satisfaction and positive health perceptions among middle-aged and older internet users? Innovation in aging, 3(1), igy039. doi: 10.1093/geroni/igy039
Silva, I. A., Amorim, J. R., Carvalho, F. T., & Mesquita, L. S. A. (2017). Efeito de um protocolo de Facilitação Neuromuscular Proprioceptiva (FNP) no equilíbrio postural de idosas. Fisioterapia e Pesquisa, 24(1),62-67. doi:10.1590/1809-2950/16636724012017
Tomomitsu, M. R. S. V., Perracini, M. R., & Neri, A. L. (2016). Fatores associados à satisfação com a vida em idosos cuidadores e não cuidadores. Ciência & Saúde Coletiva, 19,3429-3440. doi: 10.1590/1413-81232014198.13952013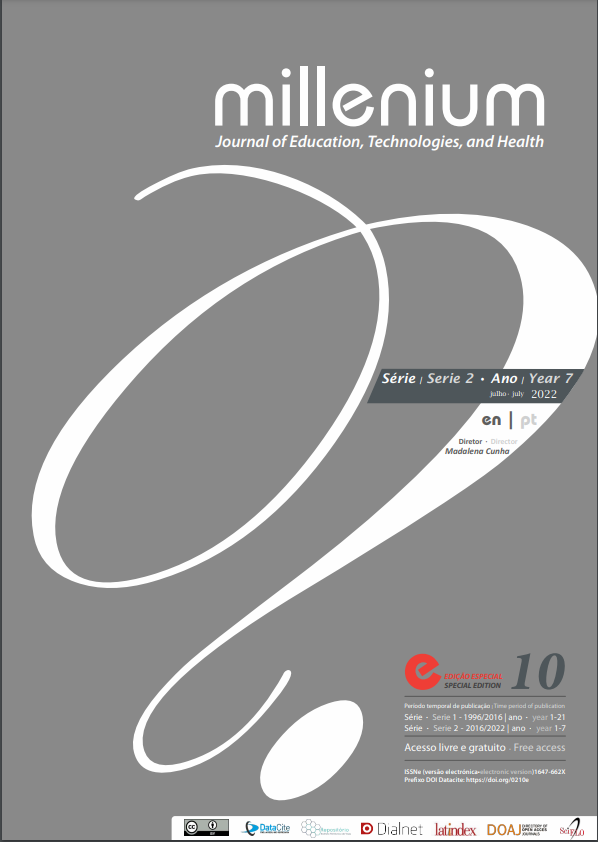 Downloads
How to Cite
Nogueira, E. ., Martins, R., Carvalho, N., & Batista, S. (2022). Satisfaction with life perceived by the elderly . Millenium - Journal of Education, Technologies, and Health, 2(10e), 177–184. https://doi.org/10.29352/mill0210e.26873
Section
Life and Healthcare Sciences
License
Copyright (c) 2022 Millenium - Journal of Education, Technologies, and Health
This work is licensed under a Creative Commons Attribution 4.0 International License.
Authors who submit proposals for this journal agree to the following terms:
a) Articles are published under the License Creative Commons, in full open-access, without any cost or fees of any kind to the author or the reader;

b) The authors retain copyright and grant the journal right of first publication, allowing the free sharing of work, provided it is correctly attributed the authorship and initial publication in this journal;

c) The authors are permitted to take on additional contracts separately for non-exclusive distribution of the version of the work published in this journal (eg, post it to an institutional repository or as a book), with an acknowledgment of its initial publication in this journal;
d) Authors are permitted and encouraged to publish and distribute their work online (eg, in institutional repositories or on their website) as it can lead to productive exchanges, as well as increase the impact and citation of published work
Documents required for submission
Article template (Editable format)