Stresse na Profissão Docente: Um Estudo Exploratório numa Escola Secundária
Keywords:
stresse ocupacional, docentes, estratégias de coping
Abstract
Neste estudo procurou verificar-se a existência de fontes de stresse nos docentes de uma escola secundária e proporcionar uma reflexão acerca das estratégias utilizadas para prevenir ou combater situações de stresse ocupacional. Após a aplicação do Questionário Sociodemográfico, elaborado pelos autores deste estudo, e da Escala Portuguesa de Stresse Ocupacional – versão para Docência – EPSO-D, de Mota Cardoso et al., 2002, a 80 docentes, a análise dos resultados permite concluir a existência de stresse ocupacional, aproximando-se os valores obtidos aos da média da população portuguesa encontrados por Mota-Cardoso e colaboradores (2002). Consideram-se inovadores e pertinentes os resultados encontrados relativamente às variáveis "gosto pela cidade em que trabalha", "mudanças de local de trabalho" e "docência em cursos profissionais ou, simultaneamente, em cursos profissionais e científico-humanísticos", visto que influenciam os níveis de stresse.
References
- Aronsson, G., Sevensson, L. & Gustafsson, K. (2003). Unwinding, recuperation, and health among compulsory school and high school teachers in Sweden. International Journal of Stresse Management, 10, 217-234.
- Brown, M. & Ralph, S. (1998). The identification of Stresse in teachers. In J. Dunham e V. Varma (Eds.), Stresse in teachers: Past, present and future (pp. 37-56). London: Whurr.
- Burke, R. J., Greenglass, E. R. & Schwarzer, R. (1996). Predicting teacher burnout over time: Effects of work Stresse, social support, and self-doubts and its consequences. Anxiety, Stresse and Coping, 9, 261-275.
- Buunk, A. P., Peíró, J. M., Rodríguez, I. & Bravo, M. J. (2007). A Loss of Status and a Sense of Defeat: An Evolutionary Perspective on Professional Burnout. European Journal of Personality, 21, 471-485.
- Caeiro, R.M. (2010). Stresse ocupacional e avaliação de desempenho nos professores: contributos para uma psicodinâmica do trabalho. Dissertação orientada pelo Prof. Doutor João Justo. Faculdade de Psicologia da Universidade de Lisboa. Disponível em <http://repositorio.ul.pt/bitstream/10451/2814/1/ulfp037524_tm.pdf>.
- Cruz, J. F. (1989). Stresse e crenças irracionais nos professores: Um estudo preliminar. In J. F. Cruz, R. A. Gonçalves e P. P. Machado (Eds.), Psicologia e educação: investigação e intervenção (pp. 315-325). Porto: Afrontamento.
- DeFrank, R. S. & Stroup, C.A. (1989). Teacher Stresse and Health: Examination of a Model. Journal of Psychosomatic Research, 33(1), 99-109.
- Dunham, J. (1992). Stresse in Teaching. London: Routledge.
- Dunham, J. & Varma, V. (Eds.) (1998). Stresse in teachers: Past, presente and future. London: Whurr.
- EASHW - European Agency for Safety and Health at Work (2009). OSH in figures: Stresse at work — facts and figures. Office for Official Publications of the European Communities. Luxembourg. Disponível em <https://osha.europa.eu/en/publications/reports/TE-81-08-478-EN-C_OSH_in_figures_stress_at_work>.
- Gomes, A. R., Silva, M. J., Mourisco, S., Mota, A. & Montenegro, N. (2006). Problemas e desafios no exercício da actividade docente: um estudo sobre o Stresse, "burnout", saúde física e satisfação profissional em professores do 3º ciclo e ensino secundário. Revista Portuguesa de Educação, 19, 67-93.
- Gomes, A. R., Montenegro, N., Peixoto, A. M. & Peixoto, A. R. (2010). Stresse ocupacional no ensino: um estudo com professores dos 3ºciclo e ensino secundário. Psicologia & Sociedade; 22(3), 587-597.
- Guandapur, S. & Rehman, R. (2008). Gender differences in the prevalence of occupational Stresse among gomal university teaching staff. The New Educational Review, 15(2), 246-264.
- Gore, S. (1987). Perspectives on Social Support and Research on Stress Moderating Processes. In: Ivancevich, J.M. & Ganster, D.C.. Job Stress: From Theory to Suggestion. New York: The Haworth Press.
- Kyriacou, C. (1987). Teacher Stresse and Burnout: An International Review. Educacional Research, 29(2), 146-152.
- Kyriacou, C. (1998). Teacher Stresse: Past and Present. In J. Dunham e V. Varma (Eds.). Stresse in teachers: Past, present and future (pp. 1-13). London: Whurr.
- Kyriacou, C. (2000). Stresse-busting for teachers. Cheltenham: Stanley Thornes.
- Kyriacou, C. & Sutcliffe, J. (1979). Teacher Stresse and Satisfaction. Educacional Research, 21(2), 89-96.
- Melo, B. T., Gomes, A. R. & Cruz, J. F. A. (1997). Stresse Ocupacional em Profissionais da Saúde e do Ensino. Psicologia: Teoria, Investigação e Prática, 2, 53-72. Disponível em <http://repositorium.sdum.uminho.pt/bitstream/1822/5350/1/Melo,Gomes%2526Cruz-SO-Revista-UM.pdf>.
- Montalvo, A., Bair, J. H. & Boor, M. (1995). Teacher´s Perceptions of Occupational Stress Factors. Psychological Reports, 76, 846.
- Mota-Cardoso, R.; Araújo, A., Ramos, R. C., Gonçalves, G. & Ramos, M. (2002). O Stresse nos Professores Portugueses: Estudo IPSSO 2000. Porto: Porto Editora.
- OIT – Organização Internacional do Trabalho (1981). Emploi et Conditions de Travail des Enseignants. Genève: Bureau International du Travail.
- Parkes, K. R. (1994). Personality and coping as moderator of work stress process: Models, methods and measures. Work & Stress, 8, 110-129.
- Pinto, A. M., Lima, M. L. & Silva, A. L. (2005). Fuentes de estrés, burnout y estrategias de coping en profesores portugueses. Revista de Psicologia del Trabajo y de las Organizaciones, 21, 125-143.
- Pullis, M. (1992). An analysis of the occupational Stresse of teachers of the behaviorally disordered: Sources, effects, and strategies for coping. Behavioral Disorders, 17, 191.201.
- Ramos, M. (2001). Desafiar o Desafio. Lisboa: Editora RH.
- Rita, J. S., Patrão, I. & Sampaio, D. (2010). Burnout, Stress Profissional e Ajustamento Emocional em Professores Portugueses do Ensino Básico e Secundário. Actas do VII do Simpósio Nacional de Investigação em Psicologia, 1151-1161. Braga: Universidade do Minho.
- Sann, U. (2003). Job conditions and wellness of german secondary scholl teachers. Psychology and Health, 18, 489-500.
- Terry, D. (1994). Determinants of coping: the role of stable and situational factors. Journal of Personality and Social Psychology, 66, 895-910.
- Travers, C. J. & Cooper, C. L. (1996). Teachers under pressure: Stresse in the teaching profession. London: Routledge.
- Vandenberghe, R. & Huberman, A. M. (Eds.) (1999). Understanding and preventing teacher burnout: A sourcebook of international research and practice. Cambridge: Cambridge University Press.
- Zautra, A. J. & Wrabetz, A.B. (1991). Coping success and its relationship to psychological distress for older adults. Journal of Personality and Social Psychology, 61, 801-810.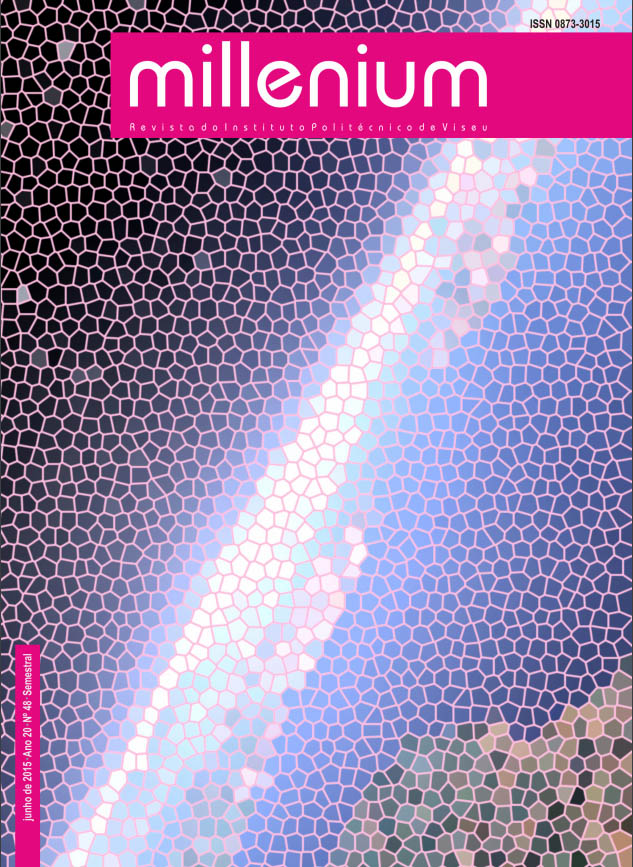 Downloads
How to Cite
Martins, C. R. C., Violante, E. M., & Gato, F. de J. O. T. (2016). Stresse na Profissão Docente: Um Estudo Exploratório numa Escola Secundária. Millenium - Journal of Education, Technologies, and Health, (48), 135–155. Retrieved from https://revistas.rcaap.pt/millenium/article/view/8098
License
Authors who submit proposals for this journal agree to the following terms:
a) Articles are published under the License Creative Commons, in full open-access, without any cost or fees of any kind to the author or the reader;

b) The authors retain copyright and grant the journal right of first publication, allowing the free sharing of work, provided it is correctly attributed the authorship and initial publication in this journal;

c) The authors are permitted to take on additional contracts separately for non-exclusive distribution of the version of the work published in this journal (eg, post it to an institutional repository or as a book), with an acknowledgment of its initial publication in this journal;
d) Authors are permitted and encouraged to publish and distribute their work online (eg, in institutional repositories or on their website) as it can lead to productive exchanges, as well as increase the impact and citation of published work
Documents required for submission
Article template (Editable format)