Contributos da Preparação para o Parto na Perceção de Cuidados Culturais
Keywords:
gravidez, preparação para o parto, perceção, cuidados culturais, parto
Abstract
Enquadramento: A preparação para o parto
constitui-se como um tempo privilegiado de educação para a
saúde durante a gravidez e uma oportunidade para os
enfermeiros obstetras poderem capacitar a mulher/casal a
vivenciar a maternidade sem hesitações, incertezas, receios ou
medos, tornando-a uma experiência positiva e gratificante.
Objetivo: Analisar a influência da preparação para o
parto na perceção de cuidados culturais em mulheres em
trabalho de parto.
Métodos: Estudo quantitativo, descritivo,
correlacional do tipo explicativo, com uma amostra de 1000
puérperas das maternidades da região norte de Portugal,
utilizando um questionário de caracterização 
sociodemográfica e obstétrica, e a Escala de Perceção dos
Cuidados Culturais de Parreira et al. (2010) para a recolha de
dados.
Resultados: A preparação para o parto foi realizada
por 39,6% das puérperas. As puérperas que realizaram
preparação para o parto obtiveram melhores resultados no
atendimento personalizado (p<0,001), no significado do tempo
durante o parto (p=0,002), e na importância do espaço na
privacidade e na comunicação (p=0,017). As puérperas que
não realizaram preparação para o parto apresentaram índices
superiores na despersonalização na prestação de cuidados
(p<0,001), sentimentos e sensações negativos por falta de
explicação (p<0,001), meio ambiente (p<0,001), sentimentos
negativos causados pelo uso de aparelhos e utensílios
(p<0,001) e medo de morrer (p<0,001).
Conclusão: A preparação para o parto promove uma
melhor perceção dos cuidados culturais no momento do parto,
sendo que a mesma deve ser desenvolvida também nos meios
rurais. Emerge a necessidade de investigar o que leva as
mulheres que vigiaram a gravidez no Serviço Nacional de
Saúde a não aderirem à preparação para o parto.
Downloads
Download data is not yet available.
References
- Bergström, M., Kieler, H. & Waldenström, U. (2009). Effects of natural childbirth preparation versus
standard antenatal education on epidural rates, experience of childbirth and parental stress in mothers and
fathers: a randomised controlled multicenter trial. BJOG. (International Journal of Obstetrics and
Gynaecology), 116(9):1167-76. doi: 10.1111/j.1471-0528.2009.02144
- Baglio, G., Spinelli, A., Donati, S., Grandolo, M. E. & Osborn, J. (2000). Evaluation of the impact of birth
preparation courses on the health of the mother and the newborn. Ann Ist Super Sanita, 36(4), 465-478.
Istituto Superiore di Sanità, Roma.
- Bergström, M., Kieler, H. & Waldenström, U. (2010). Psychoprophylaxis during labor: associations with
labor-related outcomes and experience of childbirth. Acta Obstetricia et Gynecologica Scandinavica, 89(6),
-800. doi: 10.3109/00016341003694978
- Bernazzani, O., Marks, M., Bifulco, A., Siddle, K., Asten, P. & Conroy, S. (2005). Assessing psychosocial
risk in pregnant/postpartum women using the Contextual Assessment of Maternity Experience (CAME).
Social Psychiatry & Psychiatric Epidemiology, 40(6), 497-508. doi: 10.1007/s00127-005-0917-y
- Cetin, H., Gunay, N. & Dalak, H. (2012). Traditional practices to women during pregnancy, birth and after
birth and reasons. HealthMed, 6(7), 2396-2406.
- Comas, M., Català, L., Sala, M., Payà, A., Sala, A., Del Amo, E. & Cots, F. (2011). Descriptive analysis of
childbirth healthcare costs in an area with high levels of immigration in Spain. BMC Health Services
Research, 11(1), 77-85. doi: 10.1186/1472-6963-11-77
- Conde, A., Figueiredo, B., Costa, R., Pacheco, A. & Pais, Á. (2007). Percepção da Experiência de parto:
continuidade e mudança ao longo do pós-parto. Psicologia, Saúde & Doenças, 8(1), 49-66. Disponível em
<http://www.scielo.oces.mctes.pt/pdf/psd/v8n1/v8n1a04.pdf>.
- Coutinho, E. C. & Parreira, M. V. B. C. (2011). Outra forma de olhar a mãe imigrante numa situação de
transição. Millenium, 40, 83-97. Disponível em <http://www.ipv.pt/millenium/Millenium40/7.pdf>.
- Couto, G. (2002). Preparação para o parto: representações mentais de um grupo de grávidas de uma área
urbana e de uma área rural. Porto: ICBAS. Dissertação de candidatura ao Grau de Mestre em Ciências de
Enfermagem no Insitituto de Ciências Biomédicas Abel Salazar. Não publicado.
- Etowa, J. B. (2012). Becoming a mother: The meaning of childbirth for African-Canadian women.
Contemporary Nurse: A Journal for the Australian Nursing Profession, 41(1), 28-40.
- Fabian, H. M., Rådestad, I. J. & WaldenstrÖm, U. (2005). Childbirth and parenthood education classes in
Sweden. Women's opinion and possible outcomes. Acta Obstetricia et Gynecologica Scandinavica, 84(5),
-443. doi: 10.1111/j.0001-6349.2005.00732.x
- Fabian, H. M., Rådestad, I. J. & Waldenström, U. (2006). Characteristics of primiparous women who are
not reached by parental education classes after childbirth in Sweden. Acta Paediatrica, 95(11), 1360-1369.
doi: 10.1080/08035250600664125
- Leal, I. (2005). Psicologia da gravidez e da parentalidade. Lisboa: Fim de Século.
- Lee, L. Y. K. & Holroyd, E. (2009). Evaluating the effect of childbirth education class: a mixed-method
study. International Nursing Review, 56(3), 361-368. doi: 10.1111/j.1466-7657.2008.00701.x
- Lei nº 142/99, de 31 de Agosto de 1999. Diário da República, I Série-A, N.º 203, de 31-8-1999. Quarta
alteração à Lei n.º 4/84, de 5 de Abril, alterada pelas Leis n.º 17/95, de 9 de Junho, 102/97, de 13 de
Setembro, e 18/98, de 28 de Abril.
- Maier-Lorentz, M. M. (2008). Transcultural Nursing: Its Importance In Nursing Practice. Journal of
Cultural Diversity, 15(1), 37-43.
- Malata, A., Hauck, Y., Monterosso, L. & McCaul, K. (2007). Development and evaluation of a childbirth
education programme for Malawian women. Journal of Advanced Nursing, 60(1), 67-78. doi:
1111/j.1365-2648.2007.04380.x
- Meleis, A. I. (2010). Transitions Theory Middle-Range and Situation-Specific Theories in Nursing Research
and Practice. New York: Springer Publishing Company.
- Michaels, P. A. (2010). Comrades in the Labor Room: The Lamaze Method of Childbirth Preparation and
France's Cold War Home Front, 1951-1957. American Historical Review, 115(4), 1031-1060.
- Morgado, C. M. L., Pacheco, C. O. C., Belém, C. M. S. & Nogueira, M. F. C. (2010). Efeito da variável
preparação para o parto na antecipação do parto pela grávida: estudo comparativo. Revista Referência, II
Série, n.°12, 17-27. Disponível em
<https://www.esenfc.pt/v02/pa/conteudos/downloadArtigo.php?id_ficheiro=302&codigo=>.
- Nama, V. & Wilcock, F. (2011). Caesarean section on maternal request: is justification necessary?
Obstetrician & Gynaecologist, 13(4), 263-269. doi: 10.1576/toag.13.4.263.27693
- Olaitan, O. L., Talabi, A. E., Olumorin, C. O., Braimoh, K. T., Kayode, O. O. & Onigbinde, A. T. (2012).
Risks experience during pregnancy among teenagers in South West Nigeria. International Journal of
Collaborative Research on Internal Medicine & Public Health (IJCRIMPH), 4(1), 1-11.
- Parreira, V., Paúl, C. & Gonçalves, C. (2010). Cultura Profesional de los Enfermeros: La Perspectiva del
Usuario. Artigo apresentado em XIV Encuentro de Investigación en Enfermería. Burgos, Noviembre 2010-
th International Nursing Research Conference, Burgos.
- Pincus, J. (2005). The Official Lamaze Guide: Giving Birth with Confidence. Birth: Issues in Perinatal
Care, 32(4), 329-330. doi: 10.1111/j.0730-7659.2005.00394a.x
- Reitmanova, S. & Gustafson, D. L. (2008). "They Can't Understand It": Maternity Health and Care Needs
of Immigrant Muslim Women in St. John's, Newfoundland. Maternal & Child Health Journal, 12(1), 101-
doi: 10.1007/s10995-007-0213-4
- Serçeku, P. & Mete, S. (2010). Effects of antenatal education on maternal prenatal and postpartum
adaptation. Journal of Advanced Nursing, 66(5), 999-1010. doi: 10.1111/j.1365-2648.2009.05253.x
- Shahoei, R., Riji, H. M. & Saeedi, Z. A. (2011). 'Safe passage': pregnant Iranian Kurdish women's choice of
childbirth method. Journal of Advanced Nursing, 67(10), 2130-2138. doi: 10.1111/j.1365-
2011.05656.x
- Shannon, D. (2010). Cultural competency in health care organizations: why and how? Physician Executive, 36(5), 18-22.
- Thomas, P. E., Beckmann, M. & Gibbons, K. (2010). The effect of cultural and linguistic diversity on
pregnancy outcome. Australian & New Zealand Journal of Obstetrics & Gynaecology, 50(5), 419-422. doi:
1111/j.1479-828X.2010.01210.x
- van Bussel, J., Spitz, B. & Demyttenaere, K. (2010). Childbirth expectations and experiences and
associations with mothers' attitudes to pregnancy, the child and motherhood. Journal of Reproductive &
Infant Psychology, 28(2), 143-160. doi: 10.1080/02646830903295026
- Yenal, K. & Sevil, Ü. (2012). The effects of web-based childbirth education program on activities of daily
living of pregnant women. HealthMed, 6(7), 930-938.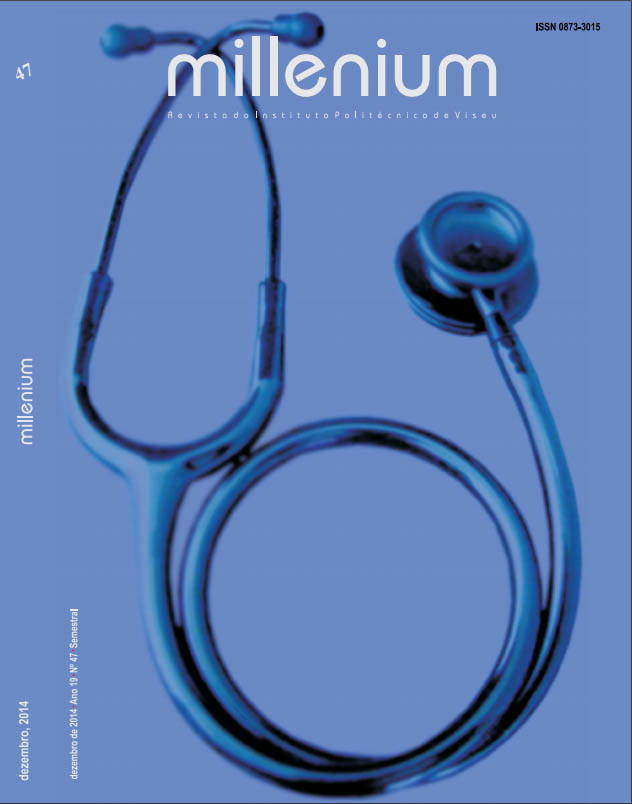 Downloads
How to Cite
Coutinho, E., Morais, C., Parreira, V., & Duarte, J. (2016). Contributos da Preparação para o Parto na Perceção de Cuidados Culturais. Millenium - Journal of Education, Technologies, and Health, (47), 21‐32. Retrieved from https://revistas.rcaap.pt/millenium/article/view/8106
License
Authors who submit proposals for this journal agree to the following terms:
a) Articles are published under the License Creative Commons, in full open-access, without any cost or fees of any kind to the author or the reader;

b) The authors retain copyright and grant the journal right of first publication, allowing the free sharing of work, provided it is correctly attributed the authorship and initial publication in this journal;

c) The authors are permitted to take on additional contracts separately for non-exclusive distribution of the version of the work published in this journal (eg, post it to an institutional repository or as a book), with an acknowledgment of its initial publication in this journal;
d) Authors are permitted and encouraged to publish and distribute their work online (eg, in institutional repositories or on their website) as it can lead to productive exchanges, as well as increase the impact and citation of published work
Documents required for submission
Article template (Editable format)