Intervenção no sofrimento em doentes oncológicos
Helena Maria Martins Norinha Gomes Sobral
Abstract
É sobretudo a partir da última década do século passado que o alívio do sofrimento começa a ser entendido como uma componente importante dos cuidados profissionais de saúde. O crescente aumento das doenças crónicas, relacionado, por um lado, com os avanços terapêuticos e, por outro, com as alterações demográficas, tornou o sofrimento num problema de domínio mais público, em que a discussão sobre o seu reconhecimento e alívio se tornou aceitável e pertinente, pois para ser efectivamente aliviado, o sofrimento tem de ser reconhecido. Todavia, nunca poderemos viver verdadeiramente a angústia dos outros, mas podemos (e devemos) aprender a "reconhecer os objectivos, os valores e as respostas estéticas que formam o sentido do "eu", cuja integridade é ameaçada pela dor e pela doença" (Cassell, 1991, p. 24).
References
Almeida, J. M Pereira; Melo, J. Santos (2001). Ética, espiritualidade e oncologia. In: Dias, Maria do Rosário; Durá, Estrella (coord.). Territórios da Psicologia Oncológica. Lisboa, Climepsi, pp. 129-143.
Baumann, Steven L.& Englert, Robert (2003). A Comparison of Three Views of Spirituality. Nursing Science Quarterly, (1), pp. 52-59.
Cassell, Eric J. (1991). Recognizing Sufering. Hastings Center Report, Maio-Junho, pp. 24-31.
Chalifour, Jacques (1989). La Relation D'aide en Soins Infirmiers. Une perspective holistique-humaniste. Montréal, Gaëtan Morin Éditeur.
Die Trill, Maria (2001). Cultura y câncer.In: Dias, Maria do Rosário; Durá, Estrella (coord.). Territórios da Psicologia Oncológica. Lisboa, Climepsi, pp. 640-651.
Fernandes, Susana & McIntyre, Teresa (2002). Avaliação da Eficácia de um Programa de Intervenção Psicológica Breve em Mulheres com Cancro da Mama. Psicologia: Teoria, Investigação e Prática, (2), pp. 359-379.
Fleming, Manuela (2003). Dor Sem Nome. Pensar o Sofrimento. 2ª. Ed., Porto, Edições Afrontamento.
Gameiro, Manuel H.(1999). Sofrimento na Doença. Coimbra, Quarteto.
Marques, Manuel S. (2002). Dar com uma mão, tirar com a outra…da Sensibilidade e da Insensibilidade em Medicina. in Cantista, M. J. – A Dor e o Sofrimento. Abordagens. Porto, Campo das Letras, pp. 417-445.
McIntyre, Teresa Mendonça (2004). Perda e Sofrimento na Doença: Contributo da Psicologia da saúde. Psychologica, (35), pp. 161-179.
Renaud, Isabel (2006). Da finitude e fragilidade humana. Ordem dos Enfermeiros, (20), pp. 71-77.
Salcedo, J. Montalar & Urtasun, J. Aparício (1996). Los Síntomas del Enfermo Neoplásico. in Barón, M. González et al. Tratdo de Medicina Paliativa y Tratamiento de Soporte en el Enfermo com Cancér. Madrid: Editorial Médica Panamericana. p. 425- 436.
Schneider, Eric C. et al. (2004). Developing a System to Assess the Quality of Cancer Care: ASCO's National Initiative on Cancer Care Quality. Journal of Clinical Oncology.(15), pp. 2985-2991.
Teixeira, Jorge (2003). Dia Mundial do Doente. Uma reflexão sobre o sentido da dor e do sofrimento no mundo de hoje. Hospitalidade, (259), pp. 28-30.
Teles, S. S.; Ribeiro, M. M. & Cardoso, V. (2003). A Psicologia na Área da Oncologia. Avaliação dos níveis de depressão e ansiedade em doentes com patologia colo-rectal maligna. Revista Portuguesa de Psicossomática, (2), pp. 71-77.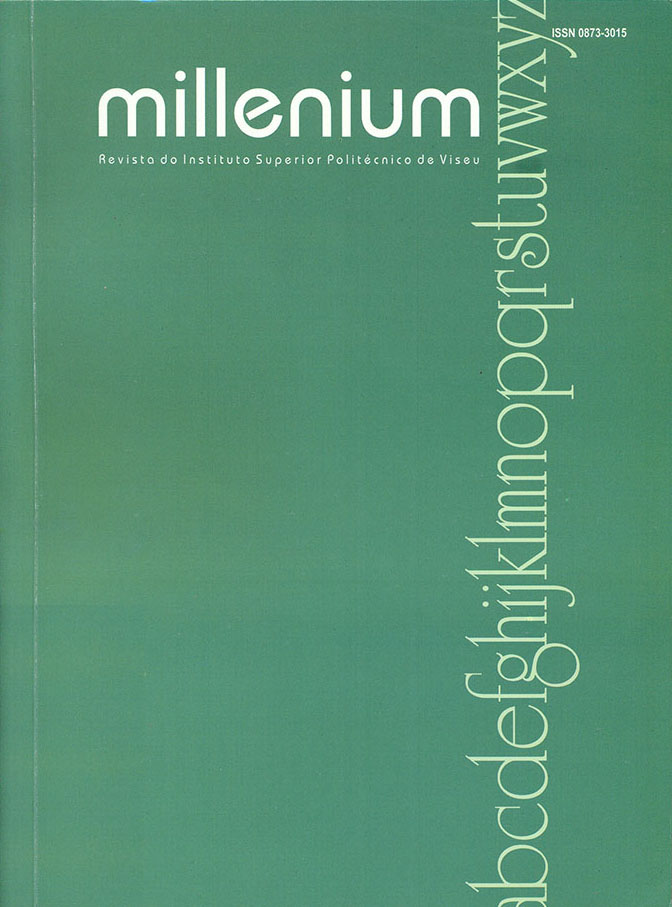 Authors who submit proposals for this journal agree to the following terms:
a) Articles are published under the License Creative Commons, in full open-access, without any cost or fees of any kind to the author or the reader;

b) The authors retain copyright and grant the journal right of first publication, allowing the free sharing of work, provided it is correctly attributed the authorship and initial publication in this journal;

c) The authors are permitted to take on additional contracts separately for non-exclusive distribution of the version of the work published in this journal (eg, post it to an institutional repository or as a book), with an acknowledgment of its initial publication in this journal;
d) Authors are permitted and encouraged to publish and distribute their work online (eg, in institutional repositories or on their website) as it can lead to productive exchanges, as well as increase the impact and citation of published work
Documents required for submission
Article template (Editable format)