Sida e o idoso. Metodologias educativas de âmbito preventivo
Abstract
O síndroma da imunodeficiência adquirida (SIDA) foi considerado durante alguns anos como uma afecção exclusiva dos indivíduos jovens. Dutschmann (1998) descreve que só a partir de 1985 as manifestações clínicas da infecção pelo vírus da imunodeficiência humana (VIH) foram observadas em doentes com mais de 60 anos. 
Actualmente, este grupo está em franca progressão. Inicialmente, a transmissão pelo sangue e derivados era considerada a principal via epidemiológica, 46,5% a 54,5% dos casos; no entanto, na década de 90, o meio de transmissão mais frequente foi o contacto homossexual, seguindo-se o heterossexual.
Neste grupo etário é urgente a utilização de medidas preventivas e de educação para a saúde eficaz, uma vez que só um sexto dos indivíduos com comportamentos de risco utiliza protecção.
References
· ARANTES, P.. Perspectiva holística do idoso: uma visão necessária. Revista Ciência e Técnica. Nº 48 (Maio 2003), p. 62-66.
· ASCH, S.. Psicologia Social. São Paulo: Companhia Editora Nacional, 1977.
· BELCHIOR, F.H.. Pedagogia, comunicação e existência. Revista Portuguesa de Pedagogia. Ano 37, nº 3 (2003), p. 197-230.
· BUTT, A.A. [et al.]. HIV infection in the elderly persons. Southern Medical Journal. [Em linha]. Vol. 94, nº 4 (Abril 2001), p. 397-400. [Consult. 14 Fev.
. Disponível em www:.
· DARAKI, M.. Une religiosité sans Dieu : Essai sur les stöiciens d'Athènes et Saint Augustin. Paris : La Découverte, 1989.
· DUTSCHMANN, L. SIDA no idoso. Medicina Interna. Vol. 5, nº 2 (1998),
p. 101-105.
· FRÁGUAS, A.. O síndroma de imunodeficiência adquirida no idoso. Geriatria. Vol. 12, nº 113 (1999), p. 27-30.
· HABERMAS, J.. Morale et communication. Paris: Flammarion, 1986.
· HABERMAS, J.. L'éthique de la discussion et la question de la verité. Paris: Bernard Grasset, 2003.
· JANSEN, T.. Dar sentido às transformações sociais. Fórum. Nº 24 (1998), p. 111-125.
· JOSSO, M.C.. Experiências de vida e formação. Lisboa: Educa-Formação, 2002.
· LESNE, M..Trabalho pedagógico e formação de adultos. Lisboa: Fundação Calouste Gulbenkian, 1977.
· LIMA, M.M. [et al.]. Percepção da capacidade para aprender ao longo do ciclo de vida: o caso dos adultos e idosos. Revista Portuguesa de Pedagogia. Ano 31, nº 1, 2 e 3 (1997). p. 19-34.
· LIMA, M.P. [et al.]. O bem-estar subjectivo na meia idade: do mito à realidade. Revista Portuguesa de Pedagogia. Ano 35, nº 1 (2001), p. 149-170.
· LIPONETSKY, G.. A era do vazio: ensaios sobre o individualismo
contemporâneo. Lisboa: Relógio D'Água, 1989.
· MIRANDA, A.M. [et al.]. Infecção pelo VIH em idosos. Arquivos de Medicina. Vol. 16, nº 1 (2002), p. 37-40.
· MOURA, J.J. [et al.]. Infecção por VIH no idoso. Geriatria. Vol. 15, nº 142 (2002), p. 21-36.
· POURTOIS, J. P. ; DESMET, H.. L'éducation post-moderne. Paris: Presses Universitaires de France, 1997.
· ROCHA, P.. SIDA atinge cada vez mais mulheres e velhos. Jornal de Notícias. [Em linha]. 20 Fev. 2005. [Consult. 1 Março 2005]. Disponível em www:.
· SCHAIE, K.; WILLIS, S.. Adult development and aging. New York: Harper Collins Publishers, 1991. p. 339-340.
· SIMÕES, M.; VAZ SERRA, A.. A importância do auto-conceito na aprendizagem escolar. Revista Portuguesa de Pedagogia. Nº 21, (1987), p. 233-248.
· TEDESCO, J.. La educación y la construcción de la democracia en la sociedad del conocimiento. In Educação, Competitividade e Cidadania. Lisboa: Conselho Nacional de Educação, 2001. p. 97.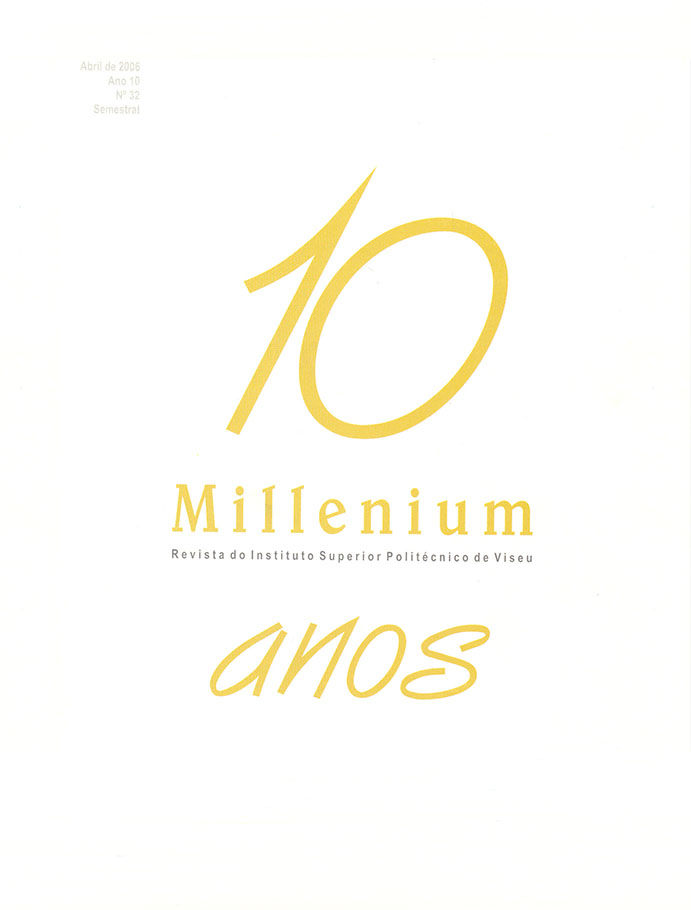 Authors who submit proposals for this journal agree to the following terms:
a) Articles are published under the License Creative Commons, in full open-access, without any cost or fees of any kind to the author or the reader;

b) The authors retain copyright and grant the journal right of first publication, allowing the free sharing of work, provided it is correctly attributed the authorship and initial publication in this journal;

c) The authors are permitted to take on additional contracts separately for non-exclusive distribution of the version of the work published in this journal (eg, post it to an institutional repository or as a book), with an acknowledgment of its initial publication in this journal;
d) Authors are permitted and encouraged to publish and distribute their work online (eg, in institutional repositories or on their website) as it can lead to productive exchanges, as well as increase the impact and citation of published work
Documents required for submission
Article template (Editable format)