Fundaments of the ethical acting in higher education students
Keywords:
ethical principles, morality, acting, higher education, students
Abstract
Introduction: It is urgent that higher education in health develop a proactive ethico-moral commitment in students which is translated into the creation of socio-professional values.

Objectives: To evaluate the ethical foundations which support morality in higher education students.
Methods: A descriptive, cross-sithectional study, performed in 345 ESSV/IPV students, 80% female, average age of 20.82 years old. The "Questionário de Cidadania Ativa e Modo de Agir Ético" (CiAMAE) by Cunha (2015) was applied.
Results: The results were 74.8% of the students showed a positive/adequate ethical method of acting; (with 45.8% adequate and 29% very adequate). In 25.2% the method of acting was ethically inadequate. The morality of the student's actions were focused mostly on individualism and were based on the following ethical principles: 68.7% ethical subjectivism (69.1%♂ and 68.6%♀); 56.5% Relativism ( 56.5%♂ and 56.7%♀); 53.9% Deontological Ethics (Kant) (55.8%♂ and 47.0%♀); 11.3% Subjectivism/Ethical Selfishness (7.4%♂ and 12.3%♀).
Conclusions: We may infer that the majority of the students do not have/ do not use an impartial consideration of good as criteria for morality of actions. They mostly manifested accepting an ethical subjectivist perspective, which means that good is not considered as a value for everyone. In contrast, applying the criteria of ethical impartiality would imply considering the greater good, and choosing/adopting the universal point of view in which any rational and enlightened student would choose for him/herself and for others that universal greater good.
References
Araújo, S. (2008). Contributos para uma educação para a cidadania (17ª ed.). Lisboa: Alto-Comissariado para a Imigração e Diálogo Intercultural. Retrieved from http://www.om.acm.gov.pt/documents/58428/179891/tese_17.pdf/eb3c4d34-e215-46f2-9799-8a2e295070a6
Barata, A. (2008). Agir por dever e ética formal. Covilhã: LusoSofia.
Battestin, C., Bergamo, E., & Gazzola, J. (2016). O filosofar na dimensão e no mundo ético: Confluências com a educação. Revista Teias, 17 (47), 191-205. Retrieved from http://www.periodicos.proped.pro.br/index.php/revistateias/article/view/1906/1468
Cho, Y., & Chi, E. (2015). A comparison of attitudes related to global citizenship between Korean-andUs- educated Korean university students. Asia Pacific Journal of Education, 35(2), 213-225. Retrieved from https://eric.ed.gov/?q=author%3Ayoung&ff1=subStudent+Attitudes&ff2=dtyIn_2015&id=EJ1068710
Cordeiro, A. (2012). Cidadania, democracia e sociedade de comunicação (Dissertação de mestrado, Universidade da Beira Interior). Retrieved from http://ubibliorum.ubi.pt/handle/10400.6/2826
Cunha, M. (2015). Questionário de cidadania ativa e modo de agir ético em estudantes do ensino superior (CiAMAE) - Grupos de corte relativos ao agir ético. Não publicado.
Cunha, M., Albuquerque, C., Dias, A., Aparício, G., Bica, I., André, S., … 25º Curso de Licenciatura em Enfermagem. (2015, March). Ethical/moral knowledge in nursing students. In Proceedings of INTED2015: Conference (pp. 7382-7385). Retrieved from http://repositorio.ipv.pt/handle/10400.19/2675
Fonseca, E. (2014). Nos interstícios da cidadania: A inevitabilidade e urgência da dimensão da virtude cívica na educação. Educaçãoe Pesquisa, 40(1), 181-196. Retrieved from http://www.revistas.usp.br/ep/article/view/81905
Nunes, L. (2016). Os limites do agir ético no dia-a-dia do enfermeiro. Servir, 59 (2), 7-17.
Pires, A. (2007). Educação e cidadania: Consciência nacional no contexto europeu. Revista Portuguesa de Pedagogia, 41(1), 23-39. Retrieved from http://iduc.uc.pt/index.php/rppedagogia/article/view/1183/631
Santos, P., Silva, M., & Guedes, A. (2011). O voluntariado como elemento de aprendizagem e de empregabilidade. Lisboa: Corpo Nacional de Escutas – Escutismo Católico Português. Retrieved from http://www.aev2011.cne-escutismo.pt/PDF/Voluntariado/O%20VOLUNTARIADO%20COMO%20ELEMENTO%20DE%20APRENDIZAGEM.pdf
Vasconcelos, T. (2007). A importância da educação na construção da cidadania. Saber(e) Educar, 12, 109-117. Retrieved from http://repositorio.esepf.pt/handle/20.500.11796/714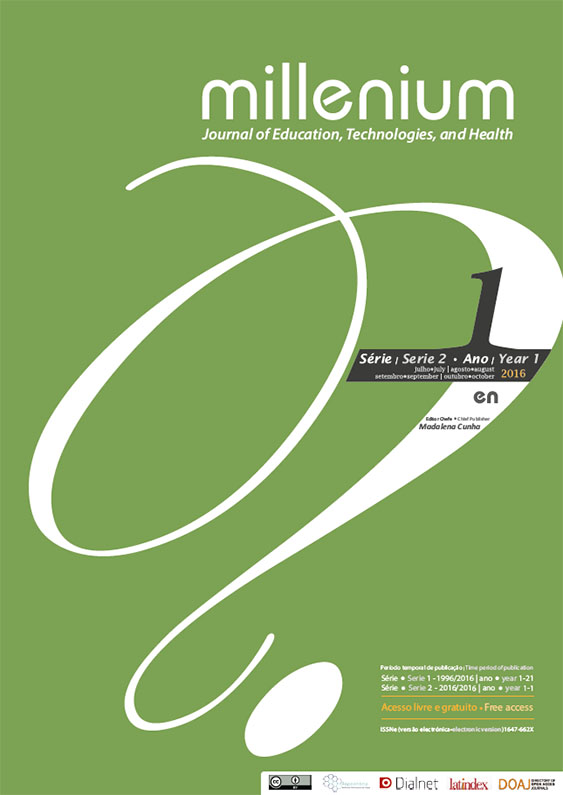 Downloads
Section
Education and Social Development Sciences
License
Authors who submit proposals for this journal agree to the following terms:
a) Articles are published under the License Creative Commons, in full open-access, without any cost or fees of any kind to the author or the reader;

b) The authors retain copyright and grant the journal right of first publication, allowing the free sharing of work, provided it is correctly attributed the authorship and initial publication in this journal;

c) The authors are permitted to take on additional contracts separately for non-exclusive distribution of the version of the work published in this journal (eg, post it to an institutional repository or as a book), with an acknowledgment of its initial publication in this journal;
d) Authors are permitted and encouraged to publish and distribute their work online (eg, in institutional repositories or on their website) as it can lead to productive exchanges, as well as increase the impact and citation of published work
Documents required for submission
Article template (Editable format)