Communication in rural tourism and foreign languages between the desired and the reality
Lúcia Pato

Instituto Politécnico de Viseu, Escola Superior Agrária de Viseu, Viseu, Portugal
Keywords:
Rural Tourism, Communication, Website, Foreign Languages, Viseu Dão-Lafões
Abstract
Introduction: In a context of scarce resources, frequent in rural areas, the importance of communication in rural tourism is undisputed. If we consider that foreigners compose a great part of the search for the tourist product, it is understand the importance of foreign languages.
Nevertheless, much of the web pages of the enterprises, are only in one language or do not exist.
Objectives: Taking as reference the Viseu Dão Lafões Region (VDLR), the purpose of this study is to observe the existence of the websites of rural tourism enterprises, and which languages are present in them.
Methods: An online research was made to verify the existence of the website of the enterprises of rural tourism in the VDLR. For the ones that have a website, it was observed which languages were used. Following, we proceed to an exploratory analysis of the content of the websites.
Results: We conclude that many of enterprises don´t have websites and many of them only present information in one language, in particular in Portuguese.
Conclusions: The absence of the website and the presentation of the information only in Portuguese is a fragility of the tourism rural enterprises of the VDLR. The issue must be carefully considered in order to attract an external market who value what is genuine and typical of the region.
References
Costa, A., Oliveira, A., Amante, F. S., Oliveira, I., Abrantes, J. L., Pato, L., .Amaral, O, Fidalgo, S., Delplanq, V. (2017). Foreign language skills: a challenge for the economy. Paper presented at the 9th annual International Conference on Education and New Learning Technologies (Edulearn), Barcelona.
Eusébio, C., Carneiro, M. J., Kastenholz, E., Figueiredo, E., & Soares da Silva, D. (2017). Who is consuming the countryside? An activity-based segmentation analysis of the domestic rural tourism market in Portugal. Journal of Hospitality and Tourism Management, 31, 197-210.
DL nº. 39/2008 de 7 de março
Font, X., Elgammal, I., & Lamond, I. (2017). Greenhushing: the deliberate under communicating of sustainability practices by tourism businesses. Journal of Sustainable Tourism, 25(7), 1007-1023.
Henche, B. G. (2003). Estrategias de Márketing del Turismo Rural en Guadalajara. Alcalá: Uinversidade de Alcalá.
INE. (2009). Estudo sobre o poder de compra concelhio, 2007. Lisboa: INE.
INE. (2015). As novas unidades territoriais pra fins estatísticos. Lisboa: INE.
INE. (2017). Estatísticas do Turismo 2016. Lisboa: INE.
Jesus, L., Kastenholz, E., & Figueiredo, E. (2012). Os promotores do TER – motivações, perfil, objetivos e ações de marketing. Revista Turismo & desenvolvimento 17/18, 651-666.
Kastenholz, E. (2002). The role and Marketing implications of Destinations images on Tourist Behavior: The Case of Northern Portugal. (PhD), Universidade de Aveiro, Aveiro.
Keller, K. L. (2009). Building strong brands in a modern marketing communications environment. Journal of Marketing Communications, 15(2-3), 139-155.
Lane, B. (1994). What is rural tourism? Journal of Sustainable Tourism, 2(1-2), 7-21.
Lopes, R. (2005). Estudo de mercado e estratégias de segmentação para o turismo em espaço rural na região do Parque Natural da Serra da Estrela. (Tese de Mestrado Mestrado), INDEG/ISCTE.
Luka, I., & Donina, A. (2012). Challenges of tourism education: Conformity of tourism curriculum to business needs. Academica Turistica, 5(1), 85-101.
Lun, L. M., Pechlaner, H., & Volgger, M. (2016). Rural Tourism Development in Mountain Regions: Identifying Success Factors, Challenges and Potentials. Journal of Quality Assurance in Hospitality and Tourism, 17(4), 389-411.
Pato, L. (2012). Dinâmicas do Turismo Rural – impactos em termos de Desenvolvimento Rural. (PhD), Universidade de Aveiro, Aveiro.
Pato, L., & Kastenholz, E. (2017). Marketing of rural tourism - a study based on rural tourism lodgings in Portugal. Journal of Place Management and Development, 10(2), 121-139.
Polo Peña, A. I., Frias Jamilena, D. M., & Rodriguez Molina, M. Ã. (2013). Impact of Customer Orientation and ICT Use on the Perceived Performance of Rural Tourism Enterprises. Journal of Travel & Tourism Marketing, 30(3), 272-289.
Ribeiro, M. (2003). Espaços rurais como espaços turísticos. In J. Portela & J. C. Caldas (Eds.), Portugal Chão (pp. 199-215). Lisboa: Celta.
Roque, V., Martins, J. A., & Lopes, R. (2013). Análise exploratória de sítios web: o caso dos hotéis Portugueses de 4 e 5 estrelas. In I. P. d. Guarda (Ed.), Inovação e Tecnologia em Turismo & Hotelaria (pp. 121-142): Instituto Politécnico da Guarda.
San Martín, H., & Herrero, Á. (2012). Influence of the user's psychological factors on the online purchase intention in rural tourism: Integrating innovativeness to the UTAUT framework. Tourism Management, 33(2), 341-350.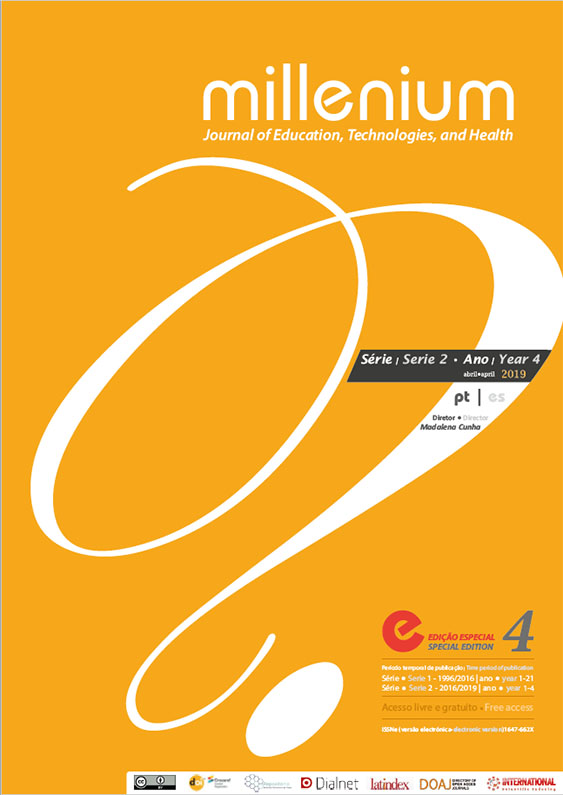 Section
Education and Social Development Sciences
Copyright (c) 2019 Millenium - Journal of Education, Technologies, and Health
This work is licensed under a Creative Commons Attribution 4.0 International License.
Authors who submit proposals for this journal agree to the following terms:
a) Articles are published under the License Creative Commons, in full open-access, without any cost or fees of any kind to the author or the reader;

b) The authors retain copyright and grant the journal right of first publication, allowing the free sharing of work, provided it is correctly attributed the authorship and initial publication in this journal;

c) The authors are permitted to take on additional contracts separately for non-exclusive distribution of the version of the work published in this journal (eg, post it to an institutional repository or as a book), with an acknowledgment of its initial publication in this journal;
d) Authors are permitted and encouraged to publish and distribute their work online (eg, in institutional repositories or on their website) as it can lead to productive exchanges, as well as increase the impact and citation of published work
Documents required for submission
Article template (Editable format)