Word cloud as a tool for content analysis
an application to the challenges of the professional master´s degree courses in health education
Rosana Brandão Vilela

Federal University of Alagoas, Alagoas, Brazil

https://orcid.org/0000-0003-3910-4678

Adenize Ribeiro

Federal University of Alagoas, Alagoas, Brazil

Nildo Alves Batista

Federal University of São Paulo, São Paulo, Brazil
Keywords:
Cloud of words, Professional master's, Health education, Qualitative research, Content analysis
Abstract
Introduction: This article describes the use of the word cloud technique in qualitative data analysis, being used to identify challenges to professional master's degree courses in health education (PMHE). 
Objective: Identify the challenges of two trained professionals through the use of the technique of Nuvem de Palavras.
Methods: The software Wordle was used for the construction of word clouds. The technique served as a tool to support data processing in qualitative research conducted in 2016. The information was collected through a questionnaire in which a semi-structured script was applied to teachers and students in thirteen programs in Brazil.
Results: The six categories resulting from the analysis and interpretation of word clouds in facilitating and hindering factors indicated the presence of institutional and other challenges inherent in the program.
Conclusion: It was found that it is essential to understand the essence of professional master's programs and to support the development of these programs in the area of ​​health education. And that, the use of the word cloud, together with the watchful eye of the researchers, allows the data to be analysed with assurance.
References
Araújo, M. S. T., Amaral, L. H. (2006) Impactos do mestrado profissional em ensino de ciências e matemática da Unicsul sobre a atividade docente de seus estudantes: do processo de reflexão às transformações na prática pedagógica. Revista Brasileira de Pós-Graduação, 3(5),150-166.
Batista N.A, Vilela, R.Q.B.,Batista, S.H.S.S(2015). Educação médica no Brasil. São Paulo: Cortez.
Boterf, G. L. (2003). Desenvolvendo a competência dos profissionais. Porto Alegre: Artmed.
Carvalho Júnior, P. M., Da Rosa, R.S.L., Sgambatti, M.S. Adachi, E.A., & Carvalho, V.C.L.(2012). Avaliação do Programa de Residência Multiprofissional em Saúde na Família: uma análise qualitativa através de duas técnicas. Revista do Hospital Universitário Pedro Ernesto. 11(supl. 1), 114-119.
Cruz, Poliana Oliveira da, Carvalho, Thaís Bandeira de, Pinheiro, Luca Di Pace, Giovannini, Patrícia Estela, Nascimento, Ellany Gurgel Cosme do, & Fernandes, Thales Allyrio Araújo de Medeiros. (2019). Percepção da Efetividade dos Métodos de Ensino Utilizados em um Curso de Medicina do Nordeste do Brasil. Revista Brasileira de Educação Médica, 43(2), 40-47. https://dx.doi.org/10.1590/1981-52712015v43n2rb20180147.
Feinberg, J. (2014). Wordle – Beautiful word clouds. 2014. Disponível em: http://www.wordle.net/credits
Fischer, T. (2005). Mestrado profissional como prática acadêmica. Revista Brasileira de Pós-Graduação, 2(4), 24-29.
Kami, Maria Terumi Maruyama, Larocca, Liliana Müller, Chaves, Maria Marta Nolasco, Lowen, Ingrid Margareth Voth, Souza, Viviam Mara Pereira de, & Goto, Dora Yoko Nozaki. (2016). Trabalho no consultório na rua: uso do corpus IRAMUTEQ no apoio à pesquisa qualitativa. Escola Anna Nery, 20(3), e20160069. Epub June 07, 2016.https://dx.doi.org/10.5935/1414-8145.20160069.
Lunardi, M. S., Castro, J., & Monat, A. (2008).Visualização dos resultados do Yahoo em nuvens de texto: uma aplicação construída a partir de web services. InfoDesign Revista Brasileira de Design da Informação, 5(1), 21-35.
Mcnaught, C. & Lam, P. (2010). Using Wordle as a supplementary research tool. The Qualitative Report, 15(3), 630-643.
Moura Castro, C. (2005). A hora do mestrado profissional. Revista Brasileira de Pós-Graduação, 2(4), 16-23.
Paixão, R. B. & Bruni, A. L. (2013). Mestrados profissionais: características, especificidades, diferenças e relatos de sucesso. Administração: Ensino e Pesquisa (RAEP), 14 (2), 279-309.
Quelhas, O. L. G., Faria Filho, J. R., & França, S. L. B. (2005). O mestrado profissional no contexto do sistema de pós-graduação brasileiro. Revista Brasileira de Pós-Graduação, 2(4), 97-104.
Ramsden, A. & Bate, A. (2008). Using word clouds in teaching and learning. Bath : University of Bath.
Ribeiro, A., Oliveira, M. A. & Vilela, R. B. (2017). Contribuições do Mestrado Profissional em Ensino na Saúde na Trajetória Profissional de seus Egressos: uma visão qualitativa. AtasCIAIQ2017, 1, 17-25.
Rivadeneira, A.W., Gruen, D.M., Muller, M.J.& Millen, D.R. (2007). Getting our head in the clouds: toward evaluation studies of tagclouds, Proceedings of the SIGCHI Conference on Human Factors in Computing Systems, 1, 995-998. [doi>10.1145/1240624.1240775].
Ruas, R. (2003). Mestrado modalidade profissional: em busca da identidade. RAE – Revista de Administração de Empresas, 43(2), 55-63.
Santos, G. B., Hortale, V. A & Arouca, R. (2012). Mestrado Profissional em Saúde Pública: caminhos e identidade. Rio de Janeiro: FIOCRUZ.
Souza, M. A. R. D., Wall, M. L., Thuler, A. C. D. M. C., Lowen, I. M. V., & Peres, A. M. (2018). The use of IRAMUTEQ software for data analysis in qualitative research. Revista da Escola de Enfermagem da USP, 52, e03353. Epub October 04, 2018.https://dx.doi.org/10.1590/s1980-220x2017015003353
Vilela, R. B. & Batista, N.A. (2016) Desafios e práticas para os mestrados profissionais em ensino na saúde. Revista fórum identidades, 22 (22), 159-172.
Vilela, R. B., Ribeiro, A., & Batista, N. A. (2018). Os desafios do mestrado profissional em ensino na saúde: uso da nuvem de palavras no apoio à pesquisa qualitative. CIAIQ2018, 2.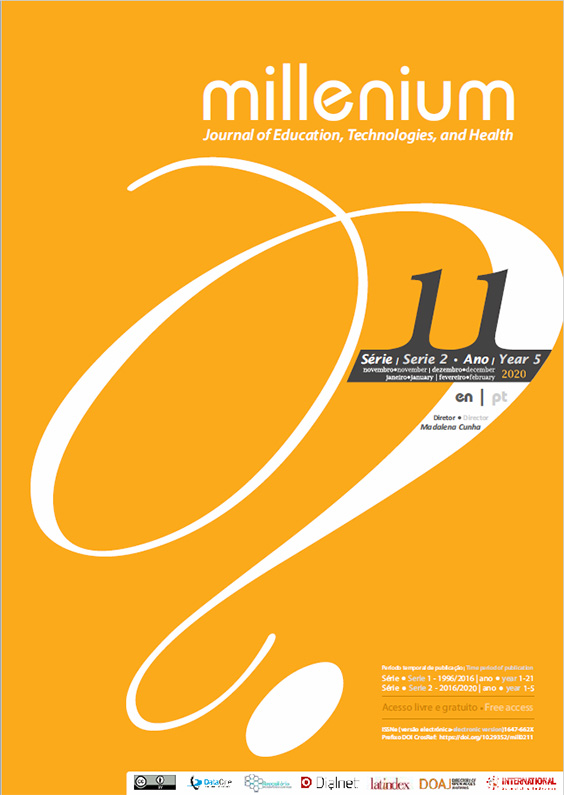 Section
Education and Social Development Sciences
Copyright (c) 2020 Millenium - Journal of Education, Technologies, and Health
This work is licensed under a Creative Commons Attribution 4.0 International License.
Authors who submit proposals for this journal agree to the following terms:
a) Articles are published under the License Creative Commons, in full open-access, without any cost or fees of any kind to the author or the reader;

b) The authors retain copyright and grant the journal right of first publication, allowing the free sharing of work, provided it is correctly attributed the authorship and initial publication in this journal;

c) The authors are permitted to take on additional contracts separately for non-exclusive distribution of the version of the work published in this journal (eg, post it to an institutional repository or as a book), with an acknowledgment of its initial publication in this journal;
d) Authors are permitted and encouraged to publish and distribute their work online (eg, in institutional repositories or on their website) as it can lead to productive exchanges, as well as increase the impact and citation of published work
Documents required for submission
Article template (Editable format)