Learning a /through a foreign language in higher education: employers' and students' perceptions
Margarida Morgado

Instituto Politécnico de Castelo Branco, Escola Superior de Educação, Castelo Branco, Portugal

Luís Vicente Gómez

Instituto Politécnico de Castelo Branco, Escola Superior de Educação, Castelo Branco, Portugal

Marcelo Calvete

Instituto Politécnico de Castelo Branco, Escola Superior de Educação, Castelo Branco, Portugal
Keywords:
Foreign languages in Higher Education, intercultural communicative competence, employers' perceptions, students' perceptions, CLIL
Abstract
Introduction: Higher Education Institutions (HEI) are allegedly preparing students for a globalized working area where people will need to be ready to communicate effectively in one or more foreign languages in international working environments, which puts a lot of pressure on how foreign languages (FL) are learned in Higher Education (HE).
Methods: This article explores how a FL or learning through a FL could be approached in HEI, focusing mainly on what employers claim in terms of skills of recent graduates or on-the-job workers. Case studies are used, combining interviews to employers and questionnaires to HE students to find out their perceptions on FL learning requirements for greater employability.
Conclusions: A series of recommendations are made for HEI on how to promote students' employability skills; on the best practices for the development of intercultural communicative competence and FL skills to communicate effectively in international or digitally-mediated working environments; as well as on how to prepare the teaching staff for emerging trends that involve using a FL as medium of instruction or CLIL, a content and language integrated approach. These testify to the importance of learning a FL or through a FL, as well as the need to combine transversal skills development in connection to FL learning.
References
Catenaccio, P. and Gigliola, C. (2016). CLIL v Teaching at Primary School Level and the Academia/ Practice Interface. Some Preliminary Considerations. In: D. H. Edited by G. Garzone, Focus on LSP Teaching: Developments and Issues (pp. 191-210). Milano: LED.
Dunford, M., Muirand, N., Teran, P. and Grimwood, M. (2015). Promoting Intercultural Engagement: Developing a Toolkit for Staff and Students in Higher Education. Journal of Perspectives in Applied Academic Practices, 3(3), 41-45. Disponível na Internet: https://jpaap.napier.ac.uk/index.php/JPAAP/article/view/189/206
Gaspar, M., Régio, M., Morgado, M. (2017). Lean-Green Manufacturing: Collaborative Content and Language Integrated Learning in Higher Education and Engineering Courses. Journal of Education Culture and Society, 2, 208-217. Doi 10.15503/jecs20172.208.217.
Morgado, M. M., Arau Ribeiro, M. C., Coelho, M. M., Gonçalves, A., Silva, M.M. & Chumbo, I. A. (2015). CLIL in Portuguese Higher Education – building a community of practice and learning. In Ministério da Educação e Ciência (Ed.). Experiências de Inovação Didática no Ensino Superior (pp. 65-79), Lisboa: Gabinete do Secretário de Estado do Ensino Superior.
Disponível na Internet: https://dspace.uevora.pt/rdpc/bitstream/10174/17272/1/Livro_MEC_Set%202015.pdf
Morgado, M. M., Coelho, M. M., Arau Ribeiro, M. C., Albuquerque, A. Silva, M. M., Chorão, G., Cunha, S., Gonçalves, A., Carvalho, A. I., Régio, M., Faria, S. & Chumbo, I. A. (2015). CLIL Training Guide. Creating a CLIL Learning Community in Higher Education. Santo Tirso, Portugal: De Facto Editores and ReCLes.pt. ISBN: 978-989-8557-50-6. Disponível na
Internet: http://paol.iscap.ipp.pt/~paol/docentes/recles/CLILTrainingGuide.pdf
Morgado, M., Régio, M., Gaspar, M.C. (2017). Content, language and intercultural challenges in engineering education: (E-)strategies to improve instructional design. New Trends and Issues Proceedings on Humanities and Social Sciences, 4 (8), 153-161.
Morgado, M., Gómez, L.V. & Arau Ribeiro, M. C. (2019). ICCAGE Survey of ICC Best Practice in the Czech Republic, Hungary, Spain and Portugal. In: Learning beyond Culture: Reports from the Field on Intercultural Communicative Competence through telecollaboration and foreign language learning. Guarda: Recles.pt.(no prelo) DOI:
https://doi.org/10.18844/prosoc.v4i8.3026
O'Dowd, R. (2014). 'Learning as They go' In-service Teachers Learning to Telecollaborate. Disponível na Internet: https://www.slideshare.net/dfmro/eurocall-2014-odowd
O'Dowd, R. and Lewis, T. (Eds) (2016). Online Intercultural Exchange. Policy, Pedagogy, Practice, Routledge, New York and London.
O'Dowd, R. and Ware, P. (2006). Critical issues in telecollaborative task design, Computer Assisted Language Learning, 22(2), 173–188.
Régio M., Gaspar M. & Morgado, M. (2018). Instructional Design in Electrotechnical Engineering: A Case Study on Integrated Online Approaches. In: Machado J., Soares F., Veiga G. (eds) Innovation, Engineering and Entrepreneurship. HELIX 2018. Lecture Notes in Electrical Engineering, vol. 505. Springer, Cham. DOI https://doi.org/10.1007/978-3-319-91334-6_155
Schwab, K. (2016). Welcome to the Fourth Industrial Revolution. Rotmann Magazine, 19–24. Disponível na Internet: https://doi.org/10.1017/CBO9781107415324.004
Valcke, J. & Wilkinson, R. (2017). Introduction - ICLHE, Professional Practice, Disruption, and Quality. In Integrating Content and Language in Higher Education. Perspectives on Professional Practice, edited by J. Valcke and R. Wilkinson. Frankfurt am Main: Peter Lang.
Vertovec, S. (2006). The Emergence of Super-Diversity in Britain. Compass, Working Paper No 25, University of Oxford.
Weinberg, L., & Symon, M. (2017). Crossing borders: The challenges and benefits of a collaborative approach to course development involving content and language specialists in different countries. In J. Valcke, & R. Wilkinson (Eds.), Integrating content and language in higher education: Perspectives on professional practice (pp.135-150). Frankfurt am
Main: Peter Lang.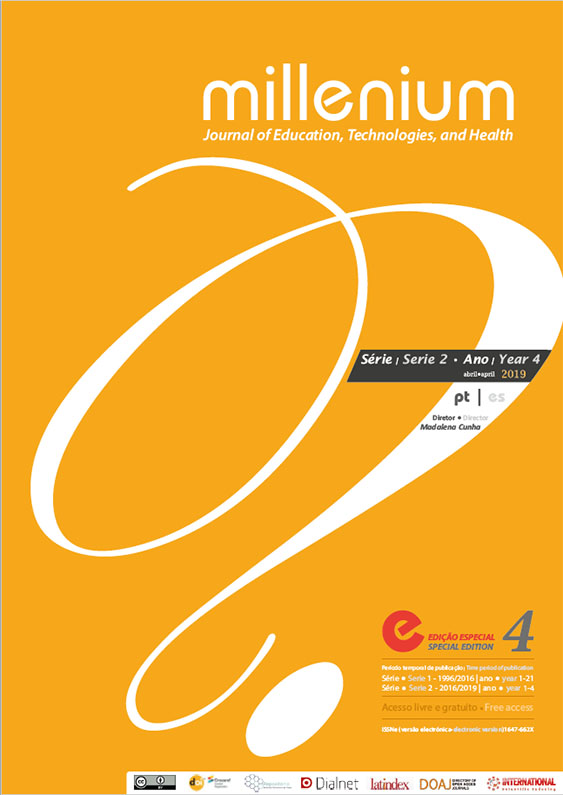 Section
Education and Social Development Sciences
Authors who submit proposals for this journal agree to the following terms:
a) Articles are published under the License Creative Commons, in full open-access, without any cost or fees of any kind to the author or the reader;

b) The authors retain copyright and grant the journal right of first publication, allowing the free sharing of work, provided it is correctly attributed the authorship and initial publication in this journal;

c) The authors are permitted to take on additional contracts separately for non-exclusive distribution of the version of the work published in this journal (eg, post it to an institutional repository or as a book), with an acknowledgment of its initial publication in this journal;
d) Authors are permitted and encouraged to publish and distribute their work online (eg, in institutional repositories or on their website) as it can lead to productive exchanges, as well as increase the impact and citation of published work
Documents required for submission
Article template (Editable format)