Challenges of misinformation and fake news
a case study with higher education students
Keywords:
fake news, misinformation, students, higher education, Portugal
Abstract
Introduction: In the digital age, society, the scientific community and future media professionals meet challenges in the face of the globalized phenomenon of fake news. How to recognize them, deal with misinformation and combat the phenomenon?
Objectives: The main objective of the research described in this paper was to understand the perception that a group of higher education students have about fake news and online misinformation.
Methods: This is a case study that used an online questionnaire and a focus group to collect information. The sample consisted of 49 students of the 2nd year of Media and Communication in the 2018/2019 school year and for the focus group 8 students were selected.
Results: The results emphasize that students are familiar with the notion of fake news and what seems to motivate people to create and disseminate it. They also know some specific features of this kind of news and can identify websites that usually publish fake stories. Participants reveal that most of the manipulated news they find is disseminated on social media and suggests that the news and information they trust the most can be found in the press, radio and television.
Conclusions: The study concluded that students are aware of the negative impact of the phenomenon and that education is the best way to mitigate the impact of fake news.
Downloads
Download data is not yet available.
References
Allcott, H., & Gentzkow, M. (2017). Social Media and Fake News in the 2016 Election. Journal of Economic Perspectives, 31(2), 4.
Amaral, I. (2016). Redes Sociais na Internet: Sociabilidades Emergentes. Covilhã: LABCOM.IFP. Acedido em https://www.saferinternetday.org/home?p_p_id=101&p_p_lifecycle=0&p_p_state=maximized&_101_struts_action=%2Fasset_publisher%2Fview_content&_101_assetEntryId=1421694&_101_type=content&_101_groupId=167024&_101_urlTitle=fake-news.
Bakir, V., & McStay, A. (2018). Fake News and The Economy of Emotions: Problems, causes, solutions. Digital Journalism, 6(2), 154–175. Acedido em http://doi.org/10.1080/21670811.2017.1345645.
Branco, S. (2017). Fake news e os caminhos para fora da bolha. Interesse Nacional, 10(38), 51-61.
Cardoso, G. (Coord.) (2013). A Sociedade dos ecrãs. Lisboa: Tinta-da-China.
Cardoso, G., Baldi, V., Pais, P. C., Piasana, M., Quintanilha, T., & Couraceiro, P. (2018). As Fake News numa sociedade pós-verdade - Contextualização, potenciais soluções e análise. Lisboa: Obercom.
Esteves, F. & Sampaio, G. (2019). Viral - A Epidemia de Fake News e a Guerra da Desinformação. Lisboa: Edições Desassossego.
European Commission (2018). Fake news and disinformation online. Flash Eurobarometer 464.
Ferrari, P. (2018). Como sair das bolhas. São Paulo: EDUC.
Gurba, K., Kaczmarczyk, D., & Pajchert, B. (2019). Fake news as a threat for news values in communication and education. Proceedings of INTED2019 Conference, 11th-13th March, Valencia, Spain. ISBN: 978-84-09-08619-1.
Vicario, M., Bessi, A., Zollo, F., Petroni, F., Scala, A., Caldarellia, G., Stanley, H., & Quattrociocchi, W. (2016). The spreading of misinformation online. PNAS, 113 (3), 554-559.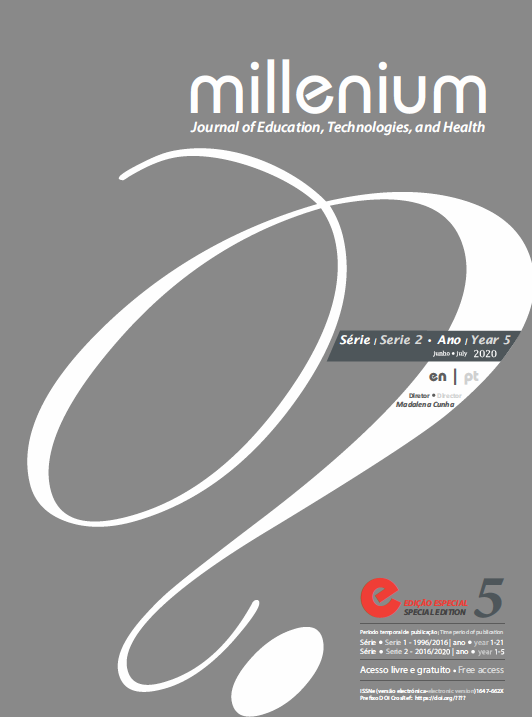 Downloads
How to Cite
Morais, N. S., & Sobral, F. (2020). Challenges of misinformation and fake news: a case study with higher education students. Millenium - Journal of Education, Technologies, and Health, 2(5e), 85–93. https://doi.org/10.29352/mill0205e.07.00271
Section
Education and Social Development Sciences
License
Authors who submit proposals for this journal agree to the following terms:
a) Articles are published under the License Creative Commons, in full open-access, without any cost or fees of any kind to the author or the reader;

b) The authors retain copyright and grant the journal right of first publication, allowing the free sharing of work, provided it is correctly attributed the authorship and initial publication in this journal;

c) The authors are permitted to take on additional contracts separately for non-exclusive distribution of the version of the work published in this journal (eg, post it to an institutional repository or as a book), with an acknowledgment of its initial publication in this journal;
d) Authors are permitted and encouraged to publish and distribute their work online (eg, in institutional repositories or on their website) as it can lead to productive exchanges, as well as increase the impact and citation of published work
Documents required for submission
Article template (Editable format)