Training needs of education stakeholders
psychometric characteristics of a questionnaire
João Duarte

Instituto Politécnico de Viseu, Escola Superior de Saúde, UICISA:E, Viseu, Portugal

Madalena Cunha

Instituto Politécnico de Viseu, Escola Superior de Saúde, UICISA:E, SIGMA – Phi Xi Chapter, CIEC - UM, Viseu, Portugal

Ana Rodrigues

Instituto Politécnico de Viseu, Escola Superior de Saúde, Viseu, Portugal

Alexandre Nogueira

Instituto Politécnico de Viseu, Escola Superior de Saúde, Viseu, Portugal

Alison Silva

Instituto Politécnico de Viseu, Escola Superior de Saúde, Viseu, Portugal

Ana Flávia Ferreira

Instituto Politécnico de Viseu, Escola Superior de Saúde, Viseu, Portugal

Diana Oliveira

Instituto Politécnico de Viseu, Escola Superior de Saúde, Viseu, Portugal

Joana Ferreira

Instituto Politécnico de Viseu, Escola Superior de Saúde, Viseu, Portugal

Rita Vasconcelos

Instituto Politécnico de Viseu, Escola Superior de Saúde, Viseu, Portugal

Ana Andrade

Instituto Politécnico de Viseu, Escola Superior de Saúde, UICISA:E, Viseu, Portugal
Keywords:
mental health, quality of life, education stakeholders, children, adolescents
Abstract
Introduction: Childhood mental disorders have been increasing significantly, affecting children/adolescent's quality of life. Therefore, education stakeholders must be trained in such areas, in order to answer effectively to children/adolescents needs. 
Objectives: Factorial structure and internal consistency evaluation of the "Questionnaire on Training Needs in Health and Quality of Life of Children and Adolescents". 
Methods: The psychometric study was carried out on a non-probabilistic sample of 136 education stakeholders, (62,5% teachers, 32,4% nurses and 5,1% police), with an average age of 48.34 years, mostly female (70.6%). The Questionnaire on Training Needs in Health and Quality of Life of Children and Adolescents was applied. 
Results: The psychometric properties revealed a reliable and valid instrument in the assessment of the education stakeholders training needs of the education stakeholders in health and quality of life of children and adolescents. Which presented an adequate internal consistency (Cronbach's alpha total of 0.859) and evidence of validity. It was found that 77.9% consider they need to attend specific training in the areas of mental health and QOL of children and adolescents. 22.8% of education stakeholders did not attend training. 
Conclusions: The identification of the training needs of education stakeholders on mental health and the QOL of children and adolescents enhances the implementation of specific training programs tailored to these needs. This questionnaire can be an important tool for the study of training needs 
References
Braga, A.L.S., Oliveira, A.G.S., Ribas, B.F, Cortez, E.A., Mattos, M.M.G.R., Marinho, T.G., Calvancanti, T.V.C., & Dutra, V.F.D. (2017). Promoção à saúde mental dos estudantes universitários. Revista Pró-UniverSUS, 08 (1), 48-54. Acedido em editorauss.uss.br/index.php/RPU/article/download/896/703
Coutinho, C.P. (2014). Metodologia de Investigação em Ciências Sociais e Humanas: Teoria e Prática. Coimbra: Almedina.
Cunha, D., Albuquerque, A., Gonçalves, M., & Andrade (2017). Questionário sobre Necessidades Formativas em Saúde e Qualidade de Vida das Crianças e Adolescentes. In Pereira, C. (Coord.) (2017). Projeto de Investigação Monitorização e avaliação dos indicadores de saúde mental das crianças e adolescentes: da investigação à prática. ("MAISaúde Mental" - Código de identificação:CENTRO-01-0145-FEDER-023293). Escola Superior de Saúde de Viseu, Portugal.
Cunha, M., Duarte, J., André, S., Sequeira, C., Castro-Molina, F.J., Mota, M., Pina, F., Coelho, C., Cunha, A., Figueiredo, A., Martins, A., Correia, B., Monteiro, D., Moreira., F. Silva, M., & Freitas, S. (2017). Bem-estar em estudantes do ensino superior Millenium, 2(ed espec nº2), 21-38.
Guo, C., Tomson, G., Keller, C., & Söderqvist, F. (2018). Prevalence and correlates of positive mental health in Chinese adolescents. BMC Public Health, 18, 263, 4-11. Acedido em https://bmcpublichealth.biomedcentral.com/track/pdf/10.1186/s12889-018-5133-2?site=bmcpublichealth.biomedcentral.com
Isaksson, P., Marklund, B., & Haraldsson, K. (2017). Promoting mental health in Swedish preschool–teacher views. Health Promotion International, 32(1), 53–61.
Organização Mundial de Saúde (2015). The European Health Report 2015: Targets and Beyond: Reaching New Frontiers in Evidence. Copenhagen, WHO Regional Office for Europe.
Pereira, C.A., Wen, C.L., Miguel, E.C., & Polanczyk, G.V. (2014). A randomised controlled trial of a web‑based educational program in child mental health for schoolteachers. Eur Child Adolesc Psychiatry. DOI 10.1007/s00787-014-0642-8.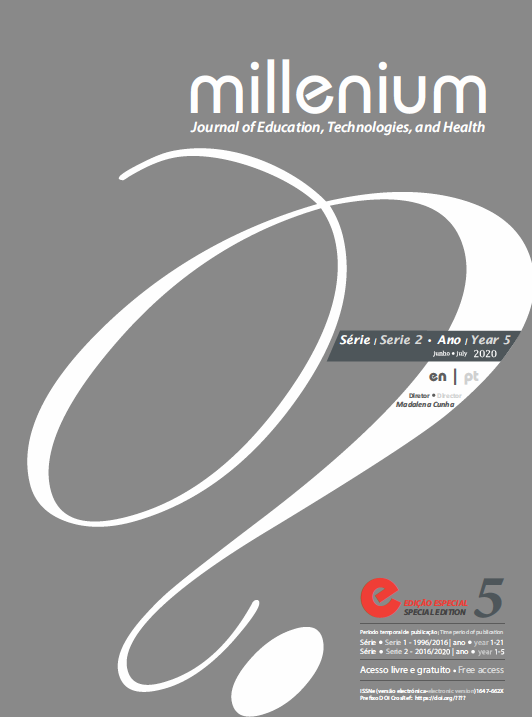 Section
Education and Social Development Sciences
Copyright (c) 2020 Millenium - Journal of Education, Technologies, and Health
This work is licensed under a Creative Commons Attribution 4.0 International License.
Authors who submit proposals for this journal agree to the following terms:
a) Articles are published under the License Creative Commons, in full open-access, without any cost or fees of any kind to the author or the reader;

b) The authors retain copyright and grant the journal right of first publication, allowing the free sharing of work, provided it is correctly attributed the authorship and initial publication in this journal;

c) The authors are permitted to take on additional contracts separately for non-exclusive distribution of the version of the work published in this journal (eg, post it to an institutional repository or as a book), with an acknowledgment of its initial publication in this journal;
d) Authors are permitted and encouraged to publish and distribute their work online (eg, in institutional repositories or on their website) as it can lead to productive exchanges, as well as increase the impact and citation of published work
Documents required for submission
Article template (Editable format)