Effectiveness of nursing simulation in student learning
Keywords:
simulation technique, learning, efficacy, nursing students
Abstract
Introduction: Simulation allows students, through the creation of hypothetical scenarios, to develop skills, making them more active in the decision-making process in relation to nursing care.
Objetive: To evaluate the effectiveness of simulated practices in the learning of undergraduate and graduate nursing students.
Methods: Quantitative, descriptive and exploratory study in which 233 students participated, of which 164 are from the nursing undergraduate course and 69 are from postgraduate education. As a method of data collection, an inventory called "The Simulation Learning Effectiveness Inventory" was used, after translate to Portuguese language. Data analysis was performed using the SPSS® version 23.
Results: Study participants had a higher average response in all variables evaluated: course, resource, debriefing, clinical skills, confidence, problem solving, collaboration, preparation and result.
Conclusion: Simulation proves to be an effective teaching methodology in undergraduate and postgraduate nursing courses.
References
Almeida, M., Duarte, T., & Magro, M. (2019). Simulação in situ: ganho da autoconfiança de profissionais de enfermagem na parada cardiopulmonar. Revista Rene, 20, 1-7. DOI: 10.15253/2175-6783.20192041535.
Berragan, L. (2013). Conceptualising learning through simulation: an expansive approach for professional and personal learning. Nurse Education in Practice, 13, 250-255. DOI: 10.1016/j.nepr.2013.01.004
Chen, S., Huang, T., Liao, I., & Liu, C. (2015). Development and validation of the Simulation Learning Effectiveness Inventory. Journal of Advanced Nursing, 71 (10), 2444-2453. DOI: 10.1111/jan.12707.
Costa, R., Medeiros, S. Martins, J., Cossi, M. & Araújo, M. (2017). Perceção de estudantes da graduação em enfermagem sobre a simulação realística. Revista Cuidarte, 8(3), 1799-1808. DOI: 10.15649/cuidarte.v8i3.425.
Coutinho, V., Martins, J. & Pereira, M. (2014). Construção e Validação da Escala de Avaliação do Debriefing associado à Simulação (EADsS). Revista de Enfermagem Referência, 4(2), 41-50. DOI: 10.12707/RIII1392.
Duarte, H. (2015). Perceção de aprendizagem, satisfação e autoeficácia dos estudantes de enfermagem sobre a simulação de alta-fidelidade (Master's thesis, Instituto Politécnico de Leiria, Escola Superior de Saúde). Retrieved from http://hdl.handle.net/10400.8/1708
Filho, A. & Scarpelini, S. (2007). Simulação: Definição. Revista Medicina, Ribeirão Preto, 40 (2), 162-166. DOI: 10.11606/issn.2176-7262.v40i2p162-166.
Jerônimo, I., Campos, J., Peixoto, M. & Brandão, M. (2018). Uso da simulação clínica para aprimorar o raciocínio diagnóstico na enfermagem. Revista Escola Anna Nery, 22(3), 1-9. DOI: 10.1590/2177-9465-ean-2017-0442.
Jesus, B., Ramos, G., Silva, C., Gomes, V. & Silva, G. (2017). Simulação em manequins como estratégia ensino-aprendizagem para avaliação de ferida: relato de experiência. Revista Estima, 15(4), 245-249. DOI: 10.5327/Z1806-3144201700040009.
King, M. (2018). Developing a High-Fidelity Simulation Program in Nursing Educational Setting. The Health Care Manager, 37(3), 235-249. Retrieved from https://pubmed.ncbi.nlm.nih.gov/29985190/.
Kristanto, V. H. (2017). Peningkatan Prestasi Belajar Matematika Melalui Penerapan Lesson Plan Berbasis Multiple Intelligence. Al-Jabar: Journal Pendidikan Matematika, 25–34. https://doi.org/10.2086/AJPM.5672
Lioce, L., Meakim, C., Fey, M., Chmil, J., Mariani, B., & Alinier, G. (2015). Standards of best pratice: Simulation standard IX: simulation design. Clinical Simulation in Nursing, 11(6), 309-315. DOI: 10.1016/j.ecns.2015.03.005.
Martins, J., Mazzo, A., Baptista, R., Coutinho, V., Godoy, S., Mendes, I., & Trevizan, M. (2012). A experiência clínica simulada no ensino de enfermagem: retrospetiva histórica. Acta Paulista de Enfermagem, 25(4), 619-625. DOI: 10.1590/S0103-21002012000400022.
Miles, D. (2018). Simulation Learning and Transfer in Undergraduate Nursing Education: A Grounded Theory Study. Journal of Nursing Education, 57(6), 347-353. DOI: 10.3928/01484834-20180522-05.
Mota, L., Maia, C., Soares, F., Marreiros, T., Silva, A., & Freitas, R. (2019). Perspetiva dos estudantes e docentes acerca do debriefing na prática simulada. Revista de Investigação & Inovação em Saúde, 2(1), 41-50. DOI: 10.37914/riis.v2i1.46.
Park, M., McMillan, M., Cleary, S., Conway, J., Murphy, L., & Griffiths, S. (2013). Practice-based simulation model: a curriculum innovation to enhance the critical thinking skills of nursing students. The Australian Journal of Advanced Nursing. Retrieved from http://researchbank.rmit.edu.au/eserv/rmit:23779/n2006044067.pdf.
Ribeiro, V., Garbuio, D., Zamariolli, C, Eduardo, A., & Carvalho, E. (2018). Simulação clínica e treinamento para as práticas avançadas de Enfermagem: revisão integrativa. Acta Paulista de Enfermagem, 31(6), 659-666. DOI: 10.1590/1982- 0194201800090.
Salgado, P., Souza, C., Júnior, P., Balbino, P., Ribeiro, L., Paiva, L., & Brombine, N. (2018). O uso da simulação no ensino da técnica de aspiração de vias aéreas: ensaio clínico randomizado controlado. Revista Mineira de Enfermagem, 22, 1-9. DOI: 10.5935/1415-2762.20180020.
Shin, S., Park, J., & Kim, J. (2014). Effectiveness of patient simulation in nursing education: Meta-analysis. Nurse Education Today, 35, 176-182. DOI: 10.1016/j.nedt.2014.09.009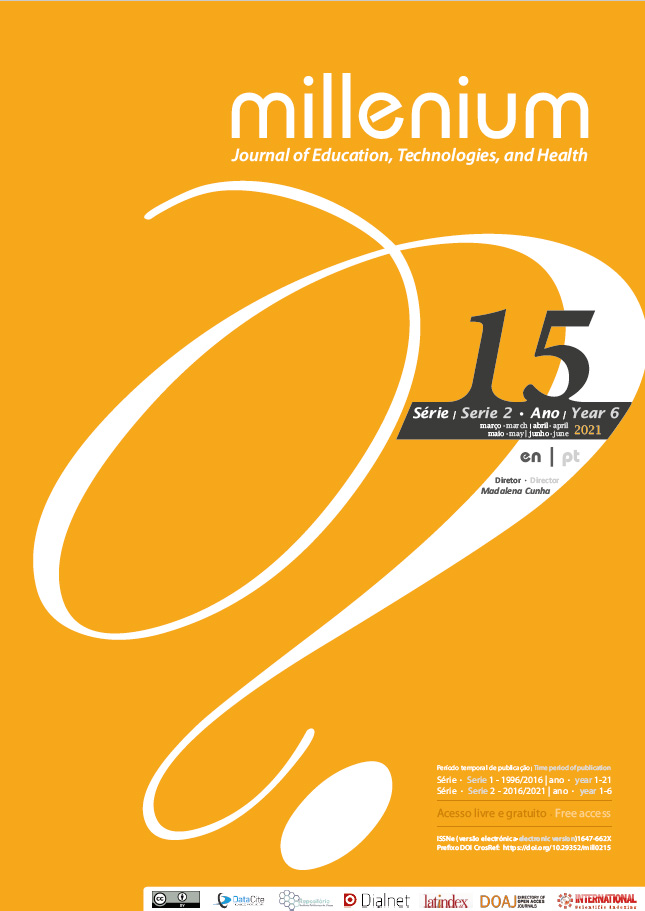 Downloads
Section
Life and Healthcare Sciences
License
This work is licensed under a Creative Commons Attribution 4.0 International License.
Authors who submit proposals for this journal agree to the following terms:
a) Articles are published under the License Creative Commons, in full open-access, without any cost or fees of any kind to the author or the reader;

b) The authors retain copyright and grant the journal right of first publication, allowing the free sharing of work, provided it is correctly attributed the authorship and initial publication in this journal;

c) The authors are permitted to take on additional contracts separately for non-exclusive distribution of the version of the work published in this journal (eg, post it to an institutional repository or as a book), with an acknowledgment of its initial publication in this journal;
d) Authors are permitted and encouraged to publish and distribute their work online (eg, in institutional repositories or on their website) as it can lead to productive exchanges, as well as increase the impact and citation of published work
Documents required for submission
Article template (Editable format)