A Seniors' perspective on social networks, perceived stress and quality of life
the context of the Seduce 2.0 project participants
Keywords:
social networks, perceived stress, quality of life, senior citizen
Abstract
Introduction: The study of initiatives that promote active ageing is crucial given the global population demography.
Objetive: To study the social support networks, stress, and quality of life of participants in the SEDUCE 2.0 project.
Methods: Cross-sectional descriptive research, quantitative and qualitative. Data were collected through: Questionnaire Survey for participants' characterization; Portuguese versions of the constructs Lubben's Brief Social Network Scale; Perceived Stress Scale; WHOQOL-BREF; and a logbook to record the co-design sessions for miOne community development. The study included 31 participants from two Universities of The Third Age, aged between 56 and 86 years (M= 69.90; SD=7.04).
Results: Participants revealed a relevant social support network. The network with whom they feel close enough to call and ask for help, and to talk about personal matters is smaller. The analysis of perceived stress reveals positive results, apart from who felt worried/nervous/stressed. All items of the perceived stress analysis showed positive results, except when a higher percentage reported feeling worried/nervous/stressed. Participants showed a good perception towards all items of the quality of life scale, except for the last question where they reported that they sometimes perceived negative feelings.
Conclusion: The participants show a good social support network, good quality of life and low stress levels. The results cannot begeneralised, but it leaves interesting and relevant clues about the older population.
References
Azevedo, C. (2016). Muito velho para a tecnologia? Como as novas tecnologias de informação e comunicação afetam as relações sociais de pessoas mais velhas em Portugal. Estudos interdisciplinares envelhecimento, 21(2), 27-46.
Barbosa, T. & Araújo, M. (2013). Suporte social e stress em idosos residentes no meio rural: estudo comparativo entre idosos institucionalizados e idosos a viver no domicílio. In ALETHEIA - Associação Científica e Cultural. Braga: Faculdade de Filosofia, Universidade Católica Portuguesa. Available from http://hdl.handle.net/10400.14/17038.
Chopik, W. J. (2016). The benefits of social technology use among older adults are mediated by reduced loneliness. Cyberpsychology, Behavior and Social Networking, 19(9), 551-556. https://doi.org/10.1089/cyber.2016.0151.
Cohen, S., Underwood, S., & Gottlielo, B. (2000). Social Support measures and intervention. New York: Oxford University Press.
Cotten, S. R., Anderson, W. A., & McCullough, B. M. (2013). Impact of internet use on loneliness and contact with others among older adults: cross-sectional analysis. Journal of Medical Internet Research, 15(2), e39. https://doi.org/10.2196/jmir.2306
Deetjen, U. & Powell, J. A. (2016). Internet use and health: Connecting secondary data through spatial microsimulation. Digital Health, 2(2), 1-17. doi: 10.1177/2055207616666588
Ferreira, S. & Veloso, A. (2020). Reflexões sobre o impacto da utilização das TIC nas redes sociais de apoio do indivíduo sénior. In: Carioca, V. (Ed.). Envelhecer em tempos de Matrix – metáforas, reflexões e práticas em Gerontecnologia (pp. 93-106). Castelo Branco: RVJ-Editores.
Portugal, Instituto Nacional de Estatística. (2019). Inquérito à utilização de Tecnologias da Informação e da Comunicação pelas famílias 2019. Lisboa: Instituto Nacional de Estatística.
Portugal, Instituto Nacional de Estatística. (2021). Estatísticas demográficas 2020. Lisboa: Instituto Nacional de Estatística.
Machado, S., Costa, L. V., Mealha, Ó., Veloso, A., & Santos, C. (2021). Fostering Co-UXers in later age: Co-Designing a UX Toolkit for the Senior Online Community miOne. In: Mealha, Ó., Dascalu, M., Di Mascio, T. (eds), Ludic, Co-design and Tools Supporting Smart Learning Ecosystems and Smart Education, Proceedings of the 6th International Conference on Smart
Learning Ecosystems and Regional Development (pp. 189–199). Springer Singapore. https://doi.org/10.1007/978-981-16-3930-2
Marques, B., Sánchez, S., & Vicario, P. (2014). Perception of the quality of life of a group of older people. Revista de Enfermagem Referência, 4(1),73–81.
Martins, M. & Guerra, M. (2020). Quality of life of the elder people: comparative study of some determinants. Gestão e Desenvolvimento, 28, 139-158.
Mota-Cardoso, R., A. Araújo, R.C. Ramos, G. Gonçalves e M. Ramos (2000). O stress nos professores portugueses: Estudo IPSSO 2000. Porto: Porto Editora.
Murphy, K., Cooney, A., Shea, E. O., & Casey, D. (2009). Determinants of quality of life for older people living with a disability in the community. Journal of Advanced Nursing, 65(3), 606-15. doi: 10.1111/j.1365-2648.2008.04929.x
Nosraty, L., Jylhä, M., Raittila, T., & Lumme-Sandt, K. (2015). Perceptions by the oldest old of successful aging, Vitality 90+ Study. Journal of aging studies, 32, 50–58. https://doi.org/10.1016/j.jaging.2015.01.002.
Oliveira, B. & Gomes, C. (2013). Mobilidade em idosos: envelhecimento e mobilidade. In: Guedes, D.T., Sousa, A. & Guerra, R.O. Avaliação da mobilidade e capacidade funcional em idosos na prática clínica. João Pessoa: Ideia.
Pordata – Base de Dados Portugal Contemporâneo. (2021). Indivíduos que utilizam computador e Internet em % do total de indivíduos: por grupo etário. Available from: https://www.pordata.pt/DB/Portugal/Ambiente+de+Consulta/Tabela (Accessed February 2, 2022).
Portugal, M., & Loyola, E. (2014). Mobilidade urbana adequada para os idosos: uma importante questão de saúde pública. Revista Gestão & Saúde, 10(1), 26-34. Available from: https://www.herrero.com.br/files/revista/file2237968b4539a265033105c31a84538b.pdf
Rebelo, C. (2015). The use of the Internet and Facebook by the elders in Portugal: an exploratory study. Observatorio, 9(3), 129-153.
Ribeiro, O., Teixeira, L., Duarte, N., Azevedo M. J., Araújo, L., Barbosa, S., & Paúl, C. (2012). Versão portuguesa da escala breve de redes sociais de Lubben (LSNS-6). Revista Temática Kairós Gerontologia, 15(1), 217-234.
Rolandi, E., Vaccaro, R., Abbondanza, S., Casanova, G., Pettinato, L., Colombo, M., & Guaita, A. (2020). Loneliness and social engagement in older adults based in Lombardy during the COVID-19 lockdown: the long-term effects of a course on social networking sites use. International Journal of Environmental Research and Public Health, 17(21), 7912. Retrieved from http://dx.doi.org/10.3390/ijerph17217912.
Silva, J., Souza, L., & Ganassoli, C. (2016). Quality of life in the elderly: prevalence of intervening factors. Revista da Sociedade Brasileira de Clínica Médica, 15(3), 146-9.
Teo, A., Markwardt, S., & Hinton, L. (2019). Using Skype to Beat the Blues: Longitudinal Data from a National Representative Sample. The American Journal of Geriatric Psychiatry, 27(3), 254-262. https://doi.org/10.1016/j.jagp.2018.10.014.
Tsai, H. H., & Tsai, Y. F. (2011). Changes in depressive symptoms, social support, and loneliness over 1 year after a minimum 3-month videoconference program for older nursing home residents. Journal of Medical Internet Research, 13(4), e93. https://doi.org/10.2196/jmir.1678.
World Health Organization. (2021). Advice for the public: Coronavirus disease (COVID-19). Available from: https://www.who.int/emergencies/diseases/novel-coronavirus-2019/advice-for-public (Accessed February 1, 2022).
Vaz-Serra, A., Canavarro, M., Simões, M., Pereira, M., Gameiro, S., Quartilho, M., … & Paredes, T. (2006). Estudo Psicométricos do Instrumento de Avaliação da Qualidade de Vida da Organização Mundial de Saúde (WHOQOL-Bref) para Português de Portugal. Psiquiatria Clínica, 27(1), 41-49.
Veloso, A. I. (2014). SEDUCE: utilização da comunicação e da informação em ecologias web pelo cidadão sénior. Porto: Afrontamento.
Vroman K.G., Arthanat S., & Lysack C. (2015). Who over 65 is online? Older adults' dispositions toward information communication technology. Computers in Human Behavior, 43(1), 156-166. doi: 10.1016/j.chb.2014.10.018.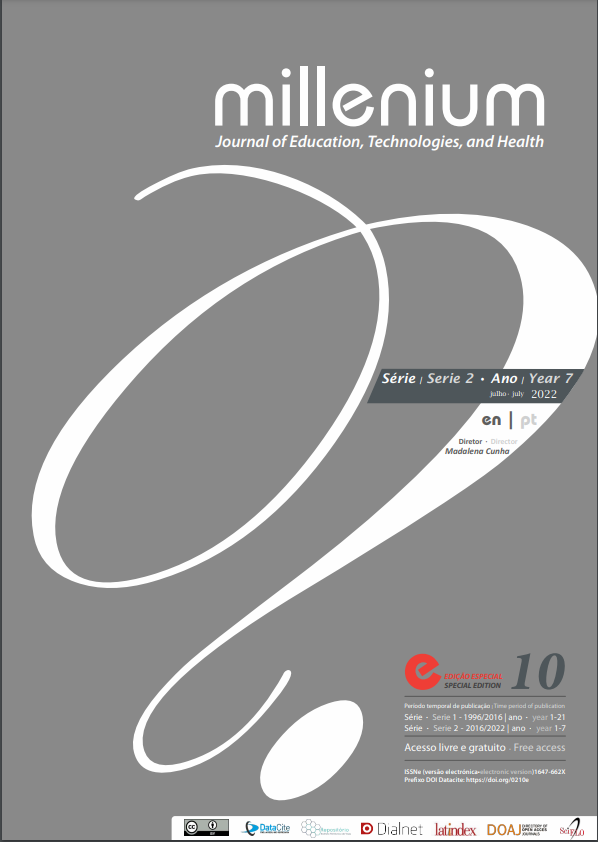 Downloads
How to Cite
Ferreira, S., Regalado, F., & Veloso, A. (2022). A Seniors' perspective on social networks, perceived stress and quality of life: the context of the Seduce 2.0 project participants. Millenium - Journal of Education, Technologies, and Health, 2(10e), 15–25. https://doi.org/10.29352/mill0210e.26586
Section
Education and Social Development Sciences
License
Copyright (c) 2022 Millenium - Journal of Education, Technologies, and Health
This work is licensed under a Creative Commons Attribution 4.0 International License.
Authors who submit proposals for this journal agree to the following terms:
a) Articles are published under the License Creative Commons, in full open-access, without any cost or fees of any kind to the author or the reader;

b) The authors retain copyright and grant the journal right of first publication, allowing the free sharing of work, provided it is correctly attributed the authorship and initial publication in this journal;

c) The authors are permitted to take on additional contracts separately for non-exclusive distribution of the version of the work published in this journal (eg, post it to an institutional repository or as a book), with an acknowledgment of its initial publication in this journal;
d) Authors are permitted and encouraged to publish and distribute their work online (eg, in institutional repositories or on their website) as it can lead to productive exchanges, as well as increase the impact and citation of published work
Documents required for submission
Article template (Editable format)