Eutectic mixture of local anesthetics' dosage in newborns
a scoping review
Keywords:
newborn, pain, local anesthetics, EMLA Cream
Abstract
Introduction: Although Eutectic Mixture of Local Anesthetics (EMLA) is an easily available solution, it is not yet widely used in neonatal care due to the lack of evidence of an effective administration dosage.
Objectives: Identify how EMLA cream is used to reduce pain, without adverse reaction, in newborn infants undergoing painful medical procedures.
Methods: A scoping review was conducted to map literature concerning a population, concept, context (PCC) question, considering literature from electronic databases and gray literature, published between 2002 and 2021, with full-text available and with no language restrictions.
Results: Twelve documents concerning a 2661 newborn population – from 28 weeks gestational age until full-term newborns – considering EMLA cream efficacy and describing EMLA cream's amount and skin contact time. Eight protocols recommend the use of an occlusive dressing. One paper identified pallor and erythema reactions.
Conclusion: EMLA is effective when used in newborns undergoing painful procedures. Although there is no consensus on EMLA cream's dosage, the most frequent amount used is 0,5g in pre-term newborns and 1g in full-term newborns. The most common time of skin contact is 60 minutes. Although this is the most frequent dosage, the amount ranges from 0,5 up to 2g, and the time of skin contact ranges from 3 to 180 minutes. Most of the protocols have included occlusive dressing use.
Downloads
Download data is not yet available.
References
Al Qahtani, R., Abu-Salem, L. Y., & Pal, K. (2014). Effect of lidocaine-prilocaine eutectic mixture of local anaesthetic cream compared with oral sucrose or both in alleviating pain in neonatal circumcision procedure. African Journal of Paediatric Surgery: AJPS, 11(1), 56–61. https://doi.org/10.4103/0189-6725.129236
Anand, J. S. (2019). Discovering Pain in Newborn Infants. Anesthesiology, 131, 392–395 https://doi.org/10.1097/ALN.0000000000002810
Autoridade Nacional do Medicamento e Produtos de Saúde. (2016). Emla 25 mg/g + 25 mg/g creme lidocaína + prilocaína. Retrieved from: https://cdn.121doc.com/images/pt/product/8/Emla.pdf
Biran, V., Gourrier, E., Cimerman, P., Walter-Nicolet, E., Mitanchez, D., & Carbajal, R. (2011). Analgesic effects of EMLA cream and oral sucrose during venipuncture in preterm infants. Pediatrics, 128(1), e63-70. https://doi.org/10.1542/peds.2010-1287
Brady-Fryer, B., Wiebe, N., & Lander, J.A. (2004). Pain relief for neonatal circumcision. Cochrane Database of Systematic Reviews, 3, Art. No.: CD004217 https://doi.org/10.1002/14651858.CD004217.pub2
Direção-Geral da Saúde (2012). Norma:024/2012- Orientações técnicas sobre o controlo da dor nos recém-nascidos (0 a 28 dias). Retrieved from:https://www.dgs.pt/directrizes-da-dgs/orientacoes-e-circulares-informativas/orientacao-n-0242012-de-18122012-png.aspx
Dutta, S. (1999). Use of eutectic mixture of local anesthetics in children. The Indian Journal of Pediatics, 66(5), 707-715. https://doi.org/10.1007/BF02726260
European Medicines Agency. (s.d.). Resumo da avaliação científica do EMLA creme e nomes associados. Retrieved from: https://www.ema.europa.eu/documents/referral/emla-cream-article-30-referral-annex-ii_pt.pdf
Frey, B., & Kehrer, B. (1999). Toxic methaemoglobin concentrations in premature infants after application of a prilocaine-containing cream and peridural prilocaine. European Journal of Pediatics, 158(10), 785-788. https://doi.org/10.1007/s004310051204
Gradin, M., Eriksson, M., Holmqvist, G., Holstein, A., & Schollin, J. (2002). Pain reduction at venipuncture in newborns: oral glucose compared with local anesthetic cream. Pediatrics, 110(6), 1053-1057. https://doi.org/10.1542/peds.110.6.1053
Guzmán-Arteaga, A. N., Fajardo-Ochoa, F., Ramírez-Rodríguez, C. A., & Alvarez-Hernández, G. (2013). Efecto Analgésico de la Solución Glucosada al 25% vs Crema EMLA. Evaluación por la Escala de PIPP. Boletin Clinico Hospital Infantil Del Estado de Sonora, 30(2), 56–62.
Halimaa, S. L. (2003). Pain management in nursing procedures on premature babies. Journal of Advanced Nursing, 42(6), 587-597. https://doi.org/10.1046/j.1365-2648.2003.02662.x
Kaur, G., Gupta, P., & Kumar, A. (2003). A randomized trial of eutectic mixture of local anesthetics during lumbar puncture in newborns. Archives of Pediatrics & Adolescent Medicine, 157(11), 1065–1070. https://doi.org/10.1001/archpedi.157.11.1065
Modekwe, V. I., Ugwu, J. O., Ekwunife, O. H., Osuigwe, A. N., Obiechina, S. O., Okpalike, I. V., & Orakwe, J. C. (2019). Comparison of the efficacy of eutectic mixture of local anesthetics (EMLA) and dorsal penile nerve block (DPNB) in neonatal circumcision. Nigerian Journal of Clinical Practice, 22(12), 1737–1741. https://doi.org/10.4103/njcp.njcp_266_19
Mucignat, V., Ducrocq, S., Lebas, F., Mochel, F., Baudon, J.J., & Gold, F. (2004). Analgesic effects of Emla cream and saccharose solution for subcutaneous injections in preterm newborns: a prospective study of 265 injections. Archives de Pédiatrie, 11(8):921-925. https://doi.org/10.1016/j.arcped.2004.03.028
Page, M. J., McKenzie, J. E., Bossuyt, P. M., Boutron, I., Hoffmann, T. C., Mulrow, C. D., & et al. (2021). The PRISMA 2020 statement: an updated guideline for reporting systematic reviews. BMJ, 372: n71. https://doi.org/10.1136/bmj.n71
Peters, M. D. J., Godfrey, C., McInerney, P., Munn, Z., Tricco, A.C., & Khalil, H. (2020). Chapter 11: Scoping Reviews. In: Aromataris, E., Munn, Z. (Editors). JBI Manual for Evidence Synthesis. https://doi.org/10.46658/JBIMES-20-12
Rocha, G., Proença, E., Fernandes, P., Matos, A., Costa, T., Carreiro, H., & et al. (2004). Analgesia e Sedação. Secção de Neonatologia, Consensos Nacionais em Neonatologia. Sociedade Portuguesa de Pediatria, pp. 45- 52. Retrieved from: https://www.spneonatologia.pt/wp-content/uploads/2016/11/201107201730-consensos_neonatologia__2004.pdf
Sharara-Chami, R., Lakissian, Z., Charafeddine, L., Milad, N., & El-Hout, Y. (2017). Combination Analgesia for Neonatal Circumcision: A Randomized Controlled Trial. Pediatrics, 140(6):e20171935. https://doi.org/10.1542/peds.2017-1935
Tricco, A. C., Lillie, E., Zarin, W., O'Brien, K. K., Colquhoun, H., Levac, D., Moher, D., Peters, M. D. J., Horsley, T., Weeks, L., Hempel S., Akl, E. A., Chang, C., McGowan, J., Stewart, L., Hartling, L., Aldcroft, A., Wilson, M. G., Garritty, C., Lewin, S., & et al. (2018). PRISMA Extension for Scoping Reviews (PRISMAScR): Checklist and Explanation. Annals of Internal Medicine, 169, 467–473. https://doi.org/10.7326/M18-0850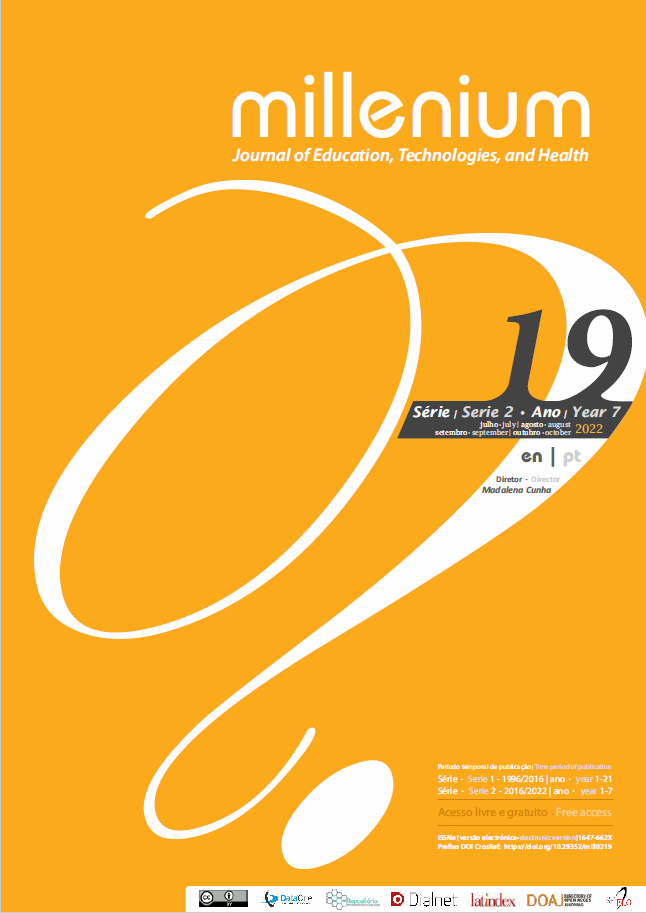 Downloads
How to Cite
Prior, F., Querido, D., & Santos, Íris. (2022). Eutectic mixture of local anesthetics' dosage in newborns: a scoping review . Millenium - Journal of Education, Technologies, and Health, 2(19), 35–44. https://doi.org/10.29352/mill0219.27268
Section
Life and Healthcare Sciences
License
Copyright (c) 2022 Millenium - Journal of Education, Technologies, and Health
This work is licensed under a Creative Commons Attribution 4.0 International License.
Authors who submit proposals for this journal agree to the following terms:
a) Articles are published under the License Creative Commons, in full open-access, without any cost or fees of any kind to the author or the reader;
b) The authors retain copyright and grant the journal right of first publication, allowing the free sharing of work, provided it is correctly attributed the authorship and initial publication in this journal;

c) The authors are permitted to take on additional contracts separately for non-exclusive distribution of the version of the work published in this journal (eg, post it to an institutional repository or as a book), with an acknowledgment of its initial publication in this journal;
d) Authors are permitted and encouraged to publish and distribute their work online (eg, in institutional repositories or on their website) as it can lead to productive exchanges, as well as increase the impact and citation of published work
Documents required for submission
Article template (Editable format)