Accessibility, heritage, and project. Re-architectures for everyone
Keywords:
Accessibility, Cultural Heritage, Architectural Project, Learning, Sensory perception
Abstract
Introduction: Designing to bring new cycles of life to Cultural Heritage requires providing it with new functionalities, making it appealing and safe, and also improving its conditions of use for all individuals. The third issue, accessibility, currently has to be a basic, cross-sectional requisite incorporated in the project process from beginning to end.
Objetives: In Architectural schools, the matter of accessibility is usually treated as a collateral issue or as a secondary subject. However, if it is considered to be an authentic project substance, future professions will probably be more committed to it.
Methods: Analysis of the state of the issue based on various published studies and of the problem areas involved in applying it. The students' experiences in their training were also analyzed, based on their work on the ruins of the San Antón Monastery in Castrogeriz, on the Camino de Santiago [The Way of St. James].
Results: When accessibility is considered from the beginning of a project, as just another requisite, better architectonic solutions are achieved.
Conclusions: Focusing on learning about the problem areas involved in the use of Cultural Heritage by all people makes it possible to dig deeper into one of the most significant ingredients in architecture: sensory perception. Reflecting about the work in Castrogeriz can be a source of ideas that contribute to the architectonic debate on accessibility.
Downloads
Download data is not yet available.
References
Ávila Cobos, B. (2015) Master's Project: "El Arquitecto como facilitador de la orientación espacial para todas las personas en los espacios que diseña. Factores" *The Architect as a facilitator of special orientation for all people in the spaces he/she designs. Factors], Universidad de Jaén.
Fänge, A., & Iwarsson, S. (2007). Challenges in the development of strategies for housing adaptation evaluations. Scandinavian Journal of Occupational Therapy, 14(3), 140-149. https://doi.org/10.1080/11038120600840150
Garcés Desmaison, M. A. (2014). Accesibilidad y patrimonio comentarios sobre la norma y los monumentos = Accesibility and Heritage Monuments and Standard Compliance. Revista Electrónica ReCoPar, 7, 11-21. Retrieved from: http://polired.upm.es/index.php/recopar/article/view/2216
Ibáñez Montoya, J.; Trovato, G., & Díez de Pablo, A. (2010). Lugares intermedios de accesibilidad: metodología integrada de diagnóstico y solución de barreras de accesibilidad física y criterios de comprensión e identificación a todas las escalas del patrimonio. ACE: Architecture, City and Environment, 5(13), 111-126. https://doi.org/10.5821/ace.v5i13.2495
Iwarsson, S., & Stähl, A. (2003). Accessibility, usability and universal design—positioning and definition of concepts describing person-environment relationships. Disability and Rehabilitation, 25(2), 57-66. https://doi.org/10.1080/dre.25.2.57.66
Juncà Ubierna, J. A. (2011). Accesibilidad Universal al Patrimonio Cultural: Fundamentos, criterios y pautas. Madrid: Ministerio de Sanidad, Política Social e Igualdad. Real Patronato sobre Discapacidad. Retrieved from: http://hdl.handle.net/11181/3292
"Law 51/2003 (2 December), de igualdad de oportunidades, no discriminación y accesibilidad universal de las personas con discapacidad" «BOE» no. 289 (3 December 2003), Reference: BOE-A-2003-22066. Article 2, p. 8.
Mace, R., Hardie, G.J., & Place, J.P. (1990). Accessible, Adaptable and Universal Design. Fact Sheet Nº 6. Raleigh: North Carolina State University, Center for Universal Design. Retrieved from: https://projects.ncsu.edu/design/cud/pubs_p/docs/Fact%20Sheet%206.pdf
Moral Ávila del, C. (2011). Accesibilidad al patrimonio histórico protegido. In Accesibilidad Universal y Diseño para Todos: Arquitectura y Urbanismo (pp.140-163), Madrid: Fundación ONCE y Fundación COAM. Retrieved from: https://dialnet.unirioja.es/servlet/articulo?codigo=3873178
Parrott, C. (1980). Access to Historic Buildings for the Disabled: Suggestions for Planning and Implementation. Washington, DC: U. S. Government Printing Office.
Pérez Bueno, L.C. (2011). Nuevo marco legislativo de la accesibilidad en España. Accesibilidad Universal y Diseño para Todos. Arquitectura y Urbanismo (pp. 234-243), Madrid: Fundación ONCE y Fundación COAM. Retrieved from: https://dialnet.unirioja.es/servlet/articulo?codigo=3873199
Puga González, M..D., & Abellán García, A. (2004). El proceso de discapacidad. Un análisis de la Encuesta sobre discapacidades, deficiencias y estado de salud. Alcobendas, Madrid: Fundación Pfizer. Retrieved from: http://envejecimiento.csic.es/documentos/documentos/puga-discapacidad-01.pdf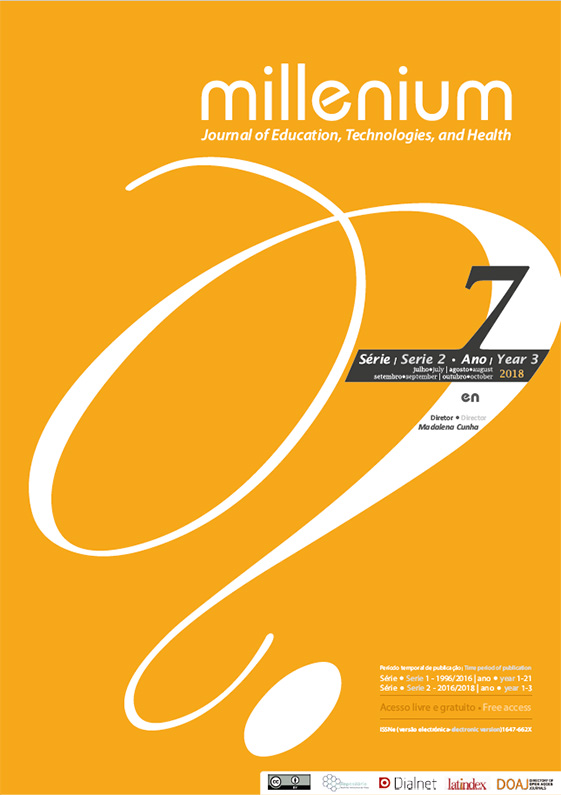 Downloads
How to Cite
Jové Sandoval, J. M. (2018). Accessibility, heritage, and project. Re-architectures for everyone. Millenium - Journal of Education, Technologies, and Health, 2(7), 103–111. https://doi.org/10.29352/mill0207.09.00183
Section
Engineering, Technology, Management and Tourism
License
Authors who submit proposals for this journal agree to the following terms:
a) Articles are published under the Licença Creative Commons (CC BY 4.0), in full open-access, without any cost or fees of any kind to the author or the reader;
b) The authors retain copyright and grant the journal right of first publication, allowing the free sharing of work, provided it is correctly attributed the authorship and initial publication in this journal;

c) The authors are permitted to take on additional contracts separately for non-exclusive distribution of the version of the work published in this journal (eg, post it to an institutional repository or as a book), with an acknowledgment of its initial publication in this journal;
d) Authors are permitted and encouraged to publish and distribute their work online (eg, in institutional repositories or on their website) as it can lead to productive exchanges, as well as increase the impact and citation of published work
Documents required for submission
Article template (Editable format)