The umbilical relationship between rural tourism and competence in foreign languages
Lúcia Pato

Instituto Politécnico de Viseu; UA
Keywords:
Rural tourism, abilities, foreign languages, success
Abstract
Introduction: Foreign languages are of vital importance in tourism today, particularly in rural tourism. If we consider that more than a third of the demand for TER in the national territory is made up of foreigners (INE, 2017), we understand the importance of foreign language skills. Moreover, the Portuguese quality standard of the TER states that promoters of the activity must have at least knowledge of a foreign language.
If this is unquestionable, it is also true that in the universe of existing enterprises, several indications are that foreign language competence presents itself as a fragility for many enterprises.
Objetives: Taking as a reference a rural tourism enterprise, the objective of this study is to explore the importance of foreign languages in the success of tourism activity in rural areas.
Methods: In order to allow a deeper analysis, a case study methodology is used. In addition to a semi-structured interview, we use documentary information and the observation of the languages used in the online comments (in TRIPadvisor and booking.com).
Results: In the interview the importance of foreign languages was highlighted. Many of the comments online are made in a foreign language.
References
Blue, G. M., & Harun, M. (2003). Hospitality language as a professional skill. English for specific purposes, 22(73-91).
Booking. (2018a). Casa das Palmeiras. Retrieved from https://www.booking.com/hotel/pt/casa-das-palmeiras.pt-pt.html
Booking. (2018b). Sobre Booking.com™. Retrieved from https://www.booking.com/content/about.pt-pt.html
Brannen, M. Y., Piekkari, R., & Tietze, S. (2014). The multifaceted role of language in international business: Unpacking the forms, functions and features of a critical challenge to MNC theory and performance. Journal of International Business Studies, 45(5), 495-507. doi:10.1057/jibs.2014.24
Dhiman, M. C. (2012). Employers' perceptions about tourism management employability skills. Anatolia, 23(3), 359-372. doi:10.1080/13032917.2012.711249
Dong, E., Wang, Y., Morais, D., & Brooks, D. (2013). Segmenting the rural tourism market: The case of Potter County, Pennsylvania, USA. Journal of Vacation Marketing, 19(2), 181-193. doi:10.1177/1356766712471231
Eusébio, C., Carneiro, M. J., Kastenholz, E., Figueiredo, E., & Soares da Silva, D. (2017). Who is consuming the countryside? An activity-based segmentation analysis of the domestic rural tourism market in Portugal. Journal of Hospitality and Tourism Management, 31, 197-210. doi:https://doi.org/10.1016/j.jhtm.2016.12.006
INE. (2017). Estatísticas do Turismo 2016. Lisboa: INE.
Lane, B. (1994). What is rural tourism? Journal of Sustainable Tourism, 2(1-2), 7-21. doi:10.1080/09669589409510680
Leslie, D., & Russell, H. (2006). The importance of foreign language skills in the tourism sector: A comparative study of student perceptions in the UK and continental Europe. Tourism Management, 27(6), 1397-1407. doi:https://doi.org/10.1016/j.tourman.2005.12.016
Leslie, D., Russell, H., & Govan, P. (2004). Foreign Language Skills and the Needs of the UK Tourism Sector. Industry and Higher Education, 18(4), 255-266. doi:10.5367/0000000041667565
Pato, L. (2012). Dinâmicas do Turismo Rural – impactos em termos de Desenvolvimento Rural. (PhD), Universidade de Aveiro, Aveiro.
Pato, L. (2017). Co-creating the rural tourism experience: a case study of a rural tourism accommodation in the Viseu Dão-Lafões Region. Revista Turismo & Desenvolvimento, 27/28, 73-75.
Pato, L., & Kastenholz, E. (2017). Marketing of rural tourism - a study based on rural tourism lodging
Polo Peña, A. I., Frías Jamilena, D. M., Rodríguez Molina, M. Á., & Rey Pino, J. M. (2014). Online Marketing Strategy and Market Segmentation in the Spanish Rural Accommodation Sector. Journal of Travel Research, 55(3), 362-379. doi:10.1177/0047287514546224
TP. (2016). Turismo no Espaço Rural e Turismo de Habitação em Portugal | 2015. Retrieved from http://travelbi.turismodeportugal.pt/pt-pt/Documents/An%C3%A1lises/Alojamento/terethemportugal2015.pdf
TripAdvisor. (2017). Acerca do TripAdvisor. Retrieved from https://tripadvisor.mediaroom.com/PT-about-us
TripAdvisor. (2018). Casa das Palmeiras. Retrieved from https://www.tripadvisor.pt/Hotel_Review-g13128823-d4700810-Reviews-Casa_das_Palmeiras-Gandufe_Mangualde_Viseu_District_Northern_Portugal.html
Yin, R. (2009). Case study research (3rd ed.). California: Sage Publications.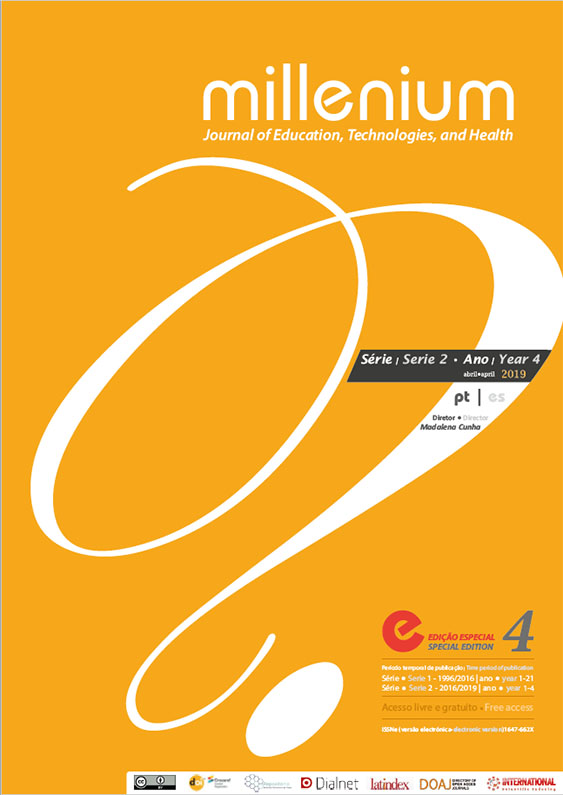 Section
Education and Social Development Sciences
Copyright (c) 2019 Millenium - Journal of Education, Technologies, and Health
This work is licensed under a Creative Commons Attribution 4.0 International License.
Authors who submit proposals for this journal agree to the following terms:
a) Articles are published under the License Creative Commons, in full open-access, without any cost or fees of any kind to the author or the reader;

b) The authors retain copyright and grant the journal right of first publication, allowing the free sharing of work, provided it is correctly attributed the authorship and initial publication in this journal;

c) The authors are permitted to take on additional contracts separately for non-exclusive distribution of the version of the work published in this journal (eg, post it to an institutional repository or as a book), with an acknowledgment of its initial publication in this journal;
d) Authors are permitted and encouraged to publish and distribute their work online (eg, in institutional repositories or on their website) as it can lead to productive exchanges, as well as increase the impact and citation of published work
Documents required for submission
Article template (Editable format)