The body and sound as stimulators of interactive processes in young people with special educational needs
Slavisa Lamounier

Portuguese Catholic University, School of Arts, CITAR - Research Centre for Science and Technology of the Arts, Porto, Portugal

Paulo Ferreira Lopes

Portuguese Catholic University, School of Arts, Porto, Portugal
Keywords:
Special Educational Needs, Sound-Motor Stimulus, Body Sound, Interactivity, Digital Sock
Abstract
Introduction: Inserted in the development of a digital musical instrument, the Digital Sock, we present in this document the results obtained from the analysis of the psycho-pedagogical interactive cycle in which we investigate the instrument as a sound stimulation tool in interactive processes between body-instrument-environment.
Objetives: Analysis of the psych pedagogical interaction cycle that investigates the relationship between body and sound, with the new instrument, the Digital Sock, as a stimulating device for communicational processes.
Methods: The methodology used for this investigation was action research. In the first phase, we conducted a psychopedagogical intervention with young people in Special Education. In the second phase, we conducted a Case Study with a young man diagnosed with Autism Spectrum Disorder. For data collection we used audiovisual media and field diary, focused interview, participant observation and document analysis. For the interpretation of the data we performed the discourse analysis and the content analysis. The acting model used during the two phases of practical intervention prioritized the integration of music and body movement (Dalcroze, 1920; Pederiva, 2004; Santiago, 2008; Storolli, 2011); the formation of the scenic gesture (Laban, 1978; Katz, 2005; Miller, 2007; Greiner & Amorim, 2010; Miller, 2012; Amaral, 2015; Roquet, 2017); ludic practice (Lapierre, 1982; Fonseca, 2001; Acouturier & Lapierre, 2004; Vieira, Batista & Lapierre, 2005); creative improvisation (Nordoff & Robins, 1959; Bruscia, 1999) and the belief that sound and music enable peer communication (Benenzon, 1981; Whipple, 2004).
Results: The body-sound relationship as a means of expression has shown to be able to stimulate creative processes and the development of critical and reflexive thinking. All the activities developed during the meetings prioritized the body-sound relationship. The analysis of the narratives showed that the message propagated by the sock (the sonority) was understood as a reaction to the sound heard during the exercise (with individual encoding and decoding) and expressed through the eyes of the hands, facial expression and body balance - subtle movements, more visible than the broad movements.
Conclusions: The interpretation of the data led us to conclude that Digital Sock, perceived as a psychopedagogical tool for sound and gestural stimulation, favours the development of scenic-musical narratives in young people with Special Educational Needs.
References
Acouturier, B., & Lapierre, A. (2004). A simbologia do movimento: psicomotricidade e educação. 3ª ed. Curitiba: Filosofart e CIAR.
Amaral, A. C. (2015). Dança e Mimese corpórea. Conceição. Concept., Campinas, SP, 4, (2) 65-76
Benenzon, R. (1981). Manual de Musicoterapia. Barcelona: Editorial Paidós, Ibérica S.A.
Bruscia, K. E. (1999). Modelos de improvisación en musicoterapia, Barcelona Publisher.
Carmo, H., & Ferreira, M.M. (1998). Metodologia da Investigação: Guia para Auto-aprendizagem. Lisboa: Universidade Aberta.
Dalcroze, E. J. (1920). Le Rythme, La musique et l'éducation. Paris, França: Jobin e Cie.
Fonseca, V. (2001). Psicomotricidade: perspectivas multidisciplinares. Lisboa: Ancora.
Greiner, C., & Amorim, C. (2010). Leituras do corpo. São Paulo: Annablume.
Katz, H. (2005). Um, dois, três. A dança é o pensamento do corpo. Belo Horizonte: Fid Editorial.
Katz, H. & Greiner, C. (2005). Por uma teoria do corpomídia ou a questão epistemológica do corpo. Colección Teoría de las Artes Escénicas – Archivo Virtual: Retreived from: http://artesescenicas.uclm.es/index.php?sec=texto&id=237 .
Laban, R. (1978). Domínio do Movimento. São Paulo: Summus Editorial.
Lapierre, A. (1982). Reeducação física: cinesiologia, reeducação postural, reeducação psicomotora Vol. II. (6ª ed.) São Paulo: Manole.
Miller, J. (2007) A escuta do corpo: sistematização da técnica Klauss Vianna. São Paulo: Summus.
Miller, J. (2012). Qual é o corpo que dança-dança e educação somática para adultos e crianças. São Paulo: Summus Editorial.
Nordoff, P., & Robbins, C. (1971). Therapy in music for handicapped children. London, UK: Victor Gollancz Ltd.
Nordoff, P., & Robbins, C. (1977). Creative music therapy: Individualized treatment for the handicapped child. New York, NY: John Day Company.
Nordoff, P., & Robbins, C. (2007). Creative music therapy: A guide to fostering clinical musicianship. (2nd ed.). Gilsum, NH: Barcelona Publishers.
Pederiva, P. L. (2004) A relação músico-corpo-instrumento: procedimentos pedagógicos. Revista da ABEM, Porto Alegre, 11, 91-98.
Roquet, C. (2017). Ler o gesto, uma ferramenta para a pesquisa em dança. Revista Cena, n.22. Programa de Pós-graduação em Artes Cênicas, Porto Alegre - RS, Brasil
Santiago, P. F. (2008) Dinâmicas corporais para a educação musical: a busca por uma experiência musicorporal. Revista da ABEM, Porto Alegre, 19, 45-55.
Schafer, M. (1991). O Ouvido Pensante. São Paulo: Fundação Editora da UNESP.
Storolli, W. M. (2011). O corpo em ação: a experiência incorporada na prática musical. Revista da ABEM, Londrina, 19 (25) 131-140.
Whipple, J. (2004). Music in intervention for children and adolescents with autism: A meta-analysis. Journal of Music Therapy, 41, (2), 9–106.
Vieira, L., Batista, M.I.B. & Lapierre, A. (2005). Psicomotricidade Relacional: a teoria de uma prática. Curitiba: Filosofart/CIAR.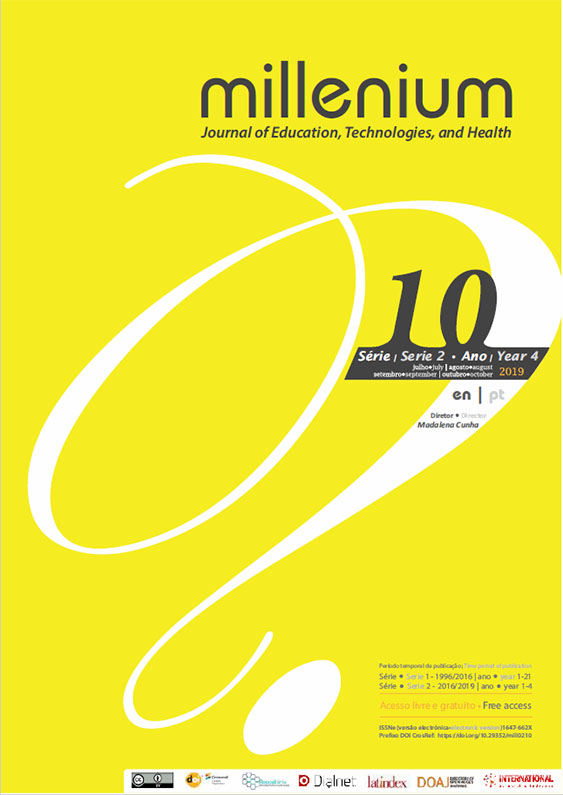 Section
Education and Social Development Sciences
Copyright (c) 2019 Millenium - Journal of Education, Technologies, and Health
This work is licensed under a Creative Commons Attribution 4.0 International License.
Authors who submit proposals for this journal agree to the following terms:
a) Articles are published under the License Creative Commons, in full open-access, without any cost or fees of any kind to the author or the reader;

b) The authors retain copyright and grant the journal right of first publication, allowing the free sharing of work, provided it is correctly attributed the authorship and initial publication in this journal;

c) The authors are permitted to take on additional contracts separately for non-exclusive distribution of the version of the work published in this journal (eg, post it to an institutional repository or as a book), with an acknowledgment of its initial publication in this journal;
d) Authors are permitted and encouraged to publish and distribute their work online (eg, in institutional repositories or on their website) as it can lead to productive exchanges, as well as increase the impact and citation of published work
Documents required for submission
Article template (Editable format)