New times, new ways of family relationships
Intergenerational education mediated by technologies
Keywords:
Intergenerational Relationships; Co-education; Technology; Covid-19 Pandemic.
Abstract
Introduction: The social isolation measures, implemented by many countries in the world as a result from the COVID 19 pandemic, brought changes to families. Many children have physically distanced themselves from their grandparents, but in many cases, technology has brought them together.
Objectives: The main objective of our research was to investigate how grandparents use technology to communicate with their grandchildren during the COVID-19 Pandemic.
Methodology: The methodological approach adopted was qualitative. For the research, questionnaires were applied to 15 grandparents residing in large urban centers in different parts of Brazil, regardless of gender, educational or socioeconomic status. Results: The results showed that the contact between the two generations was frequent and full of exchanges of teachings on both sides. Most participants maintained virtual contact with their grandchildren on a daily or weekly basis and the content of the activities varied according to the age group of the grandchildren, but it takes place mainly through conversations, school activities and games.
Conclusion: We concluded that, given the need for physical distancing, technologies have become an important instrument for socialization and interaction between grandparents and grandchildren, thus allowing the exchange of teachings between the two generations and the strengthening of family ties.
Downloads
Download data is not yet available.
References
Aboim, S. & Vasconcelos, P. (2009). Differential and cumulative effects of life course events in an intergerational perspective: social trajectories of three generations family lineages. Swiss Journal of Sociology 35 (2), 297-319. http://doi.org/10.5169/seals-815051
Araújo, C. P. & Dias, C. M. S. B. (2010). Avós guardiões de baixa renda. Pesquisa e práticas psicossociais, 4 (2), 229-237. https://www.ufsj.edu.br/portal2-repositorio/File/revistalapip/volume4_n2/araujo_e_dias.pdf.
Azambuja, R. M. M. (2021). O cuidar dos avós visto pelos netos em idade escolar. CRV. https://doi.org/10.4324/9781315642284
Azambuja, R. M. M.; Ramos, M. N. P. & Rabinovich, E. P. (2020). Intergenerationality in contemporary society: contributions of the bioecological theory of human development in the grandparents-grandchildren relationship. Kairós, 23, 27-43. https://doi.org/10.23925/2176-901X.2020v23i4p27-43
Bardin, L. (2015). Análise de conteúdo. Edições 70.
Camarano, A. A. (2021). Vidas idosas importam, mesmo na pandemia. Políticas Sociais: acompanhamento e análise- BSP, 28, 509-53. http://dx.doi.org/10.38116/bps28/notadepoliticasocial1
Camarano, A. A. (2020). Os dependentes da renda dos idosos e o coronavírus: órfãos ou novos pobres? Ciência & Saúde Coletiva, 25, 4169-4176. https://doi.org/10.1590/1413-812320202510.2.30042020
Casadei, G. & Bennemann, R. M.; Lucena, T. (2019). Influência das redes sociais virtuais na saúde dos idosos. Enciclopédia Biosfera, 16 (29), 1962-1975. https://doi.org/ 10.18677/EnciBio_2019A152
Coutinho, M. A. G. & Rabinovich, E. P. (2020). Avós: pandemia de sentimentos. In E. P. Rabinovich & S. M. P. Sá, (Orgs.), Envelhecimento & velhice em tempos de pandemia (pp. 177-194). CRV. https://doi.org/ 10.24824/978655868447.3
Coutrim, R. M. E. & Silva, P. (2019). Other subjects in the family-school relationship: the role of grandparents in the educational process of grandchildren. Aula Abierta, 48 (1), 97-104. https://doi.org/ 10.17811/rifie.48.1.2019.97-104
Daró, B. R. A (2018). influência da tecnologia da informação e da comunicação sobre o vínculo avós e netos na contemporaneidade: uma contribuição da psicanálise vincular (Dissertação de Mestrado). Instituto de Psicologia, Universidade de São Paulo. https://doi.org/10.11606/D.47.2018.tde-24092018-095935.
Fuchsberger, V., Beuthel, J. M., Bentegeac, P. & Tscheligi, M. (2021). Grandparents and grandchildren meeting online: the role of material things in remote settings. In Proceedings 2021 CHI Conference on Human Factors in Computing Systems (pp. 1-14). Association for Computing Machinery, New York, NY, United States. https://doi.org/10.1145/3411764.3445191
Hammerschmidt, K. S. A.; Bonatelli, L. C. S. & Carvalho, A. A. (2020). Caminho da esperança nas relações envolvendo os idosos: olhar da complexidade sobre pandemia da COVID-19. Texto & Contexto-Enfermagem, 29. https://doi.org/10.1590/1980-265X-TCE-2020-0132
Kalache, A.; Silva, A.; Giacomin, K. C.; Lima; K. C.; Ramos, L. R.; Louvison, M. & Veras, R. (2020). Envelhecimento e desigualdades: políticas de proteção social aos idosos em função da pandemia Covid-19 no Brasil. Revista Brasileira de Geriatria e Gerontologia, 23 (6), e200122. https://doi.org/10.1590/1981-22562020023.200122
Neves, S. D. & Rabinovivh, E. P. (2020). E por falar em saudade... Relação avós-netos na pandemia do novo coronavírus. In E. P. Rabinovich & S. M. P. Sá (Orgs.), Envelhecimento & velhice em tempos de pandemia (pp. 195-220). CRV. https://doi.org/ 10.24824/978655868447.3
OPAS. Organização Pan-Americana de Saúde. (30 set. 2020). [versão eletrônica] Pessoas com mais de 60 anos foram as mais atingidas pela COVID-19 nas Américas. Nações Unidas – Brasil, 1-3. https://brasil.un.org/pt-br/93559-pessoas-com-mais-de-60-anos-sao-mais-atingidas-pela-covid-19-nas-americas.
Ramos, M. N. P.; Rabinovich, E. P. & Azambuja, R. M. M. (2020). Grandmothers and grandchildren in front of new technologies in Brazil and Portugal. Research, Society and Development, 9 (8), e581985615. http://dx.doi.org/10.33448/rsd-v9i8.5615.
Turato, E. R. (2013). Tratado da metodologia da pesquisa clínico-qualitativa. Vozes.
Viana, S. A. A.; Silva, M. L. & Lima, P. T. (2020). Impacto na saúde mental do idoso durante o período de isolamento social em virtude da disseminação da doença COVID-19: uma revisão literária. Diálogos em Saúde, 3 (1), 1-16. https://periodicos.iesp.edu.br/index.php/dialogosemsaude/article/view/272.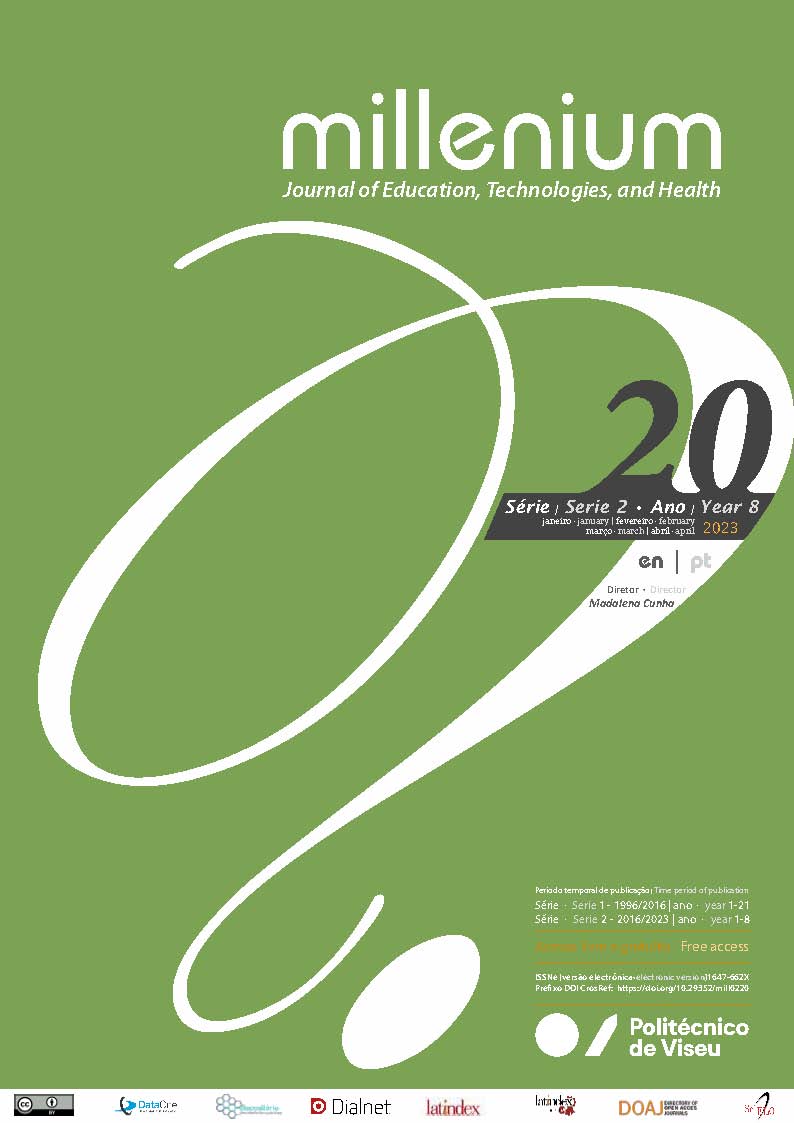 Downloads
How to Cite
Azambuja, R. M. da M., Rabinovich, E. P., & Coutrim, R. M. da E. (2023). New times, new ways of family relationships: Intergenerational education mediated by technologies. Millenium - Journal of Education, Technologies, and Health, 2(20), e27721. https://doi.org/10.29352/mill0220.27721
Section
Education and Social Development Sciences
License
Copyright (c) 2022 Millenium - Journal of Education, Technologies, and Health
This work is licensed under a Creative Commons Attribution 4.0 International License.
Authors who submit proposals for this journal agree to the following terms:
a) Articles are published under the License Creative Commons, in full open-access, without any cost or fees of any kind to the author or the reader;
b) The authors retain copyright and grant the journal right of first publication, allowing the free sharing of work, provided it is correctly attributed the authorship and initial publication in this journal;

c) The authors are permitted to take on additional contracts separately for non-exclusive distribution of the version of the work published in this journal (eg, post it to an institutional repository or as a book), with an acknowledgment of its initial publication in this journal;
d) Authors are permitted and encouraged to publish and distribute their work online (eg, in institutional repositories or on their website) as it can lead to productive exchanges, as well as increase the impact and citation of published work
Documents required for submission
Article template (Editable format)