Gastronomic tourism, a differential factor
Sandra Cunha

Mazaltur Travel and Tourism Agency Lda
Keywords:
Gastronomic Tourism, Gastronomy, Gastronomic Routes
Abstract
Introduction: Gastronomic Tourism has grown considerably worldwide and even at European level. According to the World Tourism Organization (UNWTO, 2012), the destinations and tourism companies are aware of the importance of gastronomy to diversify tourism and stimulate local, regional and national economic development. Gastronomy has always been part of the history of Portugal as a product that gave it authenticity and glamor.
Objective: This article intends to make known the strategic product Gastronomy, as a tourist product of excellence with high development potential for Portuguese Tourism.

Methods: We have analyzed several published studies correlating the main ideas and doctrines, focusing the importance of Gastronomic Tourism and gastronomic events for the development of regions and gastronomic routes as a differentiating factor. As well as the profile of gastronomic tourist, the phases of the experience of gastronomic tourism and gastronomic tourists behavior were analyzed.

Results: there are some significant flaws in the literature review, since there are not many studies regarding the contribution of gastronomy to the development of the regions.

Conclusions: Gastronomy is one of the tourist products that has the most influence when choosing the destination. Portugal should, like Spain and France, structure the gastronomy product as a product that gives Portugal authenticity and quality. The gastronomy and the wines are considered qualifying assets of the portuguese tourist offer (Estratégia Turismo 2027, 2017).
References
APTECE. (2014). Manual Prático de Turismo de Culinária. CPL Meetings & Events. Obtido em 15 de abril de 2017, de http://www.turismodeportugal.pt/Portugu%C3%AAs/AreasAtividade/desenvolvimentoeinovacao1/Documents/manual
pratico-turismo-culinariaAPTECE.pdf
Comissão Nacional da UNESCO. (04 de dezembro de 2013). unescoportugal.mne.pt. Obtido em 12 de março de 2017, de unescoportugal.mne.pt: https://www.unescoportugal.m ne.pt/pt/noticias/324-dietamediterranica-na-listadopatrimonio-imaterial
Folgado-Fernández, J. A., Hernández-Mogollón, J., & Duarte, P. (23 de agosto de 2016). Destination image and loyalty development: the impact of tourists' food experiences at gastronomic events. Scandinavian Journal of Hospitality and Tourism, 94.
Gheorghe, G., Tudorache, P., & Nistoreanu, P. (2014). Gastronomic tourism, a new trend for contemporary tourism? 9 (1), pp. 12-21.
Hall, M., & Sharples, L. (2003). Food Tourism Around The World. Elsevier Journals.
Henriques, C., & Custódio, M. (2010). Turismo e Gastronomia: a valorização do património gastronómico na região do Algarve. Revista Encontros Científicos - Tourism & Management Studies, 6, pp. 6981. Obtido de http://www.scielo.mec.pt/scielophp?script=sci_isoref&pid=S1646-24082010000100008&lng= pt& tlng=pt
IPDT. (12 de maio de 2017). ipdt. (I. – I. Turismo, Editor, I. –I. Turismo, Produtor, & IPDT – Instituto de Turismo). Obtido em 12 de maio de 2017, de ipdt.pt: http://www.ipdt.pt/?cId=0005b 65d-0b12-3334-4ee6ef32e4c78bbb
Jong, A., & Varley, P. (2016). Food tourism policy: Deconstructing boundaries of taste and. Tourism Management.
Kalkstein-Silkes, C., Cai, L., & Lehto, X. (2008). Conceptualizing festival-based culinary tourism in rural destinations. Em C. M. Hall, & L. Sharples, Food and Wine Festivals and Events Around the World:
Development, Management and Markets (pp. 65-77). Obtido de http://www.sciencedirect.com/s cience/article/pii/B978075068380700004X
Kivela , J., & Crotts, J. (2006). Tourism and gastronomy: gastronomy's influence on how tourists experience a destination. Journal of Hospitality & Tourism Research, 30, pp. 354-377.
Mitchell, R., & Hall, C. (2003). Consuming tourists: food tourism consumer behaviour. Obtido em 02 de junho de 2017, de http://shora.tabriz.ir/Uploads/8 3/cms/user/File/657/E_Book/T ourism/Food%20Tourism.pdf# page=77
Parlamento Europeu e do Conselho. (14 de dezembro de 2012). Regulamento (UE) N.o 1151/2012. Atos legislativos. Jornal Oficial da União Europeia. Obtido em 05 de abril de 2017, de http://www.sativa.pt/Uploads/%7BCD2A65E1-A940-433EB539-DBF3B901F9E8%7D.pdf
Possamai, A. M., & Peccini, R. (2015). Turismo, História e Gastronomia. EDUCS.
Quan, S., & Wang, N. (2004). Towards a structural model of the tourist experience: an illustration from food experiences in tourism. Tourism management, 25 (3).
Seaman, B. (2008). Greg Richards (ed): Cultural Tourism: Global and Local Perspectives. Journal of Cultural Economics, 4.
Sormaz, U., Akmese, H., Gunes, E., & Sercan, A. (2016). Gastronomy in Tourism. Procedia Economics and Finance, 726;727.
THR. (2013). Plano Estratégico Nacional do Turismo: Revisão e Ojetivos 2013-2015. Turismo de Portugal.
travelBI. (2015). Inquérito a turistas Abril 2015. Turismo de Portugal. Intercampus. Obtido em 30 de maio de 2017, de http://travelbi.turismodeportuga l.pt/pt-pt/Documents/An%C3%A1lise s/Estudo%20Satisfa%C3%A7%C3%A3o%20dos%20Turista s/Inqu%C3%A9rito%20Turista s%20Inverno_2015.pdf
Turismo de Portugal. (2013). visitportugal. Obtido de visitportugal: https://www.visitportugal.com/ pt-pt/node/73762
Turismo de Portugal. (2015). Plano de Ação Turismo 2020. Ministério da Economia, Turismo de Portugal. Turismo de Portugal.
Turismo de Portugal. (2017). Estratégia Turismo 2027: Liderar o Turismo do Futuro. Turismo de Portugal.
UNWTO. (2012). Global Report on Food Tourism.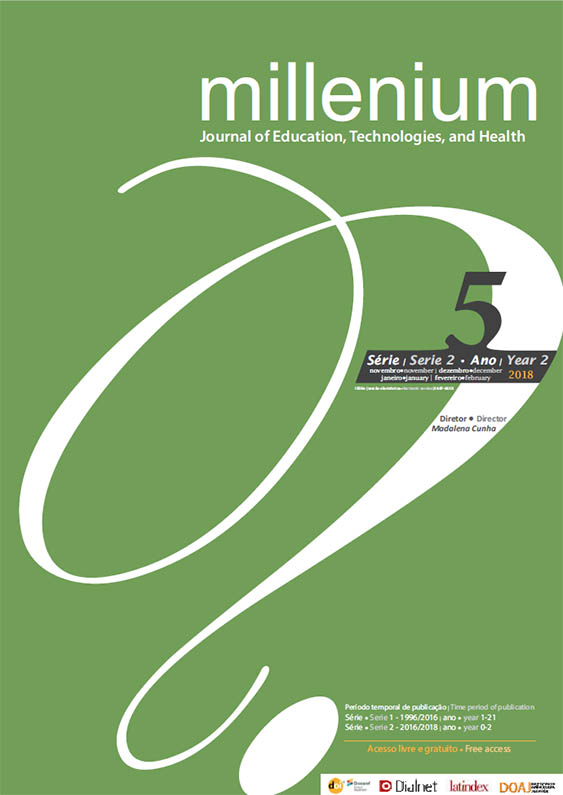 Section
Engineering, Technology, Management and Tourism
Copyright (c) 2018 Millenium - Journal of Education, Technologies, and Health
This work is licensed under a Creative Commons Attribution 4.0 International License.
Authors who submit proposals for this journal agree to the following terms:
a) Articles are published under the License Creative Commons, in full open-access, without any cost or fees of any kind to the author or the reader;

b) The authors retain copyright and grant the journal right of first publication, allowing the free sharing of work, provided it is correctly attributed the authorship and initial publication in this journal;

c) The authors are permitted to take on additional contracts separately for non-exclusive distribution of the version of the work published in this journal (eg, post it to an institutional repository or as a book), with an acknowledgment of its initial publication in this journal;
d) Authors are permitted and encouraged to publish and distribute their work online (eg, in institutional repositories or on their website) as it can lead to productive exchanges, as well as increase the impact and citation of published work
Documents required for submission
Article template (Editable format)