Satisfaction with the team, consultation and with the diabetes group in Brazilian people
Josineide Soares

Unidade de Saúde, Arapiraca, Alagoas, Brasil

Madalena Cunha

Escola Superior de Saúde, Instituto Politécnico de Viseu
Keywords:
Type 2 Diabetes Mellitus, Satisfaction, Query, Group, Team
Abstract
Introduction: The prevalence of type 2 diabetes is increasing worldwide. This is a chronic disease associated with serious complications, resulting in high morbidity and mortality (International Diabetes Federation, 2014).
Objective: To determine the degree of satisfaction of people with type 2 diabetes in relation to the team, the consultation and the diabetes group.
Methods: In the present descriptive study, the non-probability sampling consists of 30 people with type 2 diabetes, of which 37% are male and 63% are female, aged between 42 and 69 years with an average of 57.20 years attending the Health Unit and the Diabetes Group in Arapiraca, Alagoas, Brazil. The data collection instrument used was the Relationship with Team Scale; Satisfaction during Diabetes Consultation Scale; and Satisfaction with Diabetes Group Scale Cunha & Soares (2015).
Results: The results indicate that 40.0% of the patients have a good relationship with the team, most of the patients (76.7%) are very satisfied with the query. However, the diabetes group satisfaction is not consensual, thus, 40.0% of patients feel dissatisfied while another 40% are very satisfied.
Conclusion: The results highlight the importance of the satisfaction of diabetes patients to the team, consultations and the group, helping them to meet their needs and their experience in the situation of chronic disease, as a professional evaluation criteria and a quality indicator.
References
Almeida, J.; Pereira, M., (2008). Questionário de Avaliação da Qualidade de Vida para Adolescentes com Diabetes Tipo 1: Estudo de validação do DQOL. Análise Psicológica, 2 (XXVI): 295-307.
Chaves, C., Duarte, J., Mateus, T., Castro, C., Marques, C., Costa, C., Moreira, C., Coelho, K., Silva, R., & Santos, V. (2012). Satisfação dos utentes da unidade de saúde de Tondela. Millenium, 43: 47-77.
Cunha, M.; André, S.; Granado, J.; Albuquerque, C.; Madureira, A. (2015). Empowerment and adherence to the therapeutic regimen in people with diabetes. Procedia - Social and Behavioral Sciences, 171: 289 - 293.
Cunha, M. & Soares, (2015). Escala de Relacionamento com a Equipa, Escala de Satisfação com a Consulta de Diabetes e a Escala da Satisfação com o Grupo de Diabetes. Não publicadas.
Direcção Geral de Saúde. (18 de Janeiro de 2012). Programa Nacional para a Diabetes e Programa Nacional de Saúde Escolar. Portugal/ Lisboa: Direcção Geral de Saúde.
Ferreira, S. R., Bianchini, I. M. & Flores, R. (2011). A organização do cuidado às Pessoas com diabetes mellitus tipo 2, em Serviços de Atenção Primária à Saúde. Porto Alegre: Grupo Hospitalar Conceição.
Ferrito, C. R. (2010). Intervenções de enfermagem à pessoa com Diabetes Tipo 2 em cuidados de saude primários contributos para uma prática baseada em evidência. Universidade Católica Portuguesa, Instituto de Ciências da Saúde, Lisboa.
Freitas, F. V., & Sabóia, V. M. (2007). Vivências de adolescentes diabéticos e contribuições da prática educativa da enfermeira. Revista de Enfermagem UERJ, 15 (4), 569-573. http://www.facenf.uerj.br/v15n4/v15n4a15.pdf.
Hockenberry, M.W.D., & Winklestein, M. (2014). Wong fundamentos de enfermagem pediátrica. Elsevier: Rio de Janeiro.
IDF (2014). IDF Diabetes Atlas. International Diabetes Federation. 6ª Edição. http://idf.org/diabetesatlas.
IMS Health. (2014). IMS Health Diabetes Mellitus Overview 2014 - Portugal 2014. http://www.imshealth.com/portugal.
Observatório Nacional da Diabetes (2014). Diabetes: Factos e Números 2014 − Relatório Anual do Observatório Nacional da Diabetes. http://www.dgs.pt/?cr=26575.
Observatório Nacional de Diabetes (2013). Factos e números da diabetes do Observatório Nacional 2013. http://www.stopdiabetes.pt/pt/noticias/noticia/1.
Oliveira, G. K., & Oliveira, E. R. (VEREDAS FAVIP - Revista Eletrônica de Ciências de julho a dezembro de 2010). Assistência de enfermagem ao portador de Diabetes Mellitus: um enfoque na atenção primária em saúde. pp. 40-48.
Ordem dos Enfermeiros (2011). Regulamento dos padrões de qualidade dos cuidados especializados em enfermagem de saúde da criança e do jovem. Portugal: Ordem dos Enfermeiros.
Organização Mundial de Saúde (2010). Equity, social determinants and public health programmes. Acedido Janeiro 18, 2014. http://whqlibdoc.who.int/publications/2010/9789241563970_eng.pdf.
Patricio, M.F.G.F. (2012). Relatório de Estágio. Instituto de Ciências da Saúde. Universidade Católica Portuguesa. Repositorio.ucp.pt/.../RelatórioMartaFerreiraPatrício 20192010025.pdf
Pereira, J.A.P.M.A. (2012). Avaliação da qualidade de vida em crianças e jovens com diabetes mellitus tipo 1 e conhecimentos sobre a doença. Dissertação de Mestrado. Faculdade de Ciências do Desporto e Educação Física. Universidade de
Coimbra. https://estudogeral.sib.uc.pt/bitstream/10316/22017/1/TeseFINAL_Jos%C3%A9Aleixo_FCDEF_UC%202.pdf.
Schmidt, M.I., Hoffmann, J.F., Diniz, M.F.S., Lotufo, P.A., Griep, R.H., Bensenor, I.M. et al. (2014). High prevalence of diabetes and intermediate hyperglycemia - The Brazilian Longitudinal Study of Adult Health (ELSA-Brasil). Diabetol Metab Syndr.; 6(123): 1-9.
Sousa, M.R., Peixoto, M.J., & Martins, T. (2008). Satisfação do doente diabético com os cuidados de enfermagem: influência na adesão ao regime terapêutico. Revista de Enfermagem Referência. Série 2, 8: 59-67.
Zabetian, A., Sanchez, I. M., Narayan, K. M., Hwang, C. K., & Ali, M. K. (2014). Global rural diabetes prevalence: A systematic review and meta-analysis covering 1990–2012. Diabetes research and clínical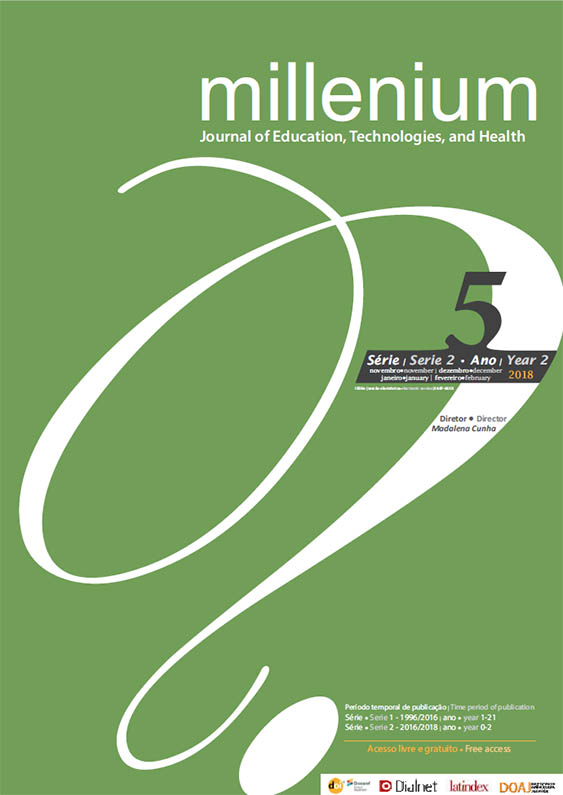 Section
Life and Healthcare Sciences
Copyright (c) 2018 Millenium - Journal of Education, Technologies, and Health
This work is licensed under a Creative Commons Attribution 4.0 International License.
Authors who submit proposals for this journal agree to the following terms:
a) Articles are published under the License Creative Commons, in full open-access, without any cost or fees of any kind to the author or the reader;

b) The authors retain copyright and grant the journal right of first publication, allowing the free sharing of work, provided it is correctly attributed the authorship and initial publication in this journal;

c) The authors are permitted to take on additional contracts separately for non-exclusive distribution of the version of the work published in this journal (eg, post it to an institutional repository or as a book), with an acknowledgment of its initial publication in this journal;
d) Authors are permitted and encouraged to publish and distribute their work online (eg, in institutional repositories or on their website) as it can lead to productive exchanges, as well as increase the impact and citation of published work
Documents required for submission
Article template (Editable format)